How to Create a Medical Startup

IT copywriter
Reading time: 11 minutes
18 Jun 2021
Allogene Therapeutics, a startup that develops cell-based cancer therapy, produces nothing and has almost no revenue. Despite this, the project attracted $373 million in investments during the IPO. The reason is the high potential and value of the company's activities. Information systems, devices, apps, websites, and services make treatment much more accessible and effective. If you want to use them and take a rightful place in the medical technology market too, then this article is for you.
MedTech market trends
According to Statista, over the past 10 years, the revenue of MedTech products has exceeded $150 billion and keeps growing. However, not all the products on the market are demanded and high-quality. Hence, you have a chance to surpass the competitors and conquer the world along with the market.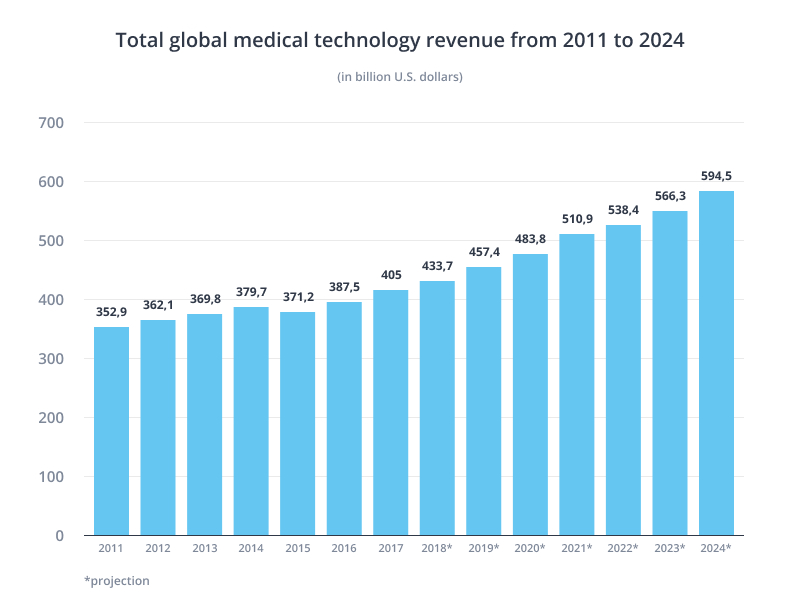 Source: Statista
Let's discuss products that will be relevant in the near future and can become the basis for your MedTech startup.
Wearable devices
With automatic tracking of medical indicators, hospital staff will not have to constantly do it manually. Doctors will receive information about patients remotely and take action if necessary. Besides, gadgets and mobile apps are useful for those who need to regularly monitor their health and send data to doctors. At home or on a walk, patients may not even realize that their medical indicators are getting worse. Tracking systems will notify relatives or doctors, so they will be able to provide the necessary help.
An interesting example of a wearable gadget is the ECG device KardiaMobile. The product connected to smartphones monitors heart activity using sensors on the chest and fingers. Patients and doctors can use it to monitor the heart.
Analysts state that, in the next five years, the market for wearable gadgets in medicine will grow two and a half times: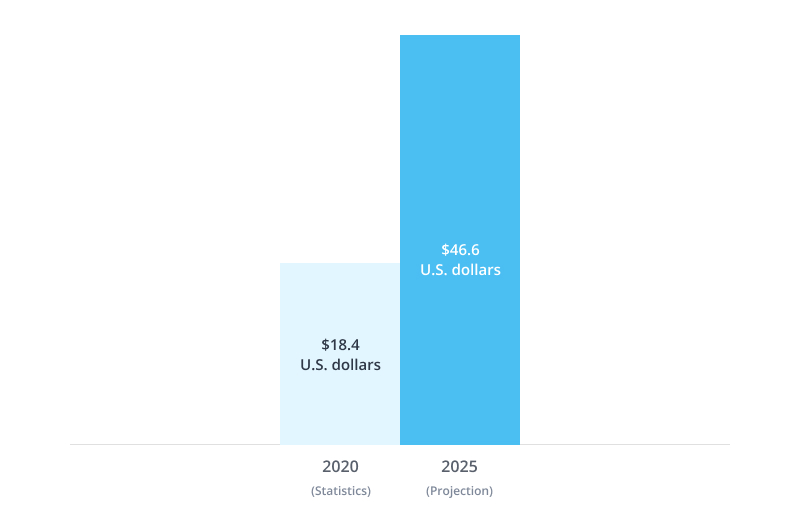 Source: Markets and Markets
Telehealth apps
Telemedicine allows remote consultations in most areas of medicine from pediatrics to psychology. It is particularly important for patients with mobility issues. Besides consultations, telehealth apps have numerous useful features, such as scheduling, patient cards, and recommendations.
AI for analyzing medical data
Artificial intelligence does the unthinkable by capturing the smallest details in X-rays, ultrasound results, and even in the coughing sounds. With the help of it, the diagnosis becomes more effective: doctors detect diseases at early stages, so the likelihood of a positive outcome increases. For more details on AI use in medicine, see our article.
Internet of things (IoT)
IoT in medicine is a significant help in dozens of important tasks, such as disinfecting rooms or monitoring patients. For example, EarlySense has developed a platform that monitors heart and breathing rate and other metrics using sensors. Nursing staff immediately respond to deterioration, increasing the likelihood of a favorable outcome in critical situations. The product can be applied in cardiology or intensive care, where lives depend on the speed of action.
Startup creation stages
When you create a medical startup, you should approach people's health responsibly. A promising business idea and good advertising are not the only factors of success. Besides, you have to study the legislation and work on the medical component of your business. Here are the main steps to build a MedTech startup.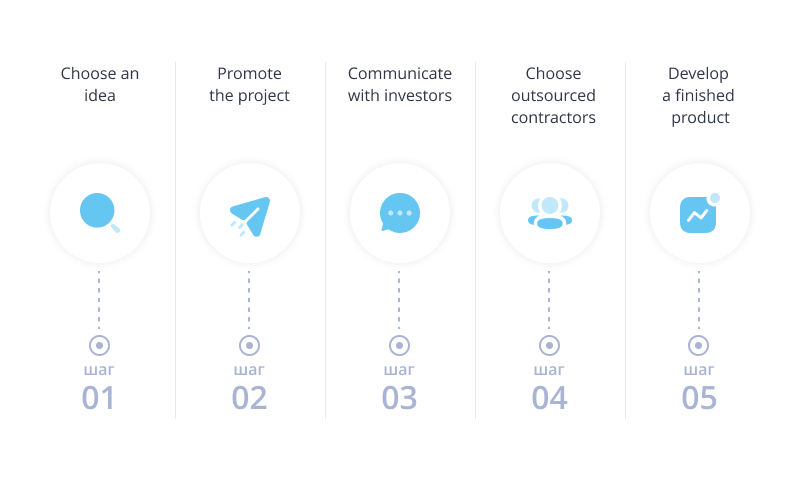 1. Choose an idea
Take a closer look at existing projects
Even the most successful ideas can have disadvantages. Study current MedTech solutions from the user's point of view and find weaknesses of these products. Then do better than your competitors. This is your chance to learn from the experience of others and avoid the mistakes of beginning startup creators. Here are some ideas for you:
become an expert in a specific field;
solve your own problem;
improve existing products;
look for pain points;
find an emerging perspective niche;
refine a weak idea.
You can find information about competitors on such portals as startup.info, Crunchbase, and TechCrunch. Visit websites of interesting projects and study their proposals. If you are about to create a mobile app, then look for something similar on AppStore or Google Play: you can learn more about the audience and try the product in action. After finding a few ideas, study their relevance.
Learn about the needs of your audience
Research the market: you have limitless possibilities of the Internet. Ask people what they need: an electronic family doctor, reminders about pills, or a medical card on the phone. You have numerous ways to probe the market: focus groups, online surveys in thematic groups on social networks, landing pages with pre-orders, offline surveys in medical institutions, and data of news agencies. Combine several methods to get complete and reliable information.
Large portals like Statista regularly publish information on future trends. They quickly react to changes in the world and analyze what happened in the past. This makes the information in such sources reliable and useful. Moreover, some agencies specialize in studying the MedTech market: for example, MedTech Europe or medtech.org.
2. Promote the project
To understand how a product will work, create an MVP – a minimum viable product. It's a basic version of your future full-fledged startup. Clients will use its primary functions and let you know if they need a full version. Developing such a product is much cheaper than offering the audience a complete medical software solution right away. In addition, it allows you to build your audience and find weaknesses. An interesting case is Verbo. The application helps recover speech after a stroke, trauma, and other diseases. Initially, the creators wanted to solve a wide range of problems, but eventually, they focused on one task. They developed exercises to maintain speech, neural connections, cognitive abilities, memory, and writing. The result is a successful launch and a prize at the Angels Band startup competition.
Since your startup is medical, you need an evidence base. It includes reviews of users, official certificates, and medical documents reflecting the medical value and literacy of your idea. This is how you prove the reliability and usefulness of the project. To do this, you may need to consult a healthcare professional to help you figure out the details.
3. Communicate with investors
You will more likely interest investors with a ready and tested MVP. One of the easiest contact options is social media. You need executives of large companies who would be interested in investing in your project. Look for information about the organizations that have already invested in MedTech: for example, Google, Microsoft, or Apple. You may also be interested in investment clubs like AngelsDeck, United Investors, or SmartHub. These portals act as aggregators for investors and startups, so there you will have more opportunities to raise funds. Other sources of investment are grants, venture funds, crowdfunding, and accelerators.
After finding investors you just have to interest them in your project. Not a big deal! To do this, you need a compelling investment presentation. One of its templates was proposed by PayPal co-founder Peter Thiel. It consists of the following points:
problem;

solution;

market size;

product;

success;

team;

competitors;

financial indicators;

the sum you want to receive.
A good structure, complete information, and a clear development plan will help you convince investors of the potential of your project.
4. Choose outsourced contractors
To work on medical technologies, you need someone who understands them. Here are some essential factors to consider when choosing an outsourcing specialist:
Reviews. When choosing programmers, reviews are as important as when choosing a restaurant, jeans, or a car. It is great if the company is present in the ratings: this indicates its active participation in the market and the quality of its work.

Portfolio

. Find out if the company has projects similar to yours. This means that it will be easier for you to find a common language, and work based on previous successful products will move faster.

Technological stack. It will be great if your potential contractors are constantly learning new things and know a lot about current digital technologies. It is a good sign if they can explain everything about languages ​​and frameworks to use in your project.

Price. Compare prices on the market, calculate your budget for development, and make a decision based on this.

Post-release support conditions. You will most likely need to complete or fix the finished product after launch. Discuss with developers how long they can do this and how much it will cost.
For more information on choosing a contractor, read our checklist.
5. What's next?
Marketing. After working on an MVP, attracting investment, and launching a startup, you will find and study a specific target audience. The better you know them, the more successfully you will prove the value of your solution to those who will benefit from your product. Use free traffic sources, for example, online publishing platforms for IT workers. Write articles close to your area of ​​expertise and communicate with your audience from an expert point of view. Tell them everything you know! This will prove your professionalism and reliability.
Sales. Knowing the target audience, you will learn their manner of communication, needs, and ability to pay. There are numerous sales models: direct selling, subscription to content or services, online sales, ad revenue, affiliate marketing, etc. Choose the right method that not only generates a profit for you but also satisfies the majority of your customers.
Development. Even if you come up with something great, you will not exist forever selling only one small idea. Keep researching your audience and market and have regular brainstorming sessions. Expand the functionality of the product, change the sales model, develop a new design. Your clients will see that you are not standing still and will be more willing to contact you.
The specifics of MedTech startup launch
The pandemic catalyzed the increased demand for MedTech products. People still trust doctors more than robots, but many are already convinced of the benefits of wearable gadgets and online consultation. Hence, the mentality is changing, and soon even the most futuristic products will have a chance to find their users.
The medical legislation is not entirely prepared for the full-fledged development of the MedTech market. However, there are some improvements too. For example, now doctors can create electronic prescriptions after making the diagnosis at the first face-to-face appointment. In any case, before creating a MedTech startup, you need to study the laws and apply them to your ideas and capabilities. The forecast of the MedTech market is positive since people get used to the machines and see the benefits of their use. According to EvaluateMedTech, global R&D costs will grow by 4.5% annually and reach $39 billion by 2024. The demand for products of medical startups will grow, so you should find your niche in time.
The medical technology market is one of the most promising and fast-growing. However, there are still multiple problems for MedTech to solve. If you want to develop a useful product and take its rightful place in the market, contact us. We will be happy to help you create an amazing MedTech startup!