Telehealth: The Pros and Cons of Startup Creation

IT copywriter
Reading time: 11 minutes
23 May 2021
According to VEB Ventures forecasts, by 2026, the global telemedicine market will have grown from $45 billion to $175 billion. Startups are constantly developing new solutions to meet the growing needs of users, and you can take your rightful place among them. We have been working in medicine and healthcare since 2006. We help large businesses and startups develop insurance, consulting, and telemedicine projects. If you are a beginner in this area and want to start a telehealth project, you must take into account the specifics of this field; these will be the subject of this article. 
Condition and perspectives of the telehealth market
The volume of investments in healthcare is growing along with the world's population. The statistics by Mercom Capital Group show that, in the first half of 2020, medical tech startups around the world raised $6.3 billion. One of the important areas of medical technology development is telehealth: the use of technology in medicine for remote assistance. An important feature of modern telemedicine is the possibility of two-way audio and video communication between patients and doctors. In recent years, the telemedicine market has grown several times, and the pandemic has only accelerated this process.
The demand for telemedicine is a positive trend for healthcare for several reasons:
widespread availability;

cheapness;

the ability to choose a qualified specialist;

psychological comfort.
As a result, people receive fast, cheap, and quality care and become healthier. Here are a few market specifics that are important to remember when creating a medical technology platform: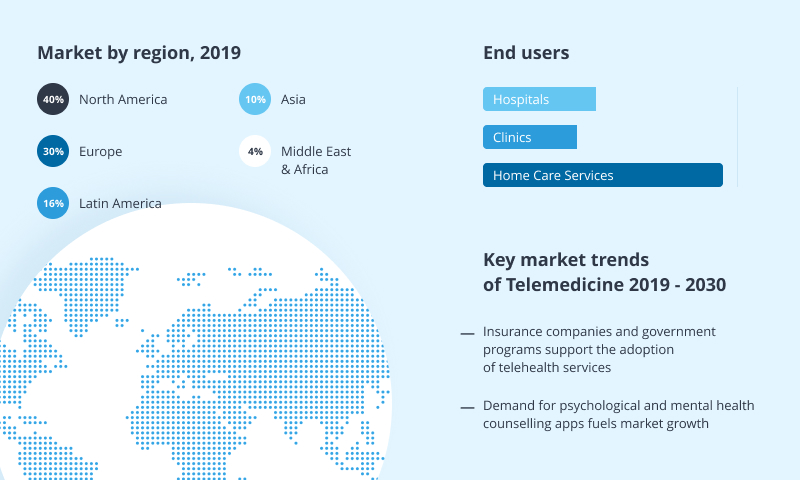 The main market players are online consulting services. These service providers are fighting for customers by improving the quality of communication and increasing their functionality: storing and processing data, using AI to make a diagnosis, scheduling an appointment, as well as other capabilities. Thus, they improve the quality of interaction between doctors and patients. Users trust online communication with doctors more and value the convenience of the process. As a consequence, the demand for telehealth products is growing.
Amwell is a prime example of a profitable healthcare startup. The technology company raised $194 million in the first half of 2020. CRY, a Swedish telemedicine startup, raised $155 million in investment in the first two quarters of its existence. A simple conclusion can be drawn from this pattern: investors are ready to support promising startups focusing on telehealth because there will continue to be a growing demand for them.
There are barriers to working on telemedicine startups. You should consider many legislative details when creating telehealth platforms. These include, for example, data security and medical education. Some startups do not pay attention to these factors and, as a result, provide low-quality medical services.
On the one hand, the telemedicine market is still quite unstable and immature. Telehealth startups lack a legal framework and customer trust. Besides, to become a competitive telehealth company, it is necessary to have competent specialists, and not only in the field of medicine. On the other hand, the immaturity of the market creates a lower barrier of entry, which makes it easier to enter it. In any case, it will grow, so this is your chance to create a business with good prospects. 
Aspects of creating a telemedicine company
The market is growing fast
Over the past few years, the telemedicine market has almost doubled and shows no signs of stopping: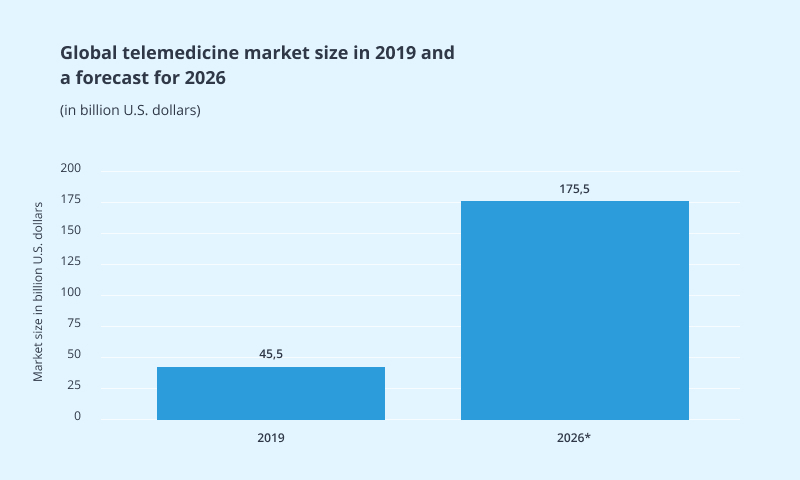 Source: Statista
This is good because you can still join the industry and grow with it. However, it is important to realize that competition is also constantly increasing, so you must ensure the quality of your service to compete for customers.
Telehealth law is underdeveloped
Telemedicine still has some legal restrictions. Doctors are not allowed to make a diagnosis without a face-to-face meeting with patients. As a result, they can neither prescribe treatment nor can they send the patient to a specialist for further examination. Besides, there are still no norms regarding responsibility for telemedicine errors. Who will be responsible for failures in telehealth services or incorrect remote diagnoses? These issues are to be resolved.
National Law Review experts identify the following trends in telemedicine legislation in the coming years:
licensing: states will put more effort into lowering barriers between

doctors

and patients by enacting legislation that provides  more freedom;

modalities: the quality of healthcare will be the most important factor, and laws

will also

become more technologically neutral;

privacy: medical organizations and

telehealth providers

will store patient data more securely;

enforcement: law enforcement agencies will give more rights to the parties involved in telemedicine,

based

on the epidemiological situation;

payment: the government will invest more in telemedicine.
Clients demand quality services
There are crucial factors to consider when choosing a supplier of goods or services. These include cost, geography and brand awareness. But now the quality of services and interaction with the company has come to the fore. When working on a telehealth startup, be sure to take care of your customers. At the end of the day it's about their health, so approach the hiring process carefully.
Vital aspects to keep in mind when providing services to people (source – Oberlo):
brand loyalty depends on customer service;

most people prefer communicating with real people rather than robots;

clients are more likely to share negative experiences than positive ones with

others

.
This applies to medical care providers, support services, and other participants in your business processes. However, even with good customer service, not everyone will be ready to accept digital healthcare services. The infographics below shows what you need to consider when working with clients.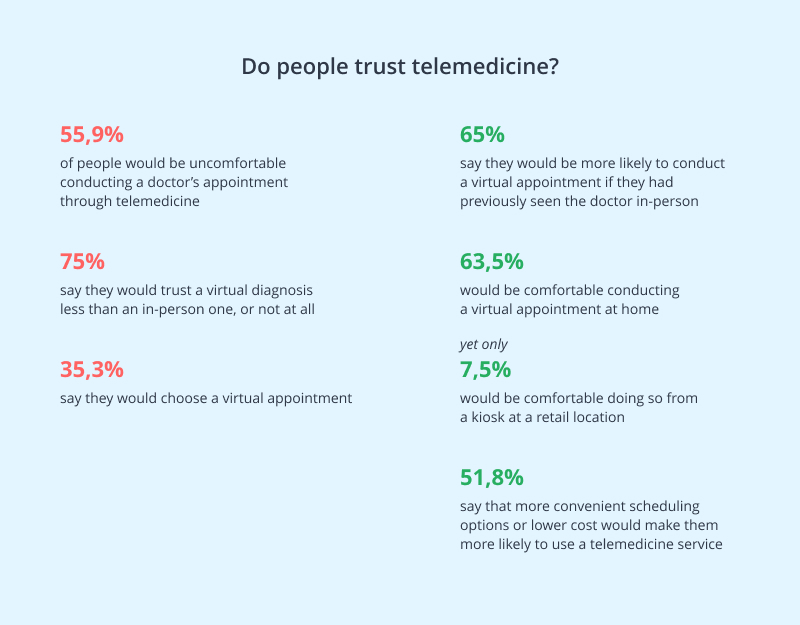 Source: Technology Advice
Investors are looking for quality telemedicine platforms
Investors are ready to spend big money on telemedicine apps. However, undoubtedly, one of the most important criteria is quality. There are various ways to attract investments: heads of large companies, business angels, crowdfunding, grants, venture funds, accelerators, and investment clubs. Before offering them your ideas, work them out: create a good MVP, get audience feedback, adapt the product to customer requirements, and collect statistics. Do not come to investors empty-handed and show that your creation is valuable and worth the investment. This is especially important for telemedicine because healthcare providers and their services must be of quality and value. Telemedicine deals are on the rise: according to venture capital fund Rock Health, the average deal size in 2020 was $30.2 million in 2020 compared to $19.7 million in 2019.
You will have to work on marketing and promotions
Telehealth startups have some promotion features. One of the key barriers is low user awareness of telemedicine capabilities. The medical company Doc+ faced this challenge. The task of the project team was to optimize the advertising campaign, while reducing customer acquisition cost (CAC). Doc+ marketers optimized their advertising activities, simultaneously expanding the semantic core and testing new promotion formats. After 4 months of work, the number of targeted calls from contextual ads has increased by 61%, while the cost of a call decreased by 38%. The number of orders from contextual ads increased by 86%, while the cost of an order decreased by 55%.
Choose a niche carefully
Telemedicine includes various areas where you can excel. However, some niches are quite narrow, so keep a close eye on startups worldwide before choosing your own niche. Choose a specific healthcare service to work on carefully. Here are the main areas where you can create your telemedicine product: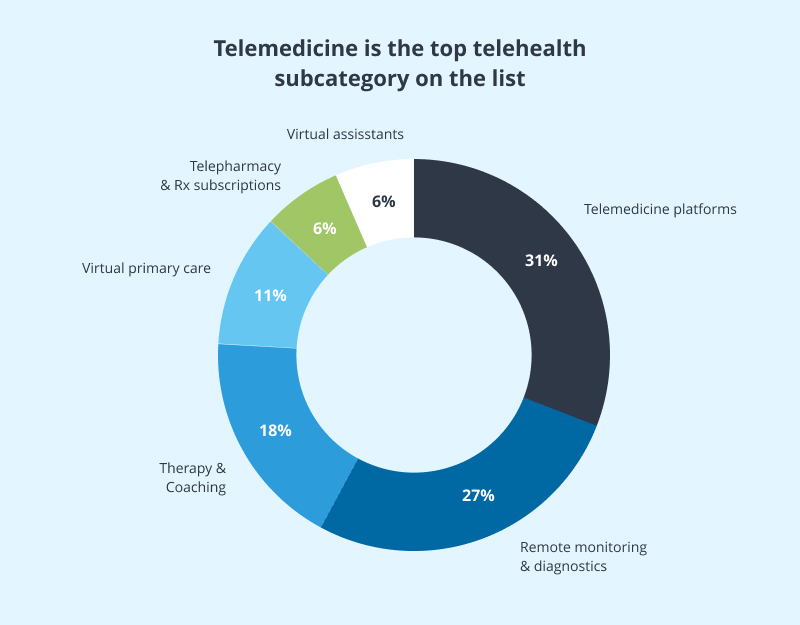 Source: CB Insights
Considering competitors will still be an essential part of your work. There is always a chance that someone will create a more convenient, demanded, or quality product. Watch out for competitors and adapt to changes. Long story short: use the experience of the best so you can join their ranks.
The main areas of telemedicine
To create a startup, it's essential to understand what people need. Here is a list of some of the most in-demand areas of the telehealth market.
Consultations for patients
Undoubtedly, the most popular area of ​​telemedicine is online consultation. It requires special systems that ensure the safety of data, a stable connection, and services for organizing work (medical records, doctor's schedule, etc.). Previously, the target audience of telemedicine services consisted mainly of those who could not physically attend consultations because of their residence or health condition. Nowadays, residents of big cities often use online telehealth apps instead of visits to doctors, saving them time, effort, and money.
Remote biomonitoring
Remote monitoring of pressure, temperature, and oxygenation indicators helps with hospital patients, the elderly, and in routine check-ups. Doctors and relatives should constantly monitor their health: see their location, check their heart condition and recognize deterioration. Thus, they will instantly react in an emergency and will be more likely to keep people healthy and even save lives.
Solutions for the medical community
Not only patients but also doctors need help sometimes. They interact with each other and share useful experiences. Moreover, in some situations, people need particular specialists not present in remote corners of large countries. In such cases, a doctor can conduct a medical consultation with the online participation of another specialist. Unusual situations like the need for medical assistance on ships or offshore oil rigs also require telemedicine solutions. Besides the difficulty of finding a doctor, there is also the need to ensure uninterrupted communication. Currently there are almost no solutions in this area, so it is possible to conquer this niche.
Surgery broadcast
Broadcasts allow inexperienced surgeons to learn from their mentors. They don't just watch videos of the surgery: they can ask questions during or after the procedure, check the patient's medical data, and exchange images of equipment (endoscopes, scalpels, etc.). Thus, they are accessing operations performed only in selected specialized medical institutions. In this way, young specialists get a considerable amount of experience that can accelerate up their studies.
Training activities
Video conferencing is a great opportunity to communicate with the best world specialists from any corner of the Earth. As it is, students can watch the lectures of leading doctors and scientists without telemedicine. However, asking questions or participating in seminars is a much more valuable, active learning experience. The advantage of such systems is their adaptation to certain educational goals: high-quality video broadcasting, medical materials databases, and uninterrupted connection. One significant benefit to this approach is the increasing quality of medicine not only in the world's biggest capitals but also in smaller cities.
We can certainly state that telemedicine is one of the drivers for the healthy future of humankind. If our article has inspired you to start your own successful telehealth project, contact us. We will be happy to share our experience and will assist you in the technical implementation of your idea.