Artificial Intelligence In Medicine: Applications And Perspectives

IT copywriter
Reading time:
10 Mar 2021
Computers are already performing actions in many fields instead of humans. AI-driven machines learn to drive cars, answer calls, write texts, and draw pictures. But does it have a place in medicine yet? The answer is yes! Medically-oriented machines might cure people better then people experts. Data science including AI is transforming the practice of medicine as we know it by becoming an essential assistant for healthcare workers. The implementation of AI-based computer systems is one of the crucial trends in modern healthcare and clinical practice. Read this article to learn more about what changes artificial intelligence brings to the medtech industry and how you can use it in medical field.
MedTech and artificial intelligence
Medtech, or medical technology, is the use of gadgets and services in healthcare industry improving health. It includes apps, computer science, digital health services, information networks, and other tools that benefit patients and doctors. Here are some areas of medical technology use:
analysis of medical images

(ultrasound, CT, MRI, test results);

support for making decisions regarding health;

individual treatment selection;

apps for remote patient monitoring and assistance;

drug development;

intelligent systems for prosthetics.
Deloitte predicts that spending in the global healthcare market will reach $10.059 trillion by 2022. In particular, AI will significantly affect the medtech market. As you can see in the figure below, the market for AI applications in healthcare field has grown tenfold since 2014: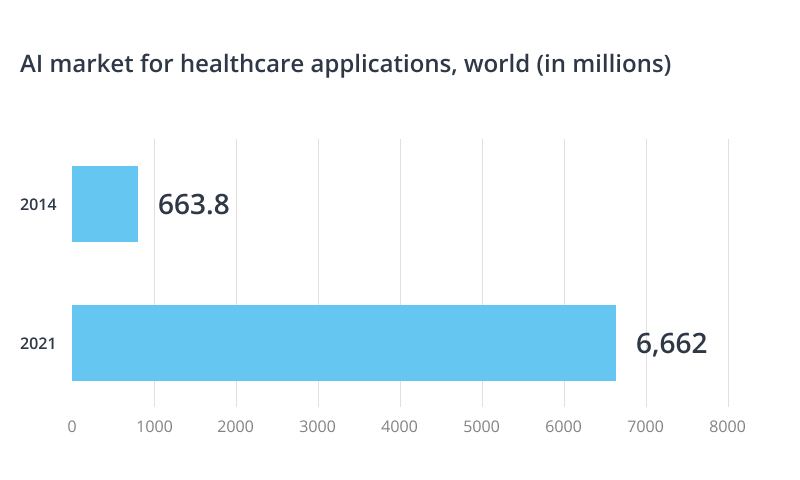 Source: PwC
AI technology in medicine
Patient data
Patient information can be stored in different clinics, health systems, and medicine papers. This makes the processes of anamnesis collection and diagnostics challenging. Some ways of interpretation of analyses, tests, and images can also be insufficiently accurate due to the small amount of data. Even if doctors have all the necessary information, they cannot always interpret it correctly and notice every detail. Applying machine learning methods can help in accurate processing of this data, improving care. It could also save lives.
Artificial neural networks of Google Deepmind Health analyzes symptoms and gives several possible diagnoses. Search results are based on millions of pages of research papers containing the rarest diseases. It makes medical practices much more efficient and accurate. MedClueRx's service can analyze symptoms, diagnose diseases, and help physicians select the safest and most effective medicines depending on the patient's health.
Diagnostics
AI systems use learning algorithms to recognize diseases even at an early stage improving patients conditions. Services such as Zebra Medical Vision and Arterys help diagnosticians focus on communicating with patients and reduce the need to peer into the details of lung scans and ultrasounds of the heart. Clinical decisions made with the help of this service become very accurate.
These types of AI programs can be useful not only for doctors, but also for patients. Another example is 23andMe, which analyzes genetic information and tells users about their origins. Switzerland-based AI healthcare startup Sophia Genetics uses genetic data to identify susceptibility to specific diseases. Thus, patients can adjust their lifestyle, and doctors can select the most likely diagnoses more judiciously.
Drug development
Vaccine development and subsequent clinical studies are long and expensive processes even when researchers use the latest science techniques and new research articles. AI can speed up drug discovery by researching the molecular structures of existing drugs and proposing new ones according to the set requirements. For example, in 2019, Insilico Medicine used AI to create several drug options for the treatment of muscle fibrosis. Algorithms performed all the tasks in 21 days. Then the scientists selected the most suitable drug options and tested them on laboratory animals in 25 days, so it took 46 days to select the best medicine. However, the traditional drug development process can take up to 8 years and costs millions of dollars. We hope that new technologies will allow scientists to more rapidly discover treatments for incurable diseases such as multiple sclerosis and Alzheimer's disease, among others.
Process automation
An imbalance and shortage of medical personnel was noticeable worldwide even before the coronavirus. The situation does not get better: experts of the World Health Organization (WHO) have stated that low-income countries will need 18 million more medical workers by 2030 to continue providing people with proper patient care. The further situation may worsen due to population growth, aging of society, and changes in the clinical picture of diseases. These factors will only increase the demand for highly skilled doctors and complicate access to health care. AI-driven systems with incorporated knowledge bases will help solve these issues. They will free doctors from routine daily tasks, such as entering information into a medical record and analyzing data from medical history. As a result, healthcare providers will spend their time and effort on solving serious diagnostic issues and selecting appropriate treatments. Modern AI technologies could help the healthcare system increase patient and personnel satisfaction, reduce the cost of services, and improve the overall quality of care.
Online consultation
We have already told you why telemedicine is becoming more in-demand in the article about MedTech trends in 2021. Remote consultations expand access to quality health care, especially in sparsely populated areas where it is most needed. Moreover, online consultation reduces health care costs and allows doctors to get a second opinion on research results to clarify treatment desicions and treatment plan.
AI makes online health services much more convenient. Healthcare workers use them for remote diagnostics, collection of medical indicators, finding special treatment, and to work with patient information. For example, Google has developed an algorithm that detects diabetic retinopathy using a photograph of the retina. Thus, doctors can avoid routine tasks and complexities of diagnosis to focus on treatment.
Prospects of using AI solutions in medicine
Major players such as Google, Apple, and Microsoft are entering the medtech market and help caring of patients better. Each of their services helps improve the accuracy of diagnoses, the availability of doctors and the management of medical records. The advantage of these large companies is the funding availability and the quantity of qualified employees. Thus, they can create complex products that include previously unavailable capabilities. For example, Google Health brings together services for both patients and doctors. It uses AI tools to help prevent blindness, detect early breast cancer, maintain mental health, and much more.
However, the organizations that use the latest technologies are currently having problems such as high costs and people's distrust of machines. Besides, some developing countries don't have enough equipment and funds to introduce artificial intelligence into medicine. So, to fulfill the needs of the audience, medtech companies need to create optimal products and predict their potential impact on healthcare. As you can see in the bar graph below, the market for AI in medicine will rapidly grow over the next few years, which means that this is a great chance for you to find the right approach to users and start working in a lucrative niche.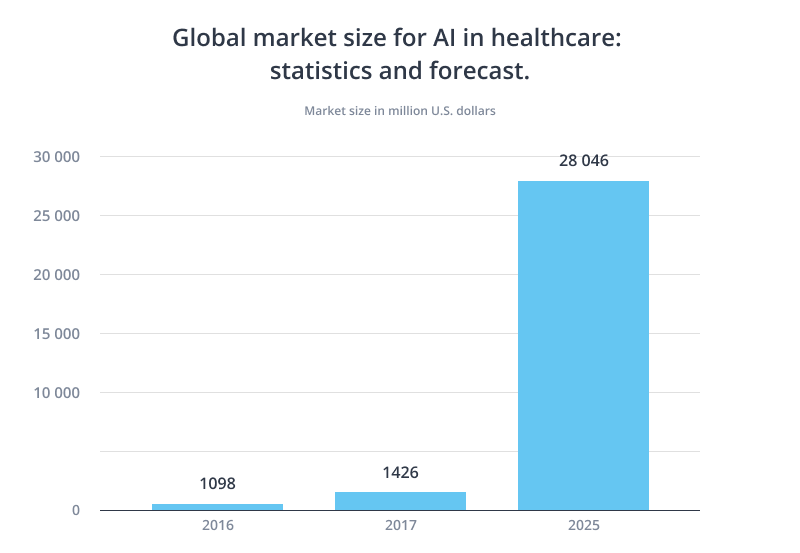 Source: McKinsey and Company
The future belongs to artificial intelligence, and the future is now. At Azoft, we strive to take full advantage of any new technology. Our R&D department works on developments powered by artificial intelligence, machine learning, and neural networks to solve tasks in medicine and beyond. Send us your idea of a project at medtech@azoft.com. We look forward to accelerating the development of medical technologies together with you!