What To Consider When Developing Healthcare Applications

IT copywriter
Reading time:
29 May 2020
What should you consider before healthcare software development? Keep reading to learn 5 core tips and some of our ideas about the MedTech market. 
According to a report from the World Bank and WHO, 50% of the world's population does not have access to medical services. Modern technology can dramatically transform healthcare and give quick and easy access to doctors, anytime, anywhere. The best time to develop medical applications is now. Here's why.
The global Digital Health market is projected to reach USD 385.8 Billion by 2025 from an estimated market size of USD 101.3 Billion in 2019, at a CAGR of 24.6% during the forecast period.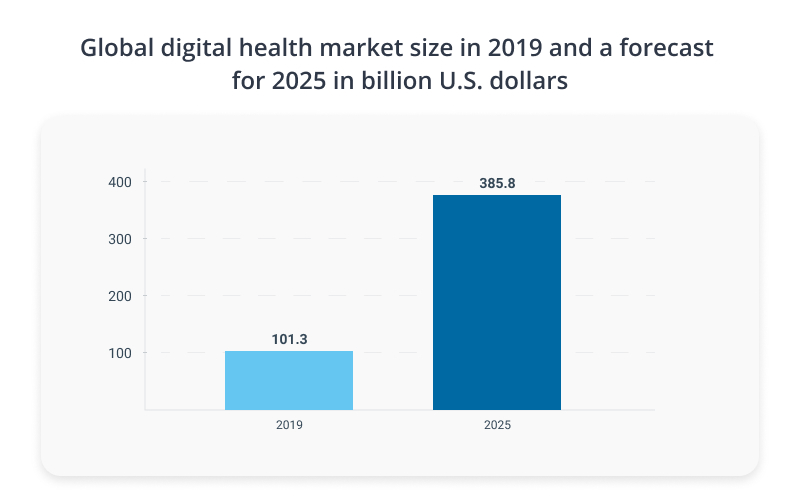 Source: Valuates Reports
What is driving the MedTech market? More and more users are looking online for information on how to treat diseases and maintain a diet, ordering home delivery of drugs, and exercising using fitness applications. There is less of a rush to contact doctors directly. There is a growing demand for proven medical IT solutions that allow users to consult with doctors remotely.
Such telemedicine solutions are helpful not only to patients, but also those who provide them with medical care. Doctors regularly face problems that sustainable systems and apps can reduce or even solve. The possibilities of IT in medicine are vast. They can range from maintaining electronic cards to developing systems for searching for deviations in images CT and MRI and using neural networks in processing a large array of images.
In this article you will learn:
what to consider before starting  the development of a MedTech application

how to approach this task professionally

the requirements for medical applications

what features promising solutions have

how to choose a reliable application developer
Think about whether your medical app will solve the current problem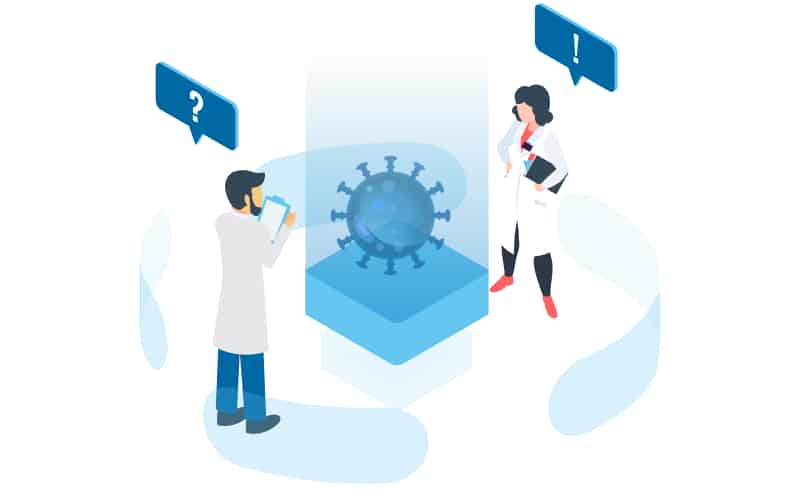 The market offers thousands of healthcare automation and medical services solutions, but not all of them "survive" in the market. The reason is simple: some of them do not take into account the needs of users. The product should solve the real problem, not an imaginary one. This is a basic condition for its development.
Let us give an example of when applications are useful to users. Nowadays, due to the spread of the coronavirus, applications have begun to appear on the market that will notify users of the spread of viruses, report on treatment methods, and focus of infection. The COVID-19 pandemic has temporarily closed many fitness centers around the world. Unsurprisingly, experts immediately noticed a surge in the popularity of applications offering home workouts. These programs help people monitor their health and fitness, while costing only a fraction of the price of a gym membership, making them a highly popular solution these days.
If an application related to the treatment of plague or smallpox were built today, would it be in demand? We highly doubt it.
To find potential users of your application, determine the target audience by answering these questions:
What problem will the application solve?

Who will use it and why?

What characteristics (gender, age, education, etc.) distinguish this audience?

Are there any ready-made, successful solutions, similar to yours, in the market?
Focus on one main problem that the app will solve. Avoid creating a universal program with many functions.
Approach mobile app development like a pro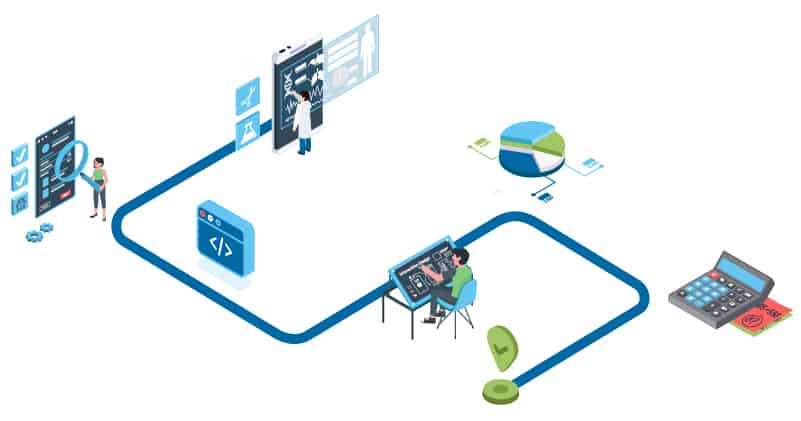 The Medtech app should be user-friendly, useful, and intuitive for a wide audience. Ideally, the users should find what they need in the internal menu in two or three clicks. As with other IT products, the process of its creation includes evaluation, analytics, design, development, testing, release and post-release support.
Let the professional designer work on the entire visual part (from the color scheme to the size of the buttons and font), taking into account the target audience. The interface of the MedTech solution should have a clear structure and not be overloaded with elements. The main functions must be moved to the main screen.
It is important not to overdo the design, otherwise it will affect the speed of the application. Neither patients nor doctors usually have time to wait for a response from the system, especially when it comes to urgent requests.
Regarding the choice of platforms, Android and iOS are still the most popular. Ideally, your medical application should be available on both of these operating systems and work both from a smartphone and from other devices. You can read more about each stage of application development and read what developers advise customers in our article.
Take care of data security in the medical application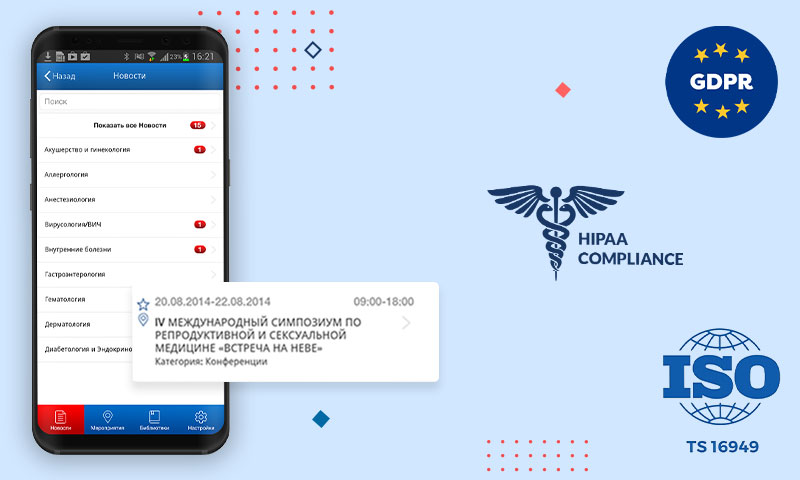 The safe storage of personal medical data is vital for MedTech companies. Disclosure of this information to unauthorized parties is considered a serious violation of the law. In addition, it can harm patients whose safety has not been ensured.
The storage and processing of data in healthcare follow strictly regulated rules. This is especially true for documents from the category of medical confidentiality. Your future application must comply with international and national confidentiality requirements that determine the rules for working with medical data: HIPAA, ISO / TS, GDPR and others.
For example, HIPAA is a guide to applying the requirements of the Law on Protection and liability for information obtained as a result of health insurance. These rules protect the interests of "classified health information," especially data that is available to or forwarded by companies in any form.
When developing an application, pay attention to standards for the safe storage of information.
Entrust software development to reliable partners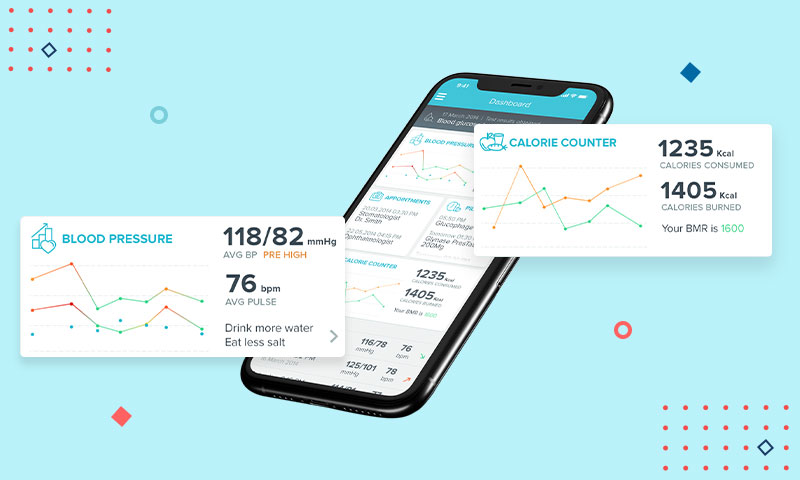 Creating a viable product requires teamwork. Take care of finding a competent team that will complete the tasks on time and without going beyond the budget. On our site we tell you how to choose the right developer for a specific project and what to look for first.
An experienced partner helps minimize errors at the start of the project and quickly implement the MVP version. This can save money down the line and ensure a high level of service. It's also important to remember that product support after release is just as important as development. Its parameters are fixed in SLA, a service level agreement.
Be sure to ask what warranty period the developer provides. This is usually around three months. At Azoft, we support the product one year after launch.
When choosing a software development partner, study their portfolio to verify the competence of the team. Here are examples of our medical applications:
Do you have an idea for a MedTech app? Have you wanted to release a medical product for a long time? Read about our development experience and ask for a free consultation at info@azoft.com!