Achieving Excellence in Healthcare with a Hospital Management Software

IT copywriter
Reading time:
25 Sep 2017
Hospital management software (HMS) has been in use for decades, yet medical institutions do not always make the most of them because they tend to favor optimizing just separate aspects of their business, such as finance or personnel management. For companies that are considering implementing HMS or that are looking for ways to boost the efficiency of an existing one, we offer the following overview of healthcare information system potential and provide recommendations on how to use the system to full advantage.
Hospital Information System Feature Overview
Simply put, HIS manage medical, legal, administrative, and financial issues related to public and private health facilities and their services by integrating many resources into a single healthcare software application. The system's possibilities are limitless. The following is an overview of the most useful HIS functions that allow healthcare organizations to serve people efficiently.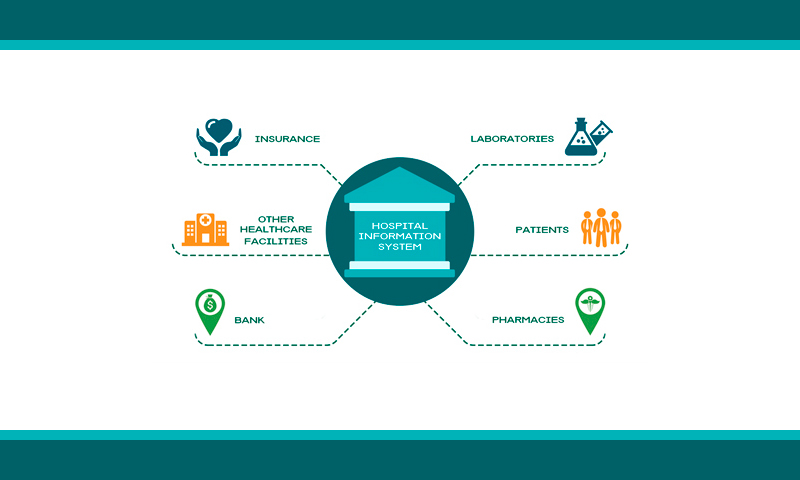 Registration and Appointment Management
This HIS component reduces manual labor costs and pressure on the front desk through automation of the entire process — from registering patients online to scheduling appointments. When making appointments, the system records the date, time, case details, department, and doctor for each patient and then makes this data available to the appropriate medical staff.
Electronic Medical Records (EMR)
Instant access to real-time information for healthcare specialists based on their role and their need for access is what EMR is all about; it's not just about going paperless. EMR covers all patient information, including key personal data and comprehensive records on all medical services, such as diagnosis, analysis, treatment, and follow-up that have been provided to a patient.
Radiology Information System (RIS)
Technically, radiology information system is a secure database that stores and permits access to patients' radiological data and imagery, including mammography and BI-RADS reporting, digital dictation and transcriptions.
Laboratory Information System (LIS)
If a healthcare institution has a pathology lab, it would be better to complement its HIS with the LIS module for efficiently recording and disseminating information regarding tests performed. LIS generally reports results and tracks capabilities, taking getting information from software that stores and processes data from different stages of medical tests and procedures.
Another advantage of having a HIS is, for example, that information from a pathology lab can be incorporated using an LIS module for efficient recording and dissemination of lab information. An LIS reports results and provides information from various stages of medical tests and procedures.
Emergency Management System (EMS)
Helping ambulance technicians to keep up with the Golden Time, this system ensures provision of emergency care as quickly as possible. Alerts are sent to appropriate healthcare departments, while data is gathered about a patient's condition and undertaken for later reference.
Emergency Management Systems (EMS) allow ambulance technicians to provide emergency care within the golden hour as quickly as possible while alerting appropriate departments required for further care while sending alerts and gathering information about a patient's condition and treatment for later reference.
Pharmacy Management System
This HIS module helps manage the dispensing of drugs, controlling stocks and expiry dates of a medical institution. At the patient level, this system receives prescriptions from physicians and automatically assigns them to the appropriate patient.
Financial System and Insurance Management
This system keeps records of all revenues and expenditures and manages a medical institution's entire accounting needs. Insurance verification is another vital aspect of this module, as accurate information is required to bill and collect from third-party payers.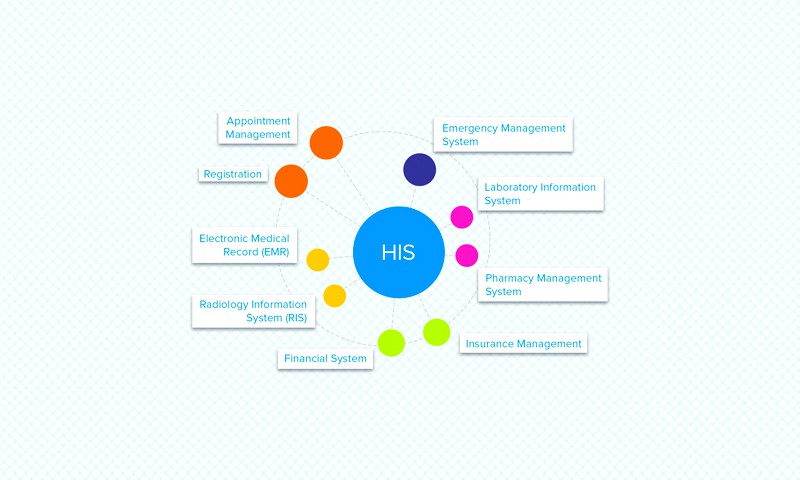 Recommendations
After working on several successful projects, the Azoft team has learned valuable lessons about how to provide HIS services effectively. Based on our experience, we recommend the following precautions and practices. First, technical issues:
When developing a custom HIS solution, take full advantage of software innovations, such as voice recognition technology for structured data entry. Consider using mobile devices, not just PCs, to make information more accessible.
Make sure that your custom HIS solution has full documentation, user manuals, and guidelines
Take good care of your hardware. A slow system might not be a drawback for software use, but an indication that you need to upgrade either your computers or operating systems and enhance communications networks.
Use high quality and accuracy standards when validating data.
Next, staff:
Provide courses and training programs on HIS for medical professionals, in order to help them to better understand their responsibilities and role in the process.
Do not rush; provide hospital staff with sufficient time to conveniently learn and acquire training in the use of HIS.
Consider promoting motivation among healthcare professionals. Incentives might include payment for overtime, bonuses, and rewards for departments successfully implementing HIS.
Monitor system efficiency, because when medical staff begins to find HIS tasks and functions becoming burdensome, that might be a sign that a particular task contains unnecessary or redundant processes and the system should be adjusted.