SaaS Development: A Guide to your own SaaS Product

IT copywriter
Reading time: 17 min
13 May 2021
Software as a Service (SaaS) is a business model that covers a variety of applications sharing two traits: software is working without installation and is accessed by a regular subscription fee. This model benefits everyone: customers gain a convenient UI, better tech support and smaller prices for powerful software, while SaaS vendors acquire ongoing profit flow and customer feedback.
Gartner claims that by 2020, total SaaS market profits may reach almost 144 billion. Businesses big and small are moving to cloud, and now it might be the right time to consider developing your own SaaS product. This article will be useful if you are curious about what drives people to choose SaaS over other solutions, why the SaaS business model is beneficial and how to start your own SaaS product.
SaaS business model: everything you need to know
Basically, SaaS has a core stored in the cloud and multiple users connected to the cloud via the internet to work with the software. Most SaaS software is fully functional within a web-browser: for example, this article was written in Google Docs, which is a free SaaS solution. All data is saved automatically on the cloud, and to start working, you just need to open the website. 
The SaaS model applies to many other apps: there are streaming services, social media, lab security and even a system for automatic vertical farm management that we had experience developing for iFarm. The system is responsible for growing lesser-priced quality produce in a short period of time.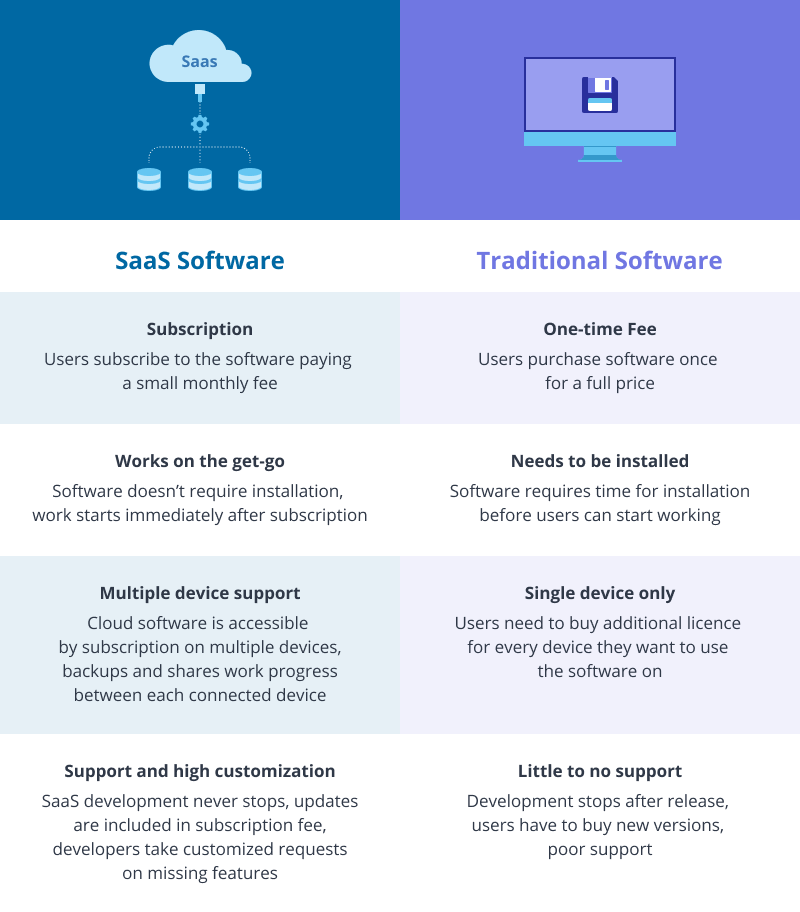 Major types of SaaS
SaaS is divided into two solutions: vertical and horizontal.
Vertical

specifies on a particular industry. This software is commonly designed by experts for experts. The market may be narrow in this case, but developers are more certain where to aim.

Horizontal

focus on covering the needs of a certain department or function. It targets a wide audience of users in their industry. Such solutions are developed to sheath as many customers as possible. Salesforce, Slack and Dropbox are the examples of horizontal SaaS.
How SaaS enhances
customer experience
Customers enjoy a lot of SaaS features:
Lesser fees. Pricing models for SaaS applications tend to be affordable for most customers, whether it's B2C or B2B SaaS solutions.
Scalability

. Most

software vendors

offer various

subscription models

: most common ones being Freemium (comes for free with basic functionality) and several tiers of Premium, each tier costs more than the previous but gradually increasing functionality and tenant number up to full.

Tech support.

Bug fixes and updates to new versions are included in the reccurent subscription fee.

Comfort of use.

Since SaaS applications are pre-installed on the cloud, all the updates are implemented by the

service provider

without client involvement. 

Data security.

Cloud providers have to be licenced for proper personal information storage. Emergency backup protocols are executed to ensure client data is safe and secure. 

Availability.

All that customers need is access to the internet and a compatible web-browser. In addition, most

SaaS products

offer licenses for multiple devices stemming from one subscription. 

Trial period.

Before subscription, customers get to test whether the solution matches their demands.
How
SaaS
benefits your
company
Some benefits that clients are experiencing are also available for the suppliers: accessibility to management and monitoring via the internet, tech support for chosen cloud services, scalability to match tenant numbers. There are also some advantages unique to SaaS model:
Long-lasting revenue.

The SaaS

sales model

regularly charges clients ensuring constant profit flow.

Larger customer adoption.

Smaller fees draw more customers to the product as people are more willing to pay lesser amounts monthly than full price upfront. Trial period also brings customers who are unsure of software until they test it.

SaaS startups cost less.

The core of the product and its infrastructure resides in the cloud, freeing money reserved for physical servers to the

development team

focusing on the application.

Reliability

. Application and client data is stored and backed up on multiple servers across the world. In case of a server malfunction, the other will take its place smoothly, unnoticed by the client.

Better data insights.

Cloud server provides support for collecting and processing Big Data. By extracting a proper view on a customer's demands, companies create better

marketing strategies

.
Cloud perspectives
A study by 451 research claims that in 2020 being unsure of cloud migration sets your business behind 90% of other companies.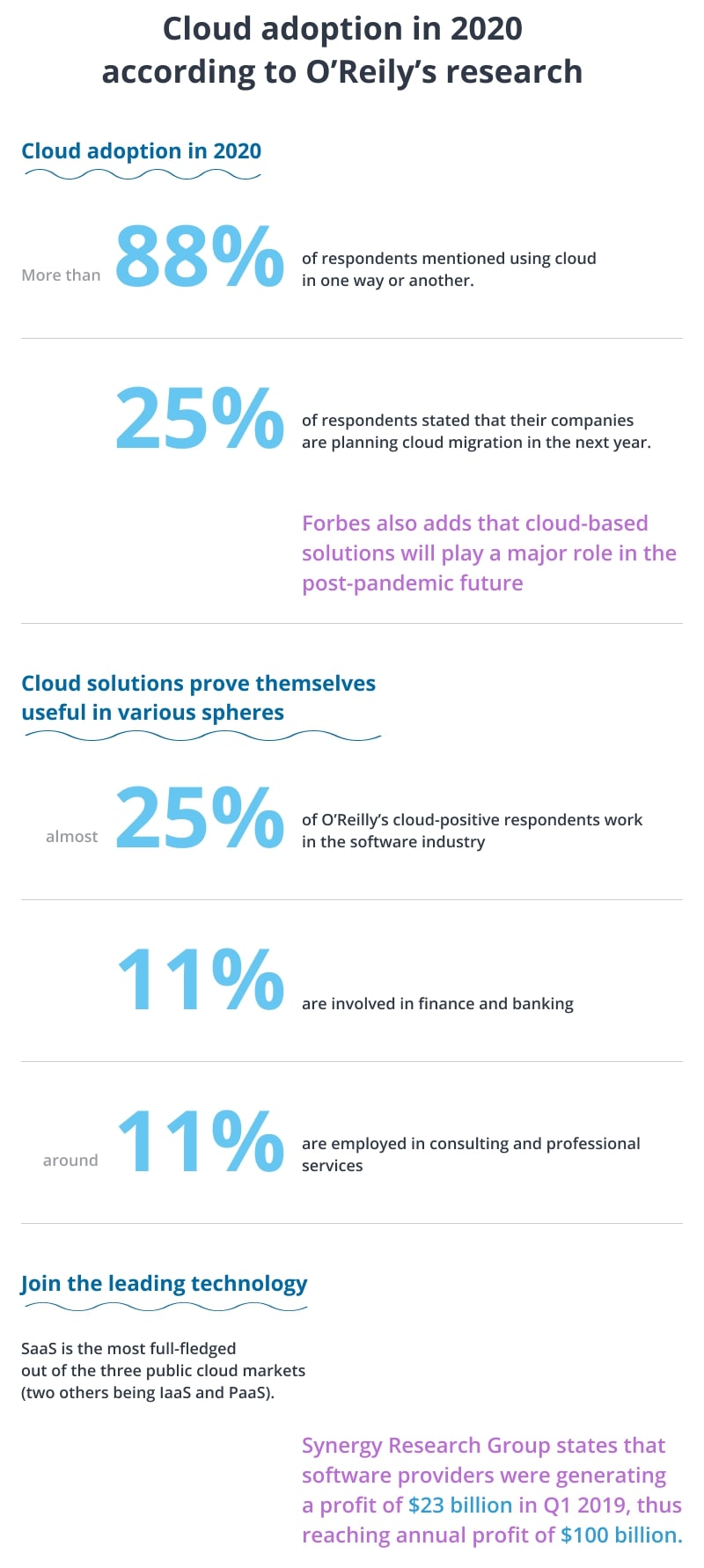 The statistics prove market interest in cloud-based software, especially after pandemics. A lot of companies that are moving or are already moved into the cloud report positive experience. If there is the right time to consider the cloud, it is now.
How to develop SaaS successfully
If you consider developing your own SaaS product, this part of the article will provide a few tips on how to start and what to focus on.
Essential SaaS features
The market for SaaS providers is large. Before you enter this market, make sure that your solution has all the basic features of a SaaS application.
Scalability

is what most users enjoy about SaaS platforms. The ability to expand and decrease their business processes, share data to multiple devices and pay for what is necessary for them is a must for every SaaS application.

Cross-platform

helps increase accessibility. Your app should be available on multiple web-browsers, support mobile versions and work for both popular platforms: iOS and Android.

Support and customization

are required as your customers expect quality of life updates, new features and bug fixes delivered for their continuous payments for your software. 

Reachability

is responsible for how many clients will adopt your software and stay connected. Calculate prices that way so your audience can afford it, or you'll lose them to competitors.

Discoverability

speaks for itself. If no one knows about your software, no one will use it. Give your

marketing team a go

, make your product recognized and well-known, hold sales and discounts, collaborate with cross-cutting companies to exchange customer flow.
Other than that, there are a few additional aspects you can consider while developing cloud-based applications such as user-friendly interface, automation, integration of machine learning, containerization, but these you should choose based on your SaaS solution specifics and available budget.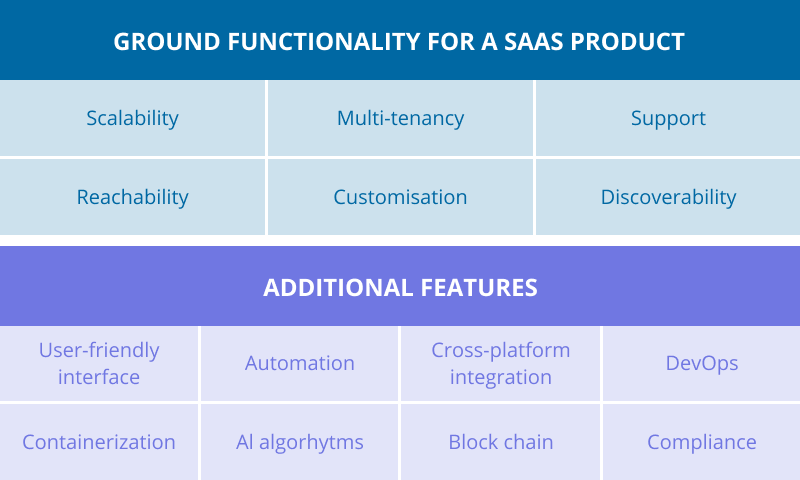 SaaS development lifecycle
Now that you've learned the benefits of SaaS model and considered major SaaS features, the next step is to assemble a team of professionals, outline the idea and begin the software development.

The SaaS development lifecycle is not that different from any other product. We will discuss a few common steps to provide you with a better grasp on the process.
Step one. Assessment and planning
To put your project into a tangible form you'll have to find a development team capable of this task. A brief of your future product will provide the contracting company with concise outlines to work with. More precise details will be discussed later on. The purpose of this stage for you is to evaluate contractors and for contractors to figure if they are up to the task. At this point in project lifecycle the contract clauses, payment procedures and work details are established and approved by both sides. 
Step two. Analytics
At this stage analysts collect, clarify and prioritize project requirements. They research the market, define the target audience and basic product functionality. Data collected by the analysts will provide a foundation for an MVP.
Thereafter, the prototype is created: a scheme of how the product will work, its ground functionality and UI. Then product design is implemented, giving your prototype a unique, user-friendly look. The designers are guided by customer comfort and use cases.
Step three. UI/UX design
One of the most important aspects of the SaaS application is user interaction with your product. At this stage, UI designers work on the visuals, creating a final version of the prototyped interface. In turn, UX designers refine user interaction, developing an interface answering catering to customer satisfaction.
Step four. Development 
Once the prototype and design templates are finished, they are transferred to the development team. While front-end developers make users' interaction with the interface possible, back-end developers are sophisticating the product's architecture to the point it matches planned functionality.
Step four. Testing your project
Assign testers to wholly examine product functionality. Check if the systems work properly, how your infrastructure responds to peak workloads, is it scalable, are there any security breaches. At some point of this process you can turn your project into MVP to access early responses from the users too. On this step, polish your product to the maximum.
Step five. Releasing the product
For the SaaS product the work isn't done after release. It's more of a constant cycle of improvement: collect, analyze and utilize users' feedback, fix bugs and update, think of customization options for your clients. The SaaS project demands a lifetime support, but provides a lifetime profit if you put enough time and effort into its continuous refinement.
How much does it cost to develop a SaaS?
Honestly, it depends on what SaaS project you wish to achieve. Cloud-based applications come in various forms, so it's impossible to assume a common cost. Let's look into criteria that impact the cost of a SaaS product.
1. Project scale
How ambitious is your project? What is the scope of it? Is it vertical or horizontal? The larger the project scale the more expensive it would be. If you create a platform of a few instruments, this will cost more than a single focused instrument. 
2. Functionality
Complex functionality will cost greatly. If this SaaS product is your first try, pick the most essential features at first. You will be able to add unnecessary ones later on.
3. Development team
There are three ways to develop a SaaS project: choose your own team, hire freelance specialists or a company. The price gradually grows from option to option, but when hiring, it's best to look at a company. Freelance specialists rarely tend to create high quality products while a company values its reputation and will provide the best service as well as support you along the first months after project release.
Trust Azoft to develop your SaaS product
Although having its challenges, SaaS business model has a lot of benefits to offer to your business. If you consider hiring an experienced development team to create a SaaS product, the Azoft team is willing to help. Feel free to check out our case studies or contact us to discuss what you have in mind for your project.