Migrating to the Cloud: How to Migrate to SaaS Business Model?

IT copywriter
Reading time: 16 min
24 May 2021
Cloud migration is a profitable investment for a modern enterprise. Moving a company's IT infrastructure to virtual server capacity is a lot like physically moving to a new office except that, instead of boxes, you have to pack data, applications, and IT processes. Such relocation requires careful preparation and precise execution, but the result is a completely new workspace. Rest assured though because we're sure you'll love it. Cloud benefits include lower hardware and software costs, business process automation, and more. Learn from this article why and how to successfully move to the cloud.
Why Considering Cloud Migration for Your Business?
Primarily because large players have already switched to SaaS business models. According to Forbes, more than half of American businesses are located in the cloud. Service providers like Amazon, Etsy in e-commerce, Netflix in streaming services, Pinterest in the photo-hosting field, and The Weather Channel have successfully moved their infrastructure to a virtual environment.
Statistics validate the benefits of this choice. In 2020, the e-commerce company, Alibaba, set a sales record on November 11, all thanks to cloud technologies. That day the peak number of orders per second was 583 and, by the end of the sale, their total number exceeded 2 billion. It's hard to find a physical server that can handle so many requests. Yet the cloud server managed such an amount effortlessly, bringing participating companies a profit of $38 billion.
Migrating is worthwhile for smaller companies too. Cloud space cuts cost for hardware, electricity, IT staff, and software because virtual data centers operate without occupying office space. SaaS is perfect for small e-commerce companies and works very well for companies implementing subscription models.
Let's look into the advantages of SaaS (data center stored in the cloud) over on-premises solutions (DC on the territory of the enterprise). Pros of cloud server usage:
Scalability and peak load control. If the rented resources are not enough, additional capacity can be provided in real-time.

Time and resource-saving. There's no need to maintain, upgrade and repair the physical infrastructure of a data server located in the cloud.

Disaster recovery system. Failures and malfunctions are worked on immediately without user involvement.

Reliability. The backup system allows restoring lost data as soon as possible. Technical support and equipment condition monitoring is carried out round the clock.

Guaranteed access. Damaged cables are not a problem anymore – in case of trouble, the cloud architecture discreetly reconnects the user to a stable cloud.

Lifted responsibility. Proper remote storage of users' personal data becomes the cloud service provider's responsibility.

Easy transition. Appropriately prepared migrations can take from a few days to a week, with no business disruption.

Freedom of choice. If the chosen provider no longer suits the company, the infrastructure can be quickly transferred to another provider.
When to Move to SaaS?
The simple answer is "any time" Generally, it is advised to move to SaaS when:
You are starting a business – this way you won't spend money on physical servers from the start, by building your architecture in a virtual environment;

You are expanding a business – a fast-growing enterprise requires a scalable environment that the cloud can provide;

You are searching for a way to automate a business – the SaaS toolkit includes instruments to automate many mundane processes;

You wish to cut costs but retain the quality of a business – cloud technologies are cheaper and still more efficient than costly physical servers.
Everything mentioned above makes a good case to consider moving to cloud. The next part of the article will explain how to do it.
Successful Cloud Migration: What to Begin With?
The first step is to create a plan. Outline the enterprise architecture to break it into data packages. It would also be helpful to evaluate the enterprise's computing power to prepare the cloud virtual machines of corresponding capacity when migrating to the cloud. 
Building a Roadmap of Your Enterprise
The technological roadmap outlines the company's infrastructure as well as upcoming changes. A detailed topology and application interaction scheme allows you to maintain existing connections when implementing your servers in a new environment. Moving to SaaS provides a natural opportunity to rethink your architecture and to change your infrastructure, expanding the capability previously limited by the physical environment.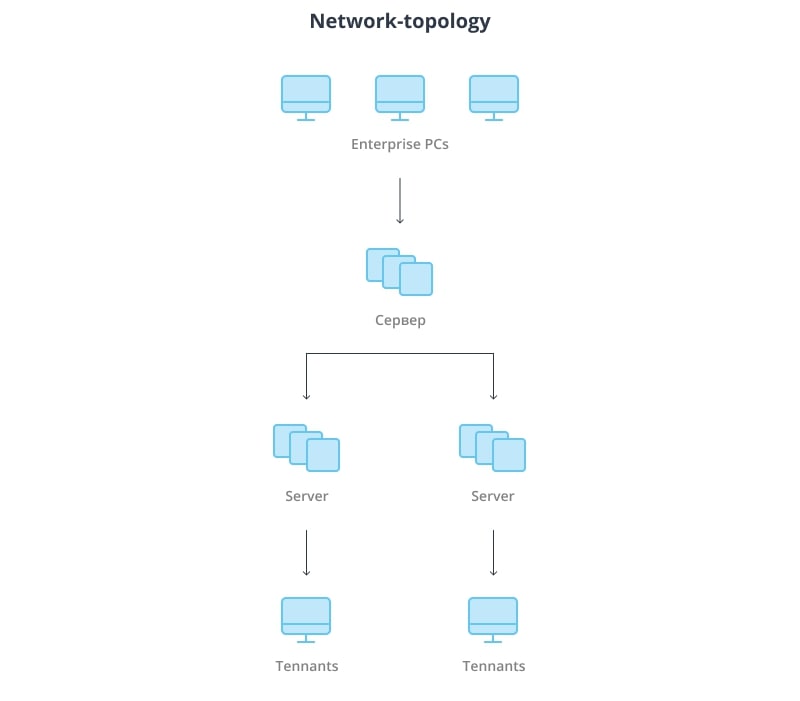 Example of On-Premise network topology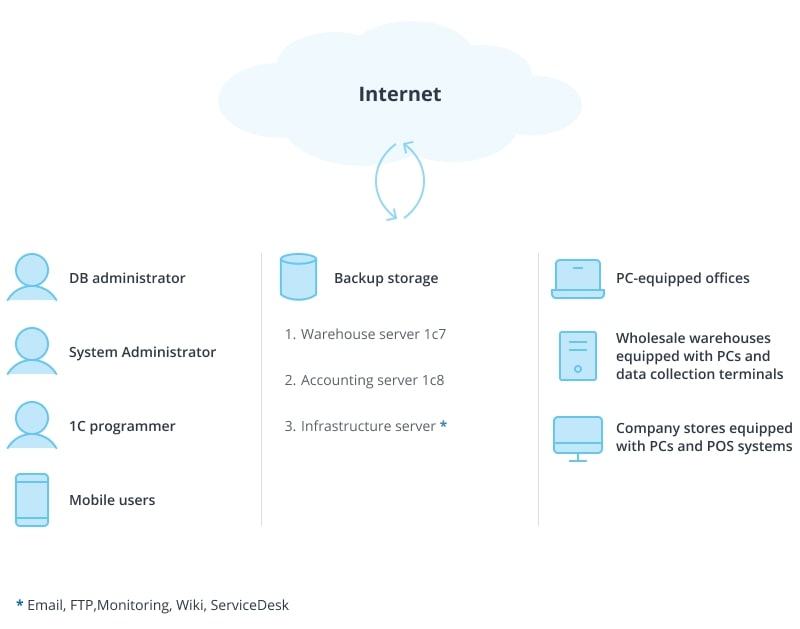 Example of SaaS network topology
Choosing Your Perfect Cloud
There are three cloud models:
Public – a pool of virtual data centers is shared among many enterprises. The data is not mixed as each tenant has their own virtual machines, but it may end up on the same physical server with other tenant data.

Private – the complete opposite of public cloud. The entire pool belongs only to one client, no data from other tenants will ever be stored there.

Hybrid – some data is stored on a private cloud, some on a public one.
Choose a cloud model based on what your enterprise demands. A public cloud scales resources in real-time, while private offers greater confidence in data security, but less flexibility and it costs more to rent. Hybrid cloud features the best of both sides, though it also shares the disadvantages of both public and private clouds. A hybrid cloud is useful in two cases: to combine lease servers with on-premises servers and in the case of certain data packages requiring private cloud security while others require the scaling capabilities of a public cloud.
Evaluation of Cloud Providers 
The cloud market is quite large, so it may take some time to find the right supplier. To assess the quality of the service, conduct several test runs of a small project to the provider's migration cloud. During the test period take notice of: 
service reliability;

technical support competence and efficiency;

task management comfortability;

internet connection speed.
Assuming the testing period is successful, before approving a SaaS vendor, ensure that the company is licensed to store personal data and that it includes backup and disaster recovery protocols in the service plan. 
Planning Your Migration 
The last step is to draw up a plan detailing when, how much data, and what components will be migrated to the cloud. A well-defined sequence of actions safely migrates the infrastructure to the cloud in the background.
Migration Model: Which One to Pick?
So you've built a roadmap, approved the provider, and drawn out the plan. The next question is: how do you deploy data and application networks to the virtual servers without completely rewriting the architecture? Moving business to the cloud is a case-by-case process. However, certain models exist to simplify the transfer procedures. These models are mutually inclusive and you can use each one of them simultaneously.
Cloud business migration follows three main patterns:
Silo Model (SLO) – each user is allocated to a separate server;

Layered Model (LMM) – data is transferred sequentially, "layer by layer";

Data Model (DMM) – only data storage is transferred, while the remaining levels remain single-tenant ("single tenancy" is an element of software architecture where an independent database and infrastructure is formed for each client).
Now we'll take a closer look at each of the models.
Silo Migration Model
SLO is the most common and, usually, the most natural moving scenario. SLO considers the company's overall infrastructure and preserves the original architecture as much as possible. The corresponding toolkit deploys the local infrastructure piece by piece, applying cloud design where appropriate while sustaining its design. Despite each user scaling individually, the system remains flexible to scale as a whole, allowing you to react to the current load and change the number of web and application servers in real-time as you see fit.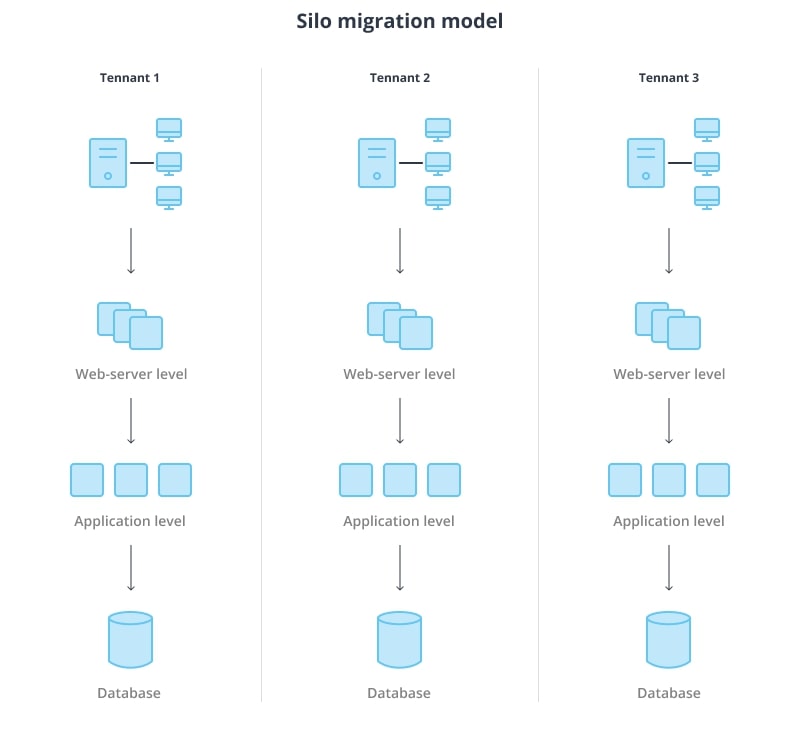 In this model, each user is transferred sequentially to avoid errors. This approach allows you to automate the allocation of resources for newly connected users in the future. In turn, this solution will provide an opportunity to improve the architecture migrated to the cloud.
Layered Migration Model
This scenario focuses on the "layer-by-layer" transfer of an organization's levels to multi-tenancy (multi-tenancy is an element of software structure where the databases and infrastructure of each client are connected). This model allows you to perform partial moving at first and then, level by level, migrate other parts if necessary.
The idea of LMM involves distinguishing levels that can be brought to a multi-tenant model while partially preserving a single-tenant design. The chosen levels are transferred to the cloud-first and the rest are added when necessary.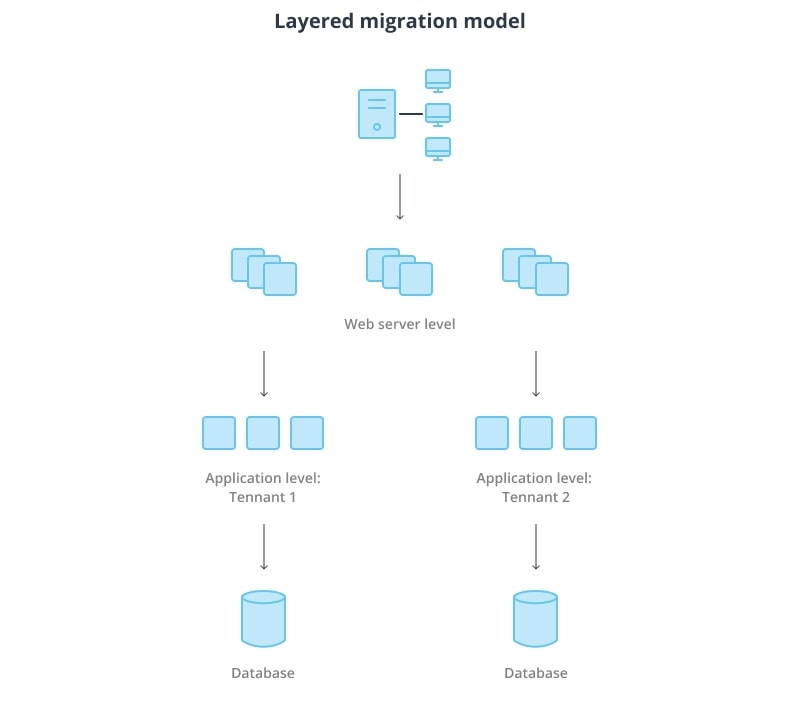 The advantage of this model is that it allows you to cover a wider scope. Any level in the infrastructure can be selected to start migrating and move it to multi-tenancy. As in the silo model, the transition occurs piece by piece, only the size of the data transferred and the overall different scale. 
Data Migration Model
This model migrates only data storage to a multi-tenant environment, while the rest of the levels remain single-tenant. One of the most challenging aspects of SaaS implementation is to present data in multi-tenancy. Despite data being coupled with code, the data storage layer represents a very clear boundary in enterprise architecture that can be a suitable target to migrate.
To some extent, the DMM is a variation of the layered model. The main difference is that this model gives you the chance to tackle the multi-tenant data challenges before moving to application design. This approach offers the opportunity to re-evaluate data storage technologies, tweak and refine data storage configurations and then migrate clients to a new environment.
You've Migrated to the Cloud: What's Next?
The moving itself is only half the battle. Cloud transition is not just a transfer of data, it is an entire world of new possibilities. From rebuilding the architecture on virtual server capacities to a completely new business-process approach: management, monitoring, and automation.
How Can You Optimize Management and Monitoring Systems?
The models described above have one important advantage: the transition of data is carried out automatically using the embedded toolkit. The company's own toolkit allows you to track the process and the state of the systems during data transfer. This toolkit, though, may become out of date when moved to a new environment. It's good to think in advance how you can optimize management and monitoring processes taking into account cloud platform specificities. 
The importance of restructuring management and monitoring systems stems from one part of the architecture acquiring multi-tenancy while the other will stay in a familiar one-tenant structure. The system must now display multi-tenant data of the user state. Being aware of the system state allows you to quickly respond to changes and errors in the cloud's operation. It is also vital to have an understanding of the activity and status of each client – this way you can support clients experiencing performance problems and rapidly remove malfunctions.
It's best to think through your new management and monitoring systems before migrating. The updated systems will operate immediately after the process is complete, making adaptation to the new environment easy and enjoyable.
Consider Business Automation
When moving to a SaaS platform it is useful to examine possibilities for process automation. The SaaS environment provides an opportunity to improve system quality. In the cloud, you can automate:
Local and virtual processes;

ERP (Enterprise Resource Planning) ecosystem;

Data management (backup, transfer, etc);

standard OS maintenance tasks and activities;

virtualization (running multiple operating systems on one PC), including VMware, Xen, and Amazon EC2.
The DevOps methodology (development and operations, practices for increasing the software development and operation processes' efficiency through their continuous integration and the interaction of specialists using automation tools) is well-suited for setting up automation in the cloud. If your company does not apply DevOps yet, the transition to SaaS implies the implementation of DevOps (Selenium, Appium) anyway. DevOps inclusion in the early stages creates the basis for design and architecture evolution, creating a template to apply automation to the next levels of the system in the future.
Trust Azoft in Cloud Migrations
Considering everything discussed above, the process of cloud migration is not as easy as it might seem at first glance. The presented models keep the enterprise infrastructure unchanged, while the cloud platform provides many opportunities for its evolution. The full cloud potential of your enterprise can only be achieved by a specialist. Azoft will help you migrate, taking into account the specificities of your architecture and the features you are interested in.
Are you considering moving to the cloud? Please, reach out to us: we would love to help.