What You Need to Know about Insurance Mobile App Development

IT copywriter
Reading time: 10 minutes
15 Jun 2021
Mobile apps are no longer an advantage but a necessity for businesses and insurance is no exception. If you are an insurance company looking to develop a mobile app, this article is for you. We will give you some insights into the current mobile insurance market and give some examples of what kinds of tasks you can solve with an app based on our case studies.
Why insurance companies need apps
More and more service providers are seeing the potential of using mobile apps and finding ways to implement them for their business goals. According to Market Research Future, the mobile app market CAGR is now 14%, and it will continue to grow in the future. People are using mobile apps more and more often: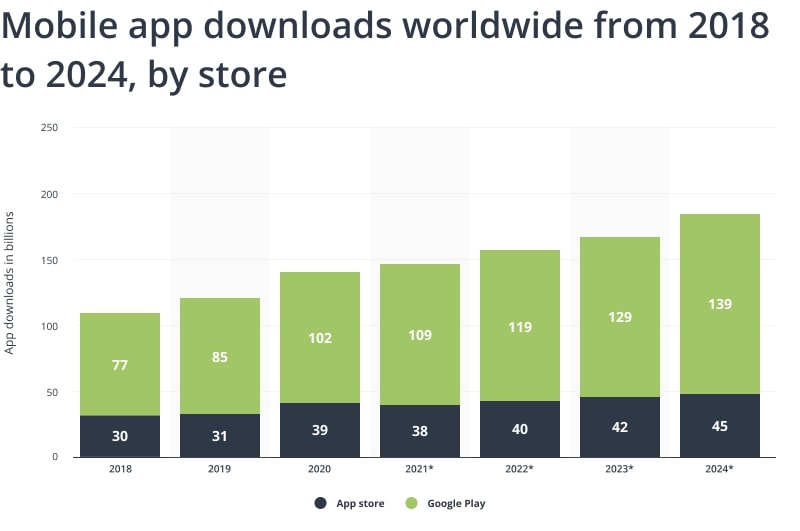 Source: Grand View Research 
Mobile apps allow insurers to:
Connect with clients

. It is easier to reach users through

mobile phones

. With an insurance app, they can find out about debts, sign insurance contracts, change the insured amount, track the history of insurance payments, and more.

Study user data

.

Mobile apps

contain the personal data of clients and information

about

their certificates. Based on a history of transactions and a list of clients, you can predict and increase profits

using

recommendation systems.

By

researching user behavior, you will understand what your users need, thereby allowing you to offer a

good insurance option

, and immediately sell a certificate. However, it is crucial to find a system that will

help protect

user data to make the work

as

safe

as

possible.

Automate processes

. With a mobile app, it only takes a couple of clicks to issue a certificate or choose among

insurance programs

. Clients receive documents online, so they don't need to come to insurance companies' offices and fill out papers. Insurance agents use apps

as

task trackers and CRM systems.

Reduce operating costs

. A chatbot can replace a support team. You can spend the saved money on business development to attract

more

customers.

Increase customer loyalty

. Brand loyalty will grow

if

users can conveniently get information about insurance services. Making the information will lead clients to use the app

more

often. Moreover, you

could also

set up cross-selling and increase the average check or lifetime value of the customer.
Undoubtedly, insurance apps could help clients too, and you have to be attentive to the customer service. An app allows users to easily receive various services. They can get an electronic certificate issued, buy car insurance, learn more about the insurance policy, or get a consultation in no time. Quality customer service makes clients loyal to companies.
Insurance mobile app market overview
What's happening in the mobile insurance market? According to cognizant, only 28 of the top 100 US insurance companies have mobile apps. However, the experts of Future Mind state that 40% of insurance research time is already being spent on mobile devices. In other words, insurance companies have noticed that there is a lot of potential to grow! Here are some of the most popular and promising areas of mobile insurance:
Multifunctional apps
Many modern apps provide customers with a wide range of services. The insurance industry is no exception. For instance, in the app MyAmFam, users can get various protection options available in the company: health, life, vehicles, business, and home insurance. Moreover, users can set up auto insurance and device protection, track payments made, get money in case of a car crash, find out the sum of insurance claims, file a complaint, and get support in case of an accident.
Medical apps
One of the key human needs is the preservation of health. Therefore, mobile carriers for health and life insurance are in-demand. A good example of such an app is Oscar Health. It helps users find symptoms and doctors, conduct online consultations, organize life insurance, discover coverage options, and manage personal data. The wide range of features makes it one of the top insurance apps in the United States. Services like Blue Shield of California allow customers to monitor their health. The app's advantages are 24/7 service and a variety of features: from providing information about insurance plans to finding a product that covers damage with the most convenient conditions.
A quality insurance app should be personalized. The myCigna app allows users to manage health information on their mobiles. Users can choose one of the available certificates and customize the app depending on selected protection plans: sight, dentistry, disability, accidents, and more.
Apps for resolving insurance claims
Quickly resolving insurance issues is especially important in emergencies and accidents. The Reliance Self-i app assists users with the quick processing online claims using cell phones. Its storage of electronic documents allows users to process data securely.
How we develop insurance apps: case studies
We, at Azoft, have been working on mobile insurance apps for over 14 years and want to share a few examples of our projects with you. We hope to help you better understand what products exist and what you might encounter while working on your mobile insurance project.
Insurance certificate management system for a large insurance company from the US
We have been creating software products for insurance companies since 2006. One of our first clients is the Certificate Exchange company. They developed a system for certificate holders, insurance agents, brokers, insurance companies, and policyholders. This platform allowed them to create and manage insurance certificates.
The platform has long used K/KSQL/KDB technologies. These technologies are rare and put significant restrictions on the product. They made the system difficult to maintain and develop because there were only a few specialists in the world who knew them well. Thus, our main task was to port the outdated certificate management system to the new technology stack and transfer data without loss.
We chose Java and PostgreSQL: popular, powerful, and free technologies. However, we still faced many difficulties including:
the complex structure of the original system;

lack of project documentation;

business logic that defines architecture and performance.
We analyzed the original system, built a prototype, developed a new product, migrated data, and went through several rounds of tuning and performance optimization. As a result, we got an updated insurance certificate management system and a new contract for the development and support of the online insurance system.
Insurance management system for an insurer from the US
Our other successful case in mobile insurance is the cooperation with the US insurance company Effective Coverage. It provides insurance services to property owners who rent out their apartments and houses. 
Our goal was to develop a web app to allow property owners to manage renter's insurance claims, enter apartments into the system, get insurance certificate information, and require tenants to buy or provide homeowners insurance. Because US real estate law differs greatly from state to state, it was important to make the system flexible.
The developed system accelerated the issuance of insurance certificates and minimized the number of errors; online payments were securely protected.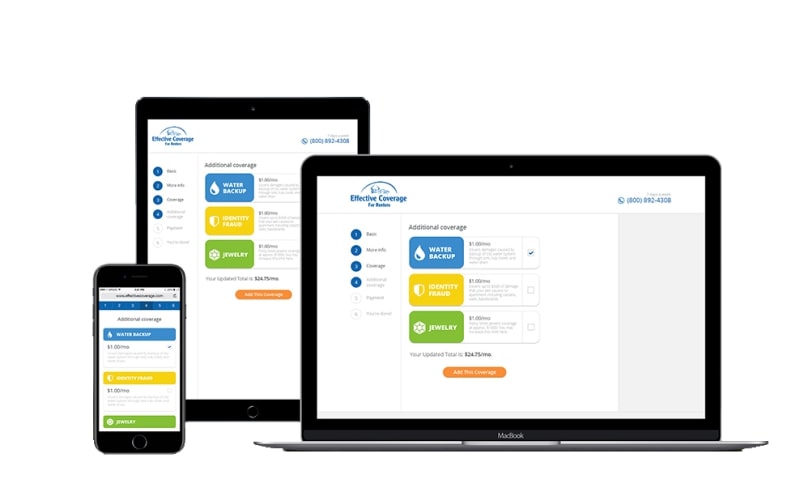 During the work, we had to deal with interesting challenges:
Insurance certificates tend to expire. We needed to make the system keep track of the issuance, expiration, and renewal of electronic certificates.

We faced a knowledge and terminology gap between the customer's project participants and our technicians. We spent some time "translating" the main points and features of the project between business and technical languages.
At Azoft, we believe that productive interaction with the customer is essential for problem-solving and overall project success. Considering the complex business logic of the system, we decided to work with the specialists from Effective Coverage both remotely and in-person. This decision helped us overcome the challenges of the project. The flexible approach allowed the team members from both sides to quickly get used to each other and interact more efficiently.
Our efforts were successful and resulted in a completed project with the satisfied customer. We successfully implemented a complex system that has accelerated the growth of the client's business in the demanding and volatile insurance industry.
We believe that the mobile insurance market is a lucrative and exciting niche where you can prosper. You can entrust us with the development of a mobile insurance product, and we will be glad to use our experience to advise you on the technical and business issues and become your reliable partner. Contact us for more details.