How Artificial Intelligent Influences Businesses

IT copywriter
Reading time:
18 Aug 2021
The research on the economic impact of Artificial Intelligence, conducted by Accenture, reveals that AI could double annual economic growth rates by 2035. Additionally, the use of AI is projected to stimulate the increase of labor productivity by up to 40%.
While some companies strive to infuse their products with AI, others are hard at work developing their own artificial intelligence technologies and services.
In this article, we'll explain what artificial intelligence is and how it is used in business with examples. Without further ado, let's get into it!
What is AI
AI has been a household word for the last few years. Since then, it has continued to evolve and become more integrated with our daily lives. But what exactly does "artificial intelligence" mean?
Artificial intelligence is the use of computers and systems to mimic the human thought process to solve problems and make decisions. The ideal AI should be capable of rationalizing and taking actions that have the best chance of achieving a specific goal. 
How does artificial intelligence work?
AI can perform its tasks and acquire new skills thanks to deep machine learning. Unlike "classical" methods, where all the necessary information is loaded into the system in advance, machine learning (ML) algorithms force the system to develop independently by learning the available information from various sources.
For example, to create a program to detect fraud, a machine learning algorithm works with a list of bank transactions and their end result (legal or illegal). An ML model looks at examples and develops a statistical relationship between legitimate and fraudulent transactions. After that, when you provide the algorithm with the details of a new bank transaction, it classifies it based on the patterns that it drew from previous examples.
Typically, the more data you provide, the more accurate the algorithm becomes when performing its tasks. Machine learning is especially useful for solving problems where the rules are not predefined and cannot be interpreted in binary. 
Returning to our example with banking operations, at the output, we have a binary numbering system: 0 – legal operation, 1 – illegal. But in order to come to such a conclusion, the system needs to analyze many parameters, and if you enter them manually, it would take over a year. A system based on deep machine learning, however, will be able to recognize something, even if it has never encountered such a case before.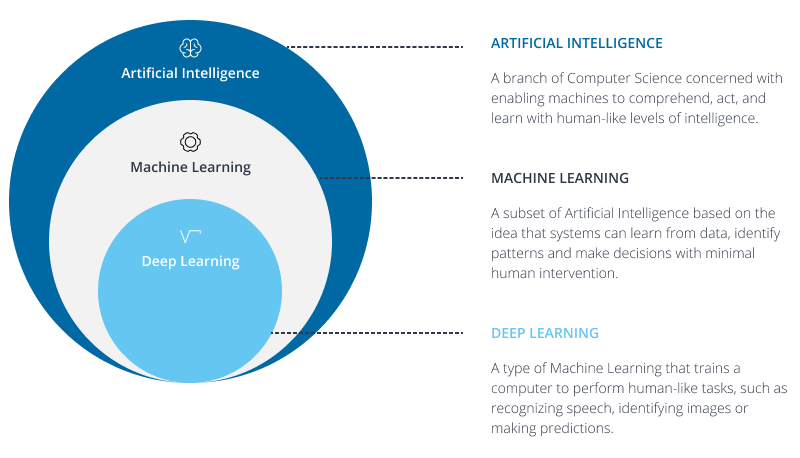 AI applications in business
How do companies adopt this technology? Let's explore some common applications.
Virtual smart assistants
The growth in popularity of virtual or artificially intelligent (AI) assistants has been going on for some time now as Amazon's Alexa, Apple's Siri, Microsoft's Cortana, and Google's Assistant are becoming an indispensable part of our lives. Such assistants can recognize and understand voice commands. They allow users to do numerous tasks hands-free: make calls, send text messages, search things online, provide directions, open apps, set appointments on calendars, and initiate or complete many other tasks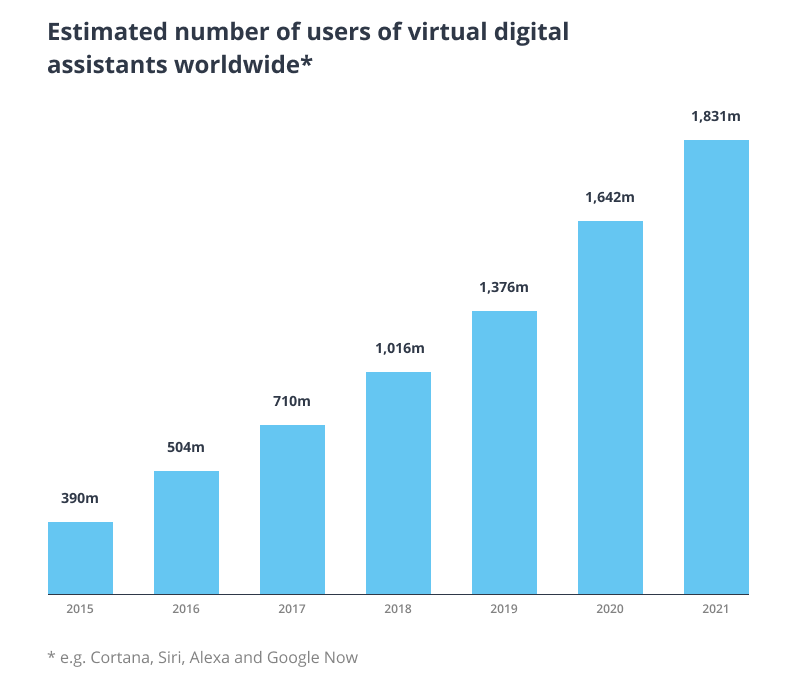 Growth in usage of AI assistants, source
The technology is also useful for businesses as it helps to convert voice to text, assist in team collaboration tasks, manage emails, as well as streamlining customer service processes, help desk management, and data analysis.
Whether you use a virtual assistant or not is up to you, either way, this tool is here to stay. According to Gartner, by 2025, customer service organizations that embed AI in their multichannel customer engagement platforms will increase their operational efficiency by 25%. Business Insider supports this prediction — the data shows that the chatbot market size is projected to grow from $2.6 billion in 2019 to $9.4 billion by 2024 at a compound annual growth rate (CAGR) of 29.7%.
Monitoring & Control
Continuous control and monitoring of the company's infrastructure is another opportunity to use AI technologies for business goals. A French, multinational energy firm, Engie, applied a combination of drones and AI image processing algorithms to inspect their equipment and avoid possible harmful damages.
AI monitoring & control systems both fit the urban environment. The best example is the license plate recognition system used by public sector organizations. We developed a similar algorithm for a German company. The Government of Catalonia uses the same measures, which offers local police real-time face and number plate recognition.
When you need to reduce risk and provide a safety net for your company, AI-based monitoring and control systems are the perfect solution.
Manual Job Automation
While some experts claim AI could take away 30 million jobs in the US alone, the current state of artificial intelligence does not allow companies to blindly trust critical tasks to smart software and robots. Instead, qualified employees monitor and adjust AI-driven systems' performance, teaching algorithms to make responsible, well-informed decisions.
Ultimately, AI's value lies in the automation of mundane and potentially dangerous tasks, such as drilling rig inspections, heavy lifting jobs at fulfillment centers, and updating information stored in disparate IT systems.
Engie SA, an electric utility company from France, uses drones and AI-powered image processing software to monitor its infrastructure, brick-and-mortar stores across Europe are rolling out autonomous shopping systems to minimize customers' interactions with staff and other shoppers and Amazon implemented 200,000 mobile robots across its warehouse facilities to save employees the trouble of walking ten miles or more daily.
Predictive Analytics
What's in the future? People want to know, companies need to know.
AI technologies process terabytes of data, reveal important connections and forecast the future. Predictive analytics look ahead in an attempt to divine unknown future events or actions based on data mining, statistics, modeling, deep learning and artificial intelligence, and machine learning. Predictive models are applied to business activities to better understand customers, with the goal of predicting buying patterns, potential risks, and likely opportunities.
Common uses for predictive analytics include but are not limited to:
Optimizing marketing campaigns to determine customer responses to marketing campaigns or purchase patterns.

Improving operations to better manage inventory and other resources, or to set prices for services based on things like seasonality.

Fraud detection.

AI analytics

can monitor user activity and note or catch unusual or out-of-the-ordinary customer activity, often in real-time.

Reduce risk. Merchants, such as car dealers, use more than just a credit score now to determine whether to approve a loan. They also look at things like insurance claims and driving records to determine if the buyer is a risk.
We have experience developing a recommender system for one of the main Russian grocery chains. The system parses customers' similarity, goods' similarity, and other content. Then, it recommends items similar to the purchased goods of the specific customer and other shoppers who have similar profiles.
Another example is Expedia — the world's largest online travel company providing services from booking hotels to car rentals. Expedia uses machine learning algorithms to create personalized recommendations for the platform's users.
Artificial intelligence shows impressive results in forecasting due to the ability to learn. However, contrary to traditional forecasting approaches, predictive analytics easily adapts to changing market behavior and improves performance as more data comes in.
Unstructured Data Analysis
80 percent of our global data is unstructured, as announced by IBM. These numbers are hard to believe, but the fact is that, by using mobile devices, every day we produce a large mass of unstructured content: messages, emails, photos, and videos.
AI algorithms help companies deal with all of this stuff and structure data for further analysis. The same principle lies in Siri — taking the unstructured data of your speech and structuring it so the machine can process it.
There is huge potential for manufacturing and industrial firms that have been gathering unstructured information for years. Such analysis can facilitate the work of R&D engineers as well by saving time spent on filtering and organizing data before they can evaluate and find important connections.
Robotics
The artificially intelligent (AI) robots market is expected to grow from USD 3.49 billion in 2018 to USD 12.36 billion by 2023, at a CAGR of 28.78% between 2018 and 2023. The growth of the market is driven by support from governments worldwide to develop modern technologies. 
The examples of AI in the field of robotics are plentiful. One of them is iRobot's smart robotic vacuum Roomba that uses artificial intelligence to scan room size, identify obstacles and remember the most efficient routes for cleaning. The self-deploying Roomba can also determine how much vacuuming there is to do based on a room's size, and it needs no human assistance to clean floors.
The company completed its first year as a purely consumer-focused business in 2017, pulling in $883.9 million in revenue, and has shipped more than 10 million Roombas since 2002.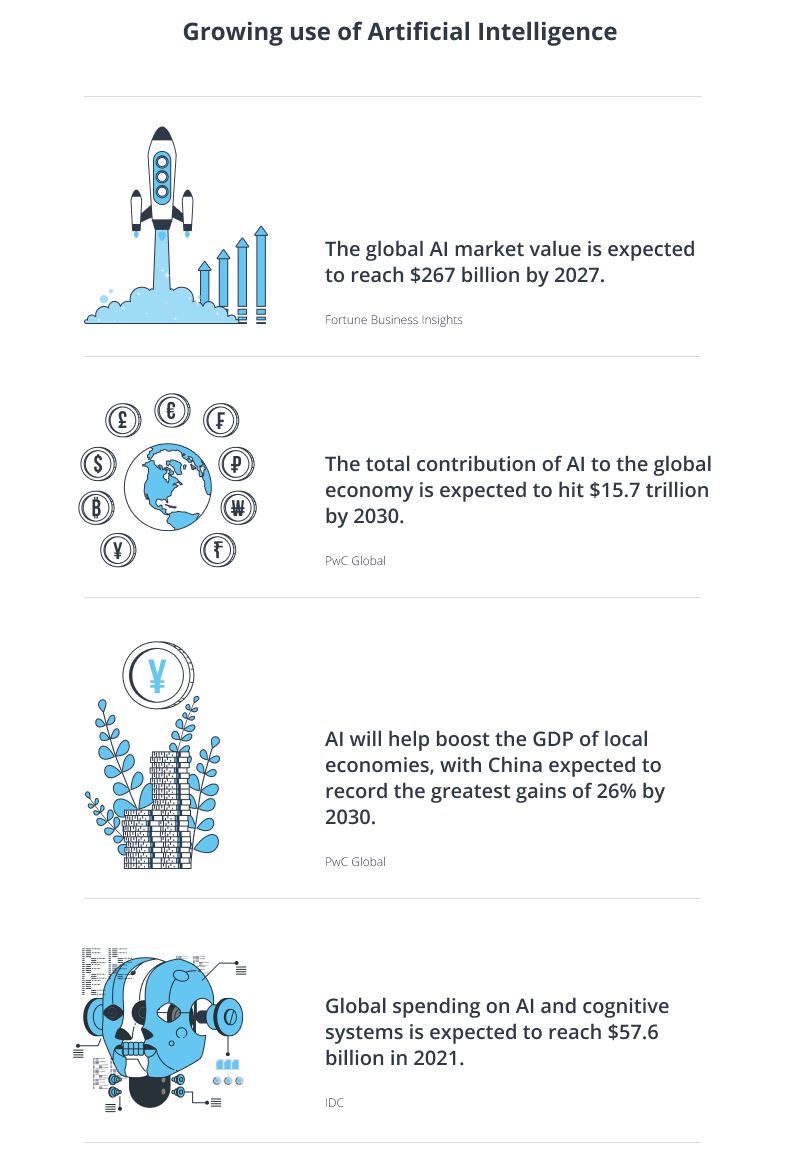 Examples of artificial intelligence use in business
Now let's take a deeper dive into these use cases of AI in business that demonstrate the breadth of the technology's applications across multiple industries.
AI in healthcare
Artificial Intelligence has revolutionized many industries in the past decade, and healthcare is no exception. In fact, the amount of data in healthcare has grown 20x in the past 7 years, causing an expected surge in the Healthcare AI market from $2.1 to a projected $36.1 billion by 2025 at an annual growth rate of 50.4%. AI in Healthcare is improving how patient care is delivered, and is impacting all aspects of the medical industry, including:
early detection

accurate diagnosis

advanced treatment

health monitoring

robotics

training

research and much more.
By leveraging the power of AI, providers can deploy more precise, efficient, and impactful interventions at exactly the right moment in a patient's care plan. In light of the global COVID-19 pandemic, there has never been a better time to understand the possibilities of artificial intelligence within the healthcare industry and learn how you can make an impact to better the world's healthcare infrastructure.
An example of an early detection solution is our AI ​​algorithm, which determines whether patients have lung cancer based on computed tomography (CT). It helps doctors diagnose the disease faster, and reduces the possibility of mistakes. 
Medical virtual assistants are also gaining popularity. They diagnose patients, fill out medical records for doctors, and are also able to provide consultations. At Azoft, we are also working in this direction; we are developing a virtual doctor with artificial intelligence, who supports patients 24/7 and refers them to the necessary specialist in case of emergency.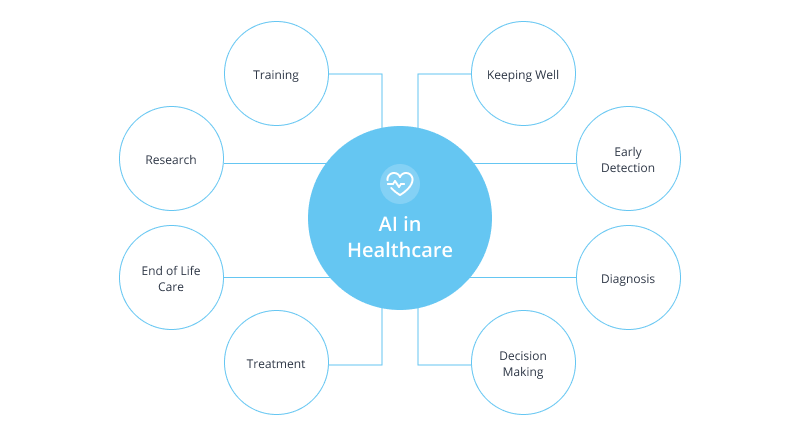 AI in agriculture
AI has the potential to improve agriculture, too. Global spending on smart, connected agricultural technologies and systems, including AI and machine learning, is projected to triple in revenue by 2025, reaching $15.3 billion, according to BI Intelligence Research.
Let's examine the potential benefits of artificial intelligence for agriculture organizations.
AI simplifies crop selection and helps farmers identify what produce will be most profitable.

Predictive analytics allows farmers to reduce errors in business processes and minimize the risk of crop failures.

By collecting data on plant growth, AI can help produce crops that are less prone to disease and better adapted to weather conditions.

AI systems can conduct chemical soil analyses and provide accurate estimates of missing nutrients.

AI can monitor the state of plants to spot and even predict diseases, identify and remove weeds, and recommend effective treatment of pests.

AI is useful for identifying optimal irrigation patterns and nutrient application times as well as predicting the optimal mix of agronomic products.

With the help of AI, it's possible to automate harvesting and even predict the best time for it.
We have experience building a smart drone solution for agriculture as well. These autopilot drones capture the planting process on vertical farms. The drones regularly fly around the shelves, take pictures of plants and send them to the server for further analysis and processing. To do this, we use machine learning and computer vision technologies.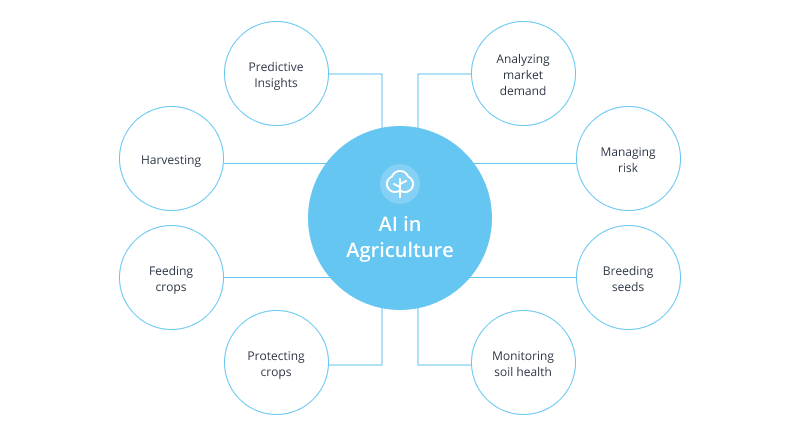 AI in education
Educational institutions also benefit from implementing artificial intelligence technologies, as they allow for the automation of routine tasks. As AI educational solutions continue to advance, they can help schools and teachers to do more than ever before. AI is capable of driving efficiency, personalization and streamlining admin tasks to allow teachers the time and freedom to focus on more creative and human capabilities where machines would struggle. By leveraging the best attributes of machines and teachers, the vision for AI in education is one where they work together to produce the best outcome for students.
Azoft has also been active in this field. We implemented AI to develop several EdTech tools for an online drawing school. The client is a Californian artist, a teacher, and a founder of the educational resource Proko. He turned to Azoft to develop a custom tool that analyzes and corrects lines in students' drawings automatically. We used machine learning and neural networks to create solutions that help:
rate drawings on a scale of 1 to 5

check if the perspective is correct 

suggest corrections to parallelepiped drawings
For the algorithm that automatically corrects errors in parallelepiped drawings, we created a web application that helps students get their works checked in a couple of clicks. 
The developed algorithms save the teacher's time by searching for and correcting the standard errors of novice artists. 
AI in education can be used for:
Automation of basic administrative activities

Personalized learning

Virtual Learning Environment

24/7 Assistance

Secure Online Exams
AI in retail
To stay competent today, retailers must interact with their customers like never before, all while streamlining their operation processes. AI, including machine learning and deep learning, are powerful tools that help enhance customer experience, grow revenue and reduce costs.
Here is how artificial intelligence can be used in retail:
Chatbots

Recommendation system

Visual search

Sales forecasting

Predictive analytics

Virtual fitting rooms
One of our clients wanted to bring their customer experience to another level and asked us to develop an app for trying on watches. We trained neural networks to show watches on the hand and let it move together with the hand to fully simulate wearing a watch.
Wrapping up
Artificial Intelligence has been the talk of the decade and, each year, there's been a growth in its adoption, evolution, and capabilities to resolve business problems of cost, profitability and sustainability. It's much more than a buzzword – it's a critical source of business value, when done right.
The AI industry has continued to grow, even during the global uncertainty of the COVID-19 pandemic. Due to the pandemic, organizations have invested in AI to expedite remote working, enhance the customer experience and decrease costs.
The importance of artificial intelligence in business is increasing. If you want to enhance your business with cutting-edge technologies, feel free to contact us at info@azoft.com. We'll gladly consult and assist you in your artificial intelligence product development.
——————————————–
Title: Artificial Intelligence in Business: Benefits & Examples | Azoft
Description: Learn about the benefits of using AI in business. Get to know some real examples of implementing artificial intelligence in IT products.