Forecast For 2021: Mobile Development Trends

IT copywriter
Reading time:
2 Feb 2021
Azoft has been involved in mobile development since 2002. During this period of time, we can't help noticing that the demand for mobile apps is increasing. According to Statista, in 2019 there were 4.15 billion smartphone users worldwide. In 2020, the number has increased up to 4.78 billion. Businesses can't afford to miss the significant marketing opportunities that the mobile app market has to offer! Dive into this article to learn about the latest mobile app development trends that are worth incorporating into your strategy.
AR and VR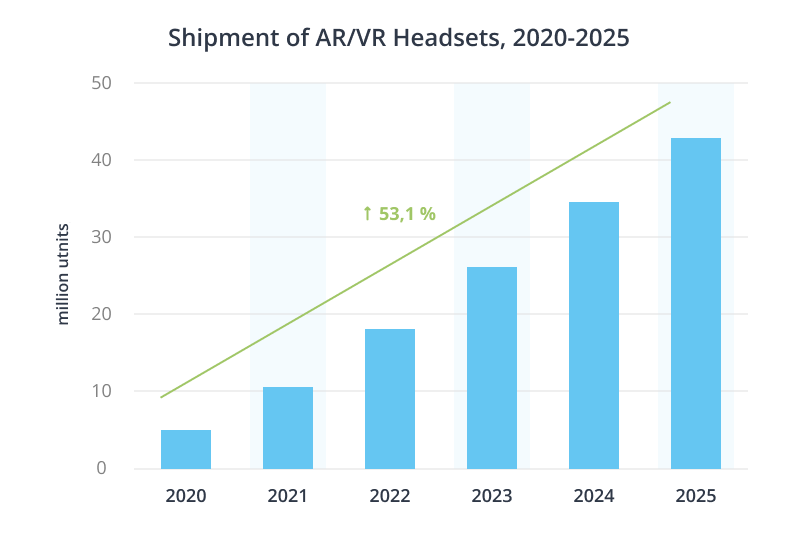 According to the forecast of the analytical company TrendForce, the average annual growth rate of AR and VR devices shipment from 2020 to 2025 will be 53.1%.
Augmented and virtual reality can be applied in education, trade, medicine, and entertainment. With the help of these technologies, you can virtually see how a table will look in your room, try on a watch on your wrist or even glasses on your face. A VR headset allows you to do even more: perform a complex surgery or walk around your house with walls and the furniture of your dreams. Now everything you see in AR and VR is extremely close to reality.
These technologies will surprise us even more in 2021. An exciting innovation for mobile development will be the possibility of greater immersion in online communication. This is due to the popularity of remote work: people are used to interacting on the Internet, but the current "flat" format is not enough. VR will allow us to be in a virtual location with other people, removing physical and psychological boundaries. The use of AR and VR will also bring benefits to healthcare, security, and industry.
Internet of Things (IoT) 
The Internet of Things is a network of devices connected via the Internet. These devices receive and transfer data over wireless networks without human intervention. All we have to do is manage the process and enjoy the results. A classic example of IoT is a smart home. You can use a single app to turn on the light, warm up the water, lock the doors, close the curtains, or even restrict access to the fridge (gotta quit late night snacking some time?). 
IoT spending 2017-2025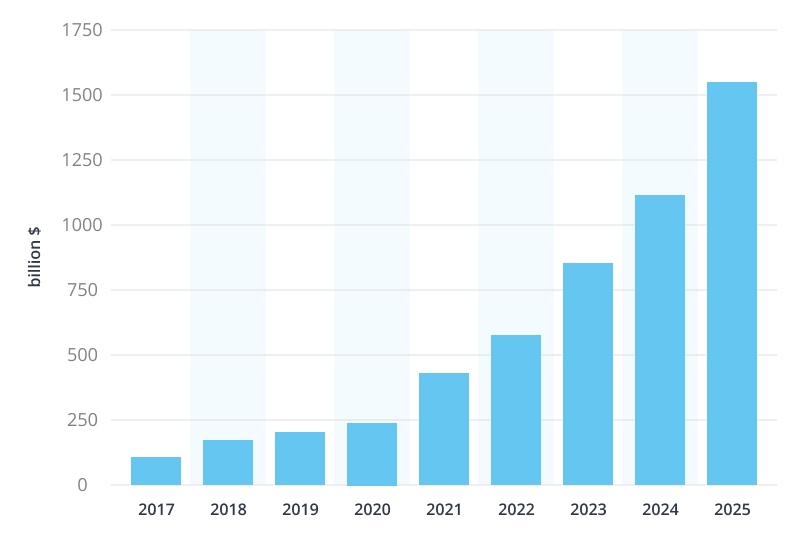 Source: Statista
IoT can help us outside of the home too. One example is its use in construction to prevent injuries and accidents. Special sensors attached to clothes monitor harmful impurities in building materials. Motion sensors emit signals when employees enter unsafe areas. RFID tags and sensors on materials and equipment notify builders to replenish stocks or repair equipment. These digital tools help companies to avoid costly downtime caused by a lack of materials and unused machines. IoT ensures that processes run smoothly and allows continuous improvement due to the constantly incoming data.
Next year, mobile IoT solutions in various areas will be used more widely. Here are a few examples of their potential use:
in medicine – hospital beds that receive information about patients and send it to nurses,

in logistics – monitoring of transport defects and localization of breakdowns,

in the transport industry – self-driving and flying cars.
And yes, your smartphone can manage all these processes. Thus, IoT allows any business area to become special and make clients incredibly happy. Don't miss your chance to achieve it!
Mobile wallets
According to the Electronic Transactions Association forecast, the global mobile payments market size will reach $1326 billion in 2021 (as opposed to $1100 billion in 2020). The market growth is boosted by the convenience and safety of mobile payments. Thus, eCommerce businesses encourage their customers to use mobile wallets, increasing the appeal to the audience and enhancing the purchase process. Hence, mobile wallet developers do their best to provide customers with tools for managing business and personal finances, taking loans, and solving issues related to transport and housing.
The related cybersecurity trend obliges developers to work on data protection systems too. They use multiple methods including cryptographic encryption, blockchain technologies, tokenization, and biometric authentication. Working on fintech projects, we pay attention to safety as well. For example, we built a mobile wallet for Ezuza that helps South American residents make secure mobile payments and receive commissions on transactions, thus helping grow small and large businesses. Such an app is a reliable assistant that helps simplify everyday activities. 
Wearable devices
The audience for wearable devices is growing ever larger and will become even more widespread in the next few years. People nowadays are more health-conscious than they used to be. Today, even the number of steps taken per day matters. To respond to this need, wearable health devices are growing more sophisticated, allowing users to track their heart rate, blood pressure, and blood oxygen levels.
However, it's not only watches and bracelets that can be smart. Sneakers with built-in bluetooth trackers, jackets that control music, and hats that receive calls are already on the market. Wearable devices are also used for a wide range of healthcare observations. For example, smart socks and shirts for babies can transmit information about the kids' condition to their parents' smartphones. In 2016, the share of smart clothes occupied 1% of the wearable device market. According to the IDC Mobile Device forecast, it will grow to 9.4% by 2021.
Smart clothes sales CAGR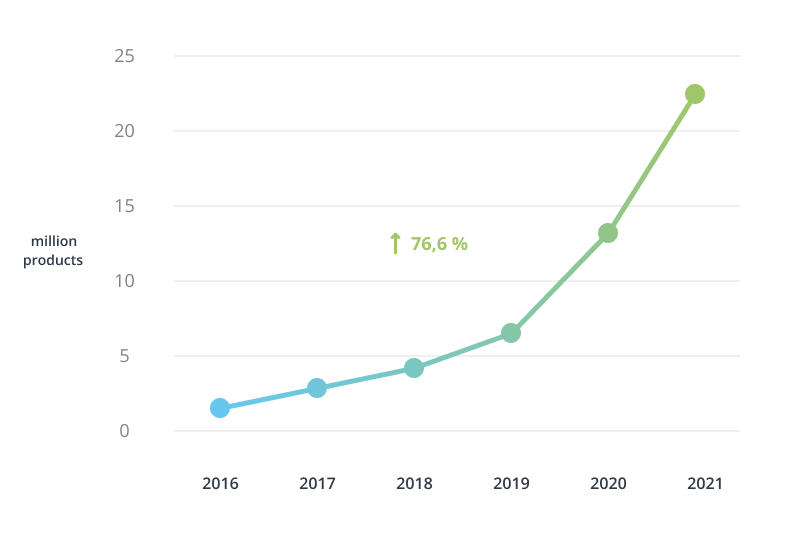 Source: IDC Mobile Device
All these useful functions require synchronization with smartphones so that users can manage their futuristic clothes and analyze the data received. All things considered, it is clear that mobile development in this area will flourish.
Artificial intelligence and machine learning
We already mentioned the importance of AI in the article dedicated to IT trends of 2021. AI is influencing mobile technologies as chatbots and voice assistants will become our regular interlocutors. Even now they can help us solve many issues and imitate human conversation. For instance, we expect to see more AI-powered mental health chatbots in the future. People in distress will be able to reach out online to AI therapists. Bots will recognize the keywords and provide a supportive presence to users, engaging them with a conversation at times when they feel low.
AI is also vital for banking because it can take over the routine work. Neural networks will help us with basic issues, and real bank employees will work on more complicated and interesting tasks. This approach can be applied to any area of our lives. AI can handle mundane and repetitive tasks, freeing up people to exercise creativity, solve complex problems, and focus on getting impactful work done.
Conclusion
We at Azoft make up-to-date apps so that people of these professions can get what they truly need. Our priority is to solve your current business problems and provide you with a high-quality product. We look forward to becoming your reliable tech partner. Write to us at info@azoft.com, and we will develop something amazing for you.