Agrotech and foodtech 2021: Cyber chefs and robotic couriers

IT copywriter
Reading time:
16 Feb 2021
2020 was a year where technology development was accelerated. Food delivery has become so common that most manufacturers have reconsidered their business processes, implemented robots in production processes, and started working with aggregators. Another driving force for this industry has been consumers' concerns for leading healthier lifestyles and environmental care. Read on to find out what awaits us in 2021.
Artificial intelligence and machine learning
Artificial intelligence is our trusted assistant in many areas. Soon, machine learning will allow researchers to predict relevant genes and characteristics of plants to be grown by farmers. Artificial intelligence will also be useful on a larger scale: by analyzing data from fields and farms and weather, it will provide advice on logistics and crop safety. Thus, producers will grow food more effectively and competently.
Swiss AgroTech startup Gamaya provides compelling solutions for monitoring crops powered by AI and drone technology. These solutions help farmers automatically identify problem areas within their fields and, as a result, reduce costs for crop protection. Other interesting examples of AI use are Apis Protect (sensors for monitoring hives) and Heliopas.Ai (satellite images for analyzing soil moisture). The infographic below presents some promising areas in the food industry that will also benefit from AI: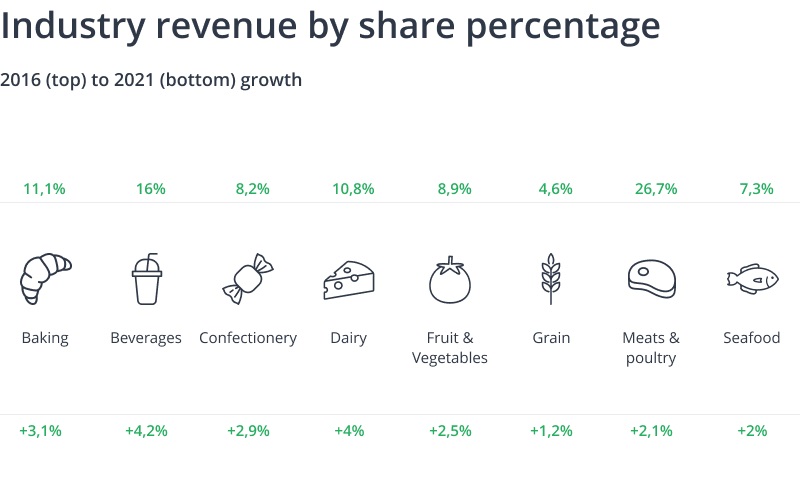 Source: JustFood
Remote production control
Satellites, drones, sensors, and other technologies will expand their influence in 2021. They will help people control and manage farming and manufacturing processes. At Azoft, we use the latest technologies. In our iFarm project we developed a SaaS platform that allows iFarm workers to control light, moisture, and overall plant health. Thus, customers regularly get juicy and fresh greens.
Some farms are already totally automated. Artificial intelligence manages all processes at a poultry farm in Russia. Robots monitor the health of two million chickens, weigh, reject and pack the eggs. These processes would have required hundreds of workers a few years ago, but today, this production only needs a few people to control the machines.
Robots in production
BCG predicts that robots will perform 25% of all industrial tasks by 2025. In the food industry modern robots can:
process raw materials,

work on conveyor belts,

print food on 3D printers,

cook in vending machines with a selection of ingredients,

pack products.
Until recently, people used to think that robots were clumsy and stupid. Now robots are used to work carefully with fragile objects such as sweets, fruits and eggs. We can expect that robots will soon replace humans in manufacturing and other routine tasks. Robots produce more accurate and high-quality work. Moreover, they can provide sterility which is relevant today and in the near future.
There are some robotic cafes and restaurants worldwide: Hestia Kitchen in Hong Kong, Foodom in Foshan (China), and Spyce in Boston. Their robots serve customers faster compared to humans and prepare food safely. These advantages demonstrate that the field of robotization is valuable and, as such, will continue to develop.
Food delivery subscription services
Each family has a standard set of products that must be constantly replenished: bread, milk, eggs, cereals, etc. Some large companies have already implemented the idea of online grocery shopping and develop food delivery apps. You can choose your favorite goods and get them regularly delivered to you just like a magazine or email subscription. People try to avoid constant thoughts about buying and preparing food because instead, they could spend time and energy on self-development, education, or sports. The general online shopping trend confirms the growing popularity of the regular delivery of goods: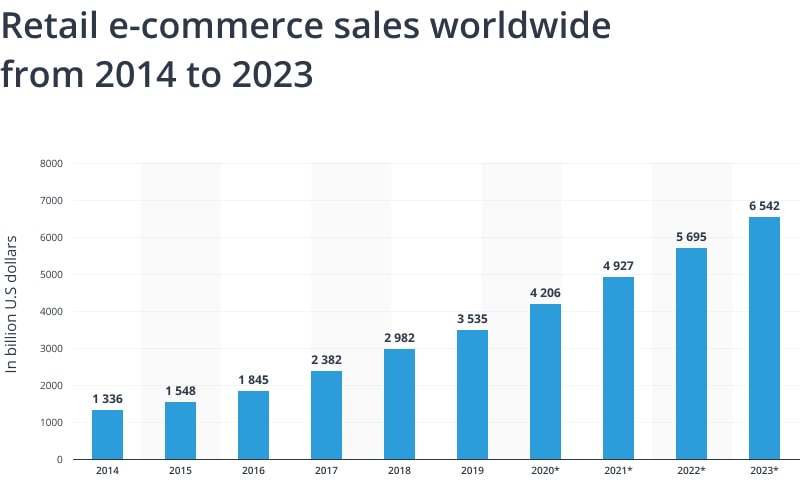 Source: Statista
This interaction between buyer and seller benefits both sides. It's affordable, environmentally friendly, and convenient. Thanks to such services customers don't have to spend time on shopping, and suppliers study the audience and get loyal customers. However, product manufacturers will have to work on implementation. They have to create user-friendly websites and mobile apps according to the customers' requirements.
Big Data in agriculture
The growing amount of data allows us to use them for good. How do Big Data benefit agriculture and the food industry? It allows
studying customer behavior

predicting demand

growing plants and breeding species efficiently

choosing suitable places for planting crops

finding spots for opening restaurants with the biggest flow of customers

collecting and analyzing data about each product 
With the help of data sets, companies can improve a product's quality, satisfy customers, reduce production costs, and improve business processes overall. Thus, this beneficial use of big data is crucial for agrotech and foodtech because the need for food grows daily and environmental problems become more and more acute. Moreover, consumers are becoming more demanding. This is what people consider when buying food: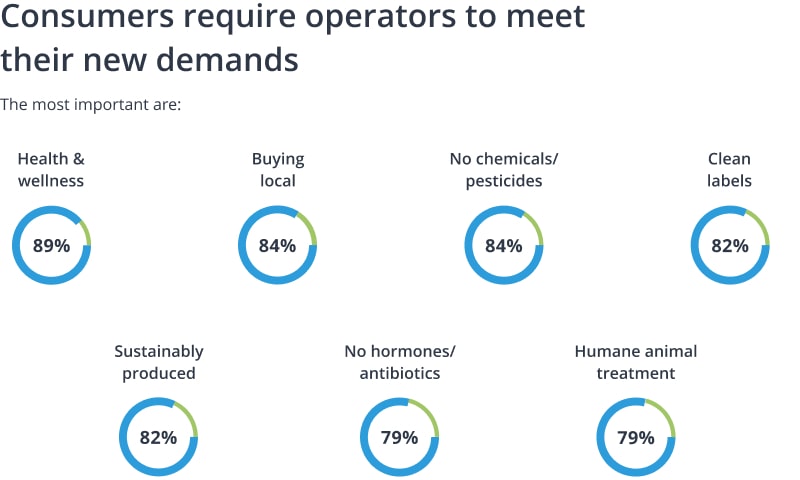 Source: Emerson Climate Technologies
Reasonable use of big data not only drives the industry and meets customer needs but also helps the planet.
Smart devices
So far, machines are not likely to become smarter than humans and enslave Earth's inhabitants. At least, we hope they aren't. However, some mechanical devices do some household tasks much better than people. In the field of foodtech, these smart devices include ovens, multicookers, and mugs. Their functionality is infinitely expanding, like our universe.
Smart devices will also become more popular in 2021. For example, refrigerators with a touchscreen on the door will be connected to a wi-fi network, allowing users to remotely control temperature and humidity or chat with family members from another room. Smart kettle, coffee machine, deep fryer, bread maker, multicooker – everything you need to be happy. In 2021, these devices will become more accessible and familiar. Life will be more convenient and, undoubtedly, more interesting.
Conclusion
Agrotech and foodtech trends ensure a healthy and comfortable future. And it's closer than we think! We at Azoft love to work on projects that help breakthrough ideas become reality. Drop us a line at info@azoft.com or use this form to share your idea of a  project. We are ready to work with you!