5 Awesome Apps That Advocate NativeScript Development

IT copywriter
Reading time:
10 Aug 2017
What are the challenges of today's world that entrepreneurs and business owners encounter? What questions puzzle them now? It's the same as half a century ago: how to reduce costs, increase profits and attract clients. The only things that have changed are the business tools. The hottest one today is a mobile app. A marketing zeitgeist that drives sales, engages audiences, and strengthens brand identity.
Why cross-platform apps work great
First and foremost, the cross-platform app market will reportedly hit $7,5 billion by 2018. This fact alone makes hybrid app development a leading-edge idea. But this is not enough. Let's understand the reasons driving this growth.
They say cross-platform and hybrid apps can't compete with native apps in terms of productivity and UX. This used to make sense back in the day, but now they actually can. React Native, NativeScript and a few other frameworks make it possible to build native-like apps. It's twice as cheap, faster, and both look and feel like a native app for iOS and Android. It's called a cross-platform native app and it might be the perfect tool to streamline your business across your mobile audience.
That being said, don't cut corners on the UX, no compromises are allowed here. The guys that built NativeScript seem to think the same as we do. That's why Azoft was an early adopter of the technology. We create business apps using NativeScript and you should as well. Read more to find out why.
Why use NativeScript
#1. NativeScript development saves money in your business
Native app development is expensive and there are many reasons for this. The main one is that you need to write a unique code for every single platform you choose. If you want to get Android users on board, then you need to master Java. Have a daring idea to get featured in the App Store? Then just be sure you know Objective-C and Swift. But these languages are not the easiest to learn. It might not be reasonable to spend the time and money building a native app to achieve your business goals.
NativeScript development is fully cross-platform. The framework has 100% Native API access meaning the same code base can be used for all platforms. In other words, it's the "write once, run everywhere" principle at its finest. This makes a multi-platform development via NativeScript truly affordable, fast, and beneficial for business.
#2. You'll be surprised to know that cross-platform can be native
NativeScript development allows you to use native components. It means you are all set to give your app access to the smartphone camera, calendar, touchscreen, calls, and other Android and iOS platform-specific perks. Both UX and UI will be native-like, meaning your cross-platform app will look and behave like a native one.
You can also take advantage of the App Store and Google Play release to compete with native apps on equal ground. Both Apple and Google treat all apps the same, regardless of the development method. Just be sure to provide a decent quality.
#3. You will launch your project faster
That being said, native development requires platform-specific skills. Multi-platform development doesn't. You only need to know JavaScript and JS-based tools to write clean, high-quality code for all platforms. NativeScript development requires AngularJS and TypeScript knowledge. We have 7 seniors and 5 middle developers who know these tools inside out. They are always ready to have your back on a project of any scale and complexity.
NativeScript live examples
#1. Strudel
This is a dating app for iOS and Android. It lets users find matches that share their interests and get in touch. A chat and location-based search are available.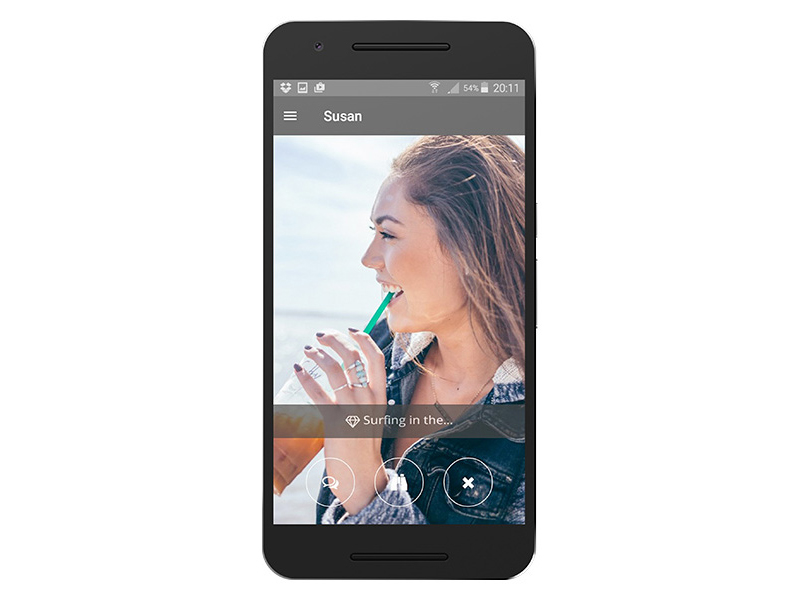 Business perspective
According to research, 7,4% of all internet users prefer to find dates online. This means huge incomes for dating services: $1.4 million now, and counting. New technologies encourage more and more people to date online before they meet a person in real life. All these trends make dating apps quite seducing for business owners to invest in. NativeScript development, in turn, will help you achieve your business objectives in a cost-efficient way.
#2. BitPoints Wallet
A platform for business owners to create and maintain loyalty programs.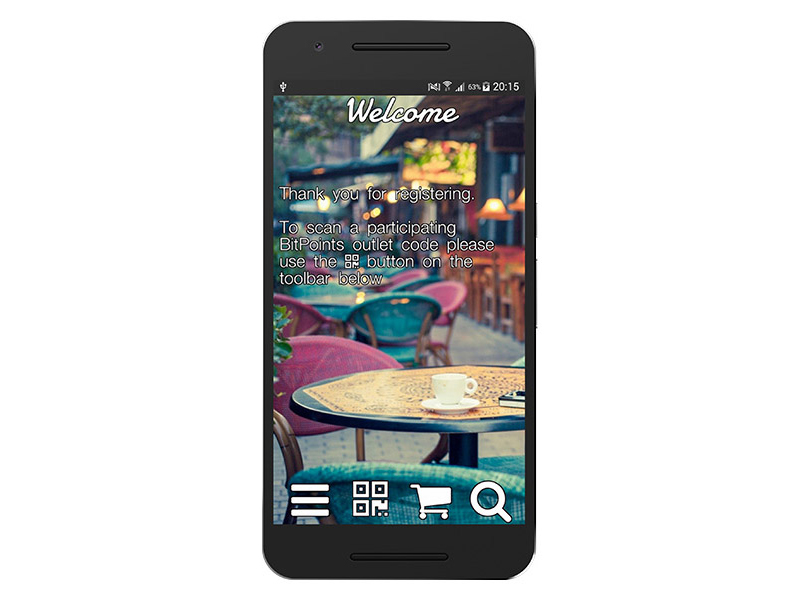 Business perspective
Whether you're a retailer or small business owner, consider building a mobile app. You'll need a turbocharger to cope with all the pressure from giant chains. A branded mobile app makes it possible to run personalized marketing campaigns and leverage customer service. A personal approach paired with the first-class UX is a game-changer aimed at nurturing your loyal audience.
Don't be afraid, you are not going to be a trailblazer. NativeScript development allows you to create a business app that drives revenue and brand awareness at a relatively low price.
#3. Daily Nanny
The app lets you keep track of your nanny's activities and your kids behavior.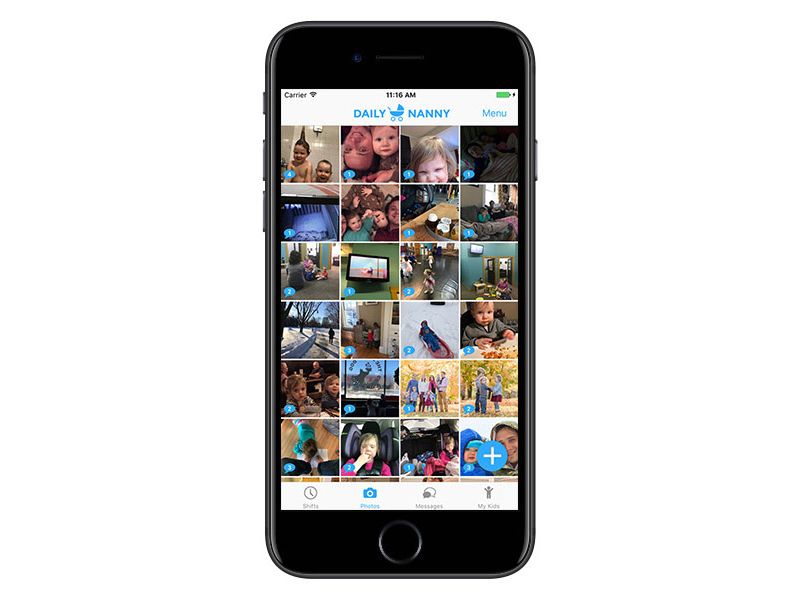 Business perspective
On-demand services are now extremely popular thanks to Uber, Airbnb, and other pathfinders that advocate this business model. Investing in an on-demand service app is no more a wild card but a good business decision.
Try your idea out using a NativeScript framework to build an MVP app. The other option is to launch a cross-platform app quickly and invest in native app development while collecting user feedback and browsing an ever-changing market.
#4. Regelneef
The app monitors energy consumption and predicts costs for the next month.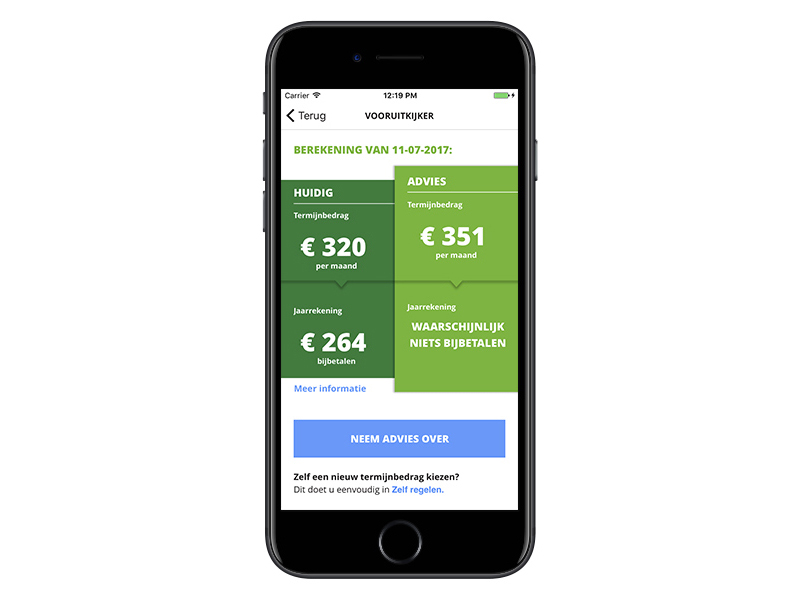 #5. Dwitch
A food delivery service app; well done.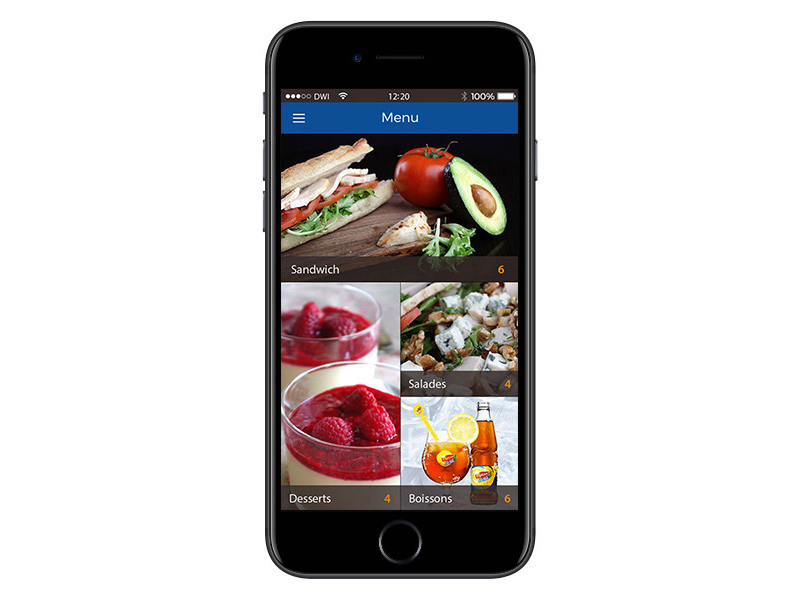 Business perspective
The food delivery services market is being changed by emerging trends and growing by 3.5% a year. According to McKinsey, it already achieved an €83 billion milestone. There are two promising business models for you to consider: aggregators and so-called new-delivery services that offer unique products.
NativeScript development can become a one-stop-shop for your business by letting you build both an MVP to probe your idea and craft a full-power solution aimed at bringing long-term benefits. A solution that can boast its UX among other advantages.
Is there anything else I should know?
We are not here to tell you lies. The truth is that NativeScript won't let you build a 100% native app, no matter how hard you try. Native cross-platform apps and native apps are not the same. An app built on NativeScript remains a cross-platform or hybrid app by nature. Yes, it has drawbacks, but these are drawbacks worth justifying.
NativeScript development lets you come as close to native app development standards as possible. Of course, native apps outperform cross-platform in terms of response time and UX, but users often can't see any difference. The only weak point that is hard to hide is the ability to maintain extremely complex business logic. In all other cases, a cross-platform app can be a big help for every business type and model. Spend the money saved by cost-efficient NativeScript on marketing and growth to ensure a quick start for your app. The numbers say, and they don't lie, that hybrid and cross-platform apps solve business tasks for about 50% of clients seeking mobile development.