UX Design Process: How To Create A User-Friendly Interface
22 Jan 2021
Hello, I am Irina, an analyst at Azoft. During my career at Azoft I collected and analyzed user requirements for projects such as a start-up for the selection of housing for pensioners in the field of social security (US), a start-up for software development for management companies (UK), a SaaS platform called iFarm Growtune for farm management (Russia) and many others. In each of these projects, at the analytic stage, the main challenge lies in creating screen prototypes. In this article, I will share our approach to completing this task.
How we do UX Design at Azoft
When you decide to develop your product, sooner or later you face a need for UX design. At Azoft, we strive to create software solutions that appeal to users and benefit the business. That's why we offer our clients the collaboration between an analyst and a designer. Analysts are responsible for collecting and managing requirements, and designers, based on the prepared documentation, create the visual of the product.
Upon completion of the Analytics phase, you will receive both full documentation (technical specification, which can be transferred to development), and prototype screens (which can be shown to stakeholders).
Why businesses need UX design
UX means user experience, the result of user interactions with the interface. Interactions should be intuitive and consistent with user behavior patterns, and interface solutions should be consistent.
We, as users, do a lot of online activities without thinking. We perceive some sites easily, while others make us want to "run away," because nothing is clear, and with every click we have to think about things such as: "where will it take me?" or "where is the return button?"
However, with a well-thought-out structure and the usual arrangement of the main elements, it is possible to facilitate the user's interaction with the site or app and not distract him from the target actions. Smart UX design allows users with different capabilities to successfully use products.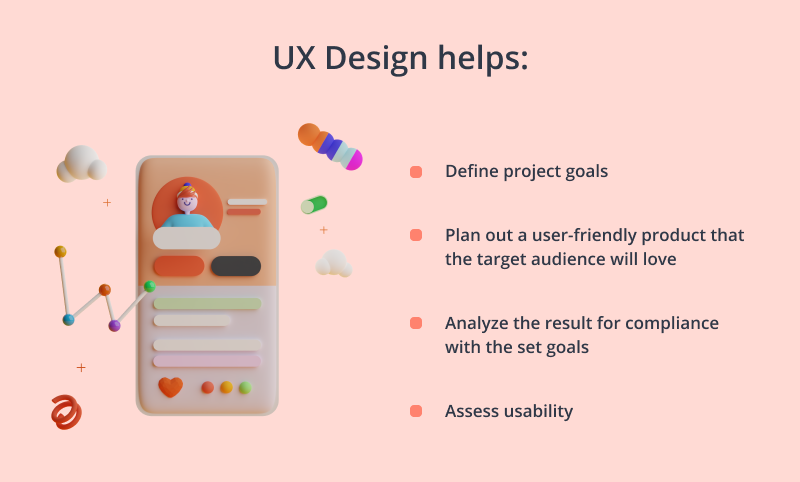 Interface creation process
UX design is the process of creating an interface that matches the client's need for a specific action within the application. It can be divided into the following stages:
Collecting preliminary data

Target audience research

Information architecture development

Development of prototypes
At first glance, one might think UX design begins during the prototyping phase. However, this is not the case. The basis for UX design is laid at the stage of immersion in the project; when we learn about the client and the specifics of his activities as well as the problem that he seeks to solve by creating an application. Understanding the UX design process can help you form expectations about the set of artifacts and the quality of the results of the collaboration between analyst and designer.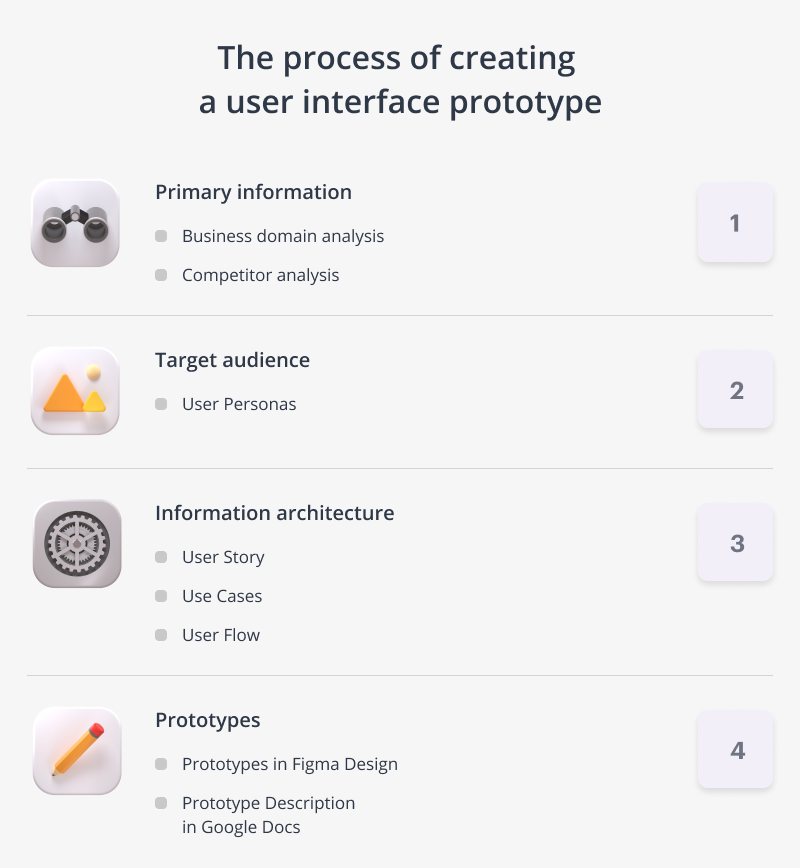 Collecting preliminary data
Screen prototypes are like the tip of the iceberg; there is a lot of work preceding prototype design.
UX design begins with an analysis of the client's industry. Understanding business processes helps us understand when the ultimate goal has been achieved and what steps need to be taken to achieve this. Next, we study the client's business, focusing on the requests and issues he came to us with, how we can help, and what needs to be improved.
Preliminary analysis cannot be done without competitor analysis. Based on this data, we will be able to:
avoid the mistakes of competitors;

see the advantages, chips used by competitors, and also think about how they can be improved and added to the product;

understand our strengths and weaknesses compared to competitors.
Target audience research
The next step is to define users. Without understanding who our target audience is, it is impossible to create a demanded product.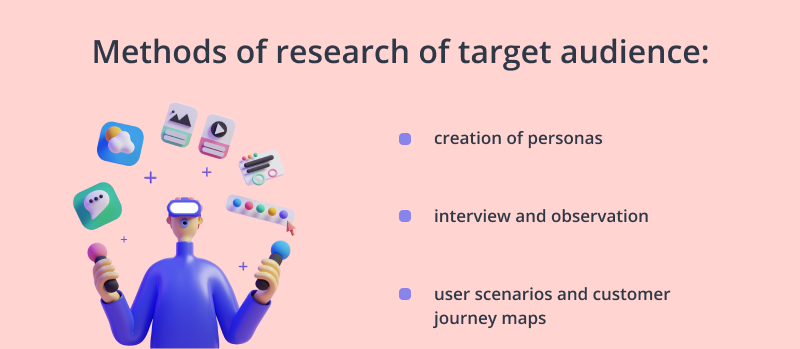 To define the target audience, we determine their demographic information (ex: age range, expertise, location, job title, hobbies, etc.), how they like to communicate, their lifestyle and attitudes. Such information helps us create a general portrait and split users into several typical groups.
When researching target audiences, we use various methods, such as the persona method and the CJM (Customer Journey Map). Depending on the stage at which the UX research takes place, we choose the appropriate framework. For example, CJM is not suitable for a startup when there are no users.
Typically, we collect information about the needs of the end users of the product directly from the customer. At the same time, we focus on the experience of working on other projects as well as the results of point surveys of potential users of the software product.
Sometimes we have the opportunity to conduct interviews directly with end users. For example, to develop a production management system (iFarm Growtune), we interviewed agronomists, growers and production directors.
The client's industry, the client's business and his target audience are the main objects of analysis. In addition, we look at trends, statistics that can help us, and we study cases from other companies. After immersion in the project, we can move on to drawing up the User Flow, a diagram that represents the workflow or process from the user's perspective.
Information architecture design
Information architecture is the structural design of an information space that helps you accomplish user tasks and provide intuitive access to content. For simplicity, you can define an information architecture as a collection of logically related application screens. The information architecture can be in the form of User Flow or Screen Transition Maps.
At this stage, analysts help clients describe business requirements and define a set of custom requirements for an application. At Azoft, we usually define the scope of the project's functionality using User Stories, and we trace the requirements between the original (business requirements) and technical requirements (regarding security, performance, etc.) using Use Cases.
It turns out that Use Cases represent a set of technical requirements that are reflected in a set of interconnected sections, screens of the User Flow application. User Flow helps to understand the user's path and see whether all processes in the product have a logical conclusion; whether alternative scenarios for using the functionality by the user have been taken into account. For more information on User Stories, Use Cases and other artifacts, see our article on clarifying requirements.
Prototype design
After developing the information architecture, we move on to designing prototypes for the future software product.
From a process point of view, at Azoft, it goes something like this. An analyst comes to a designer with an understanding of the application as a whole: what sections, modules or blocks should be provided in the application, what screens they consist of and what cases the user needs to close on each screen. Then the designer, based on information about the industry, the client's business and his target audience, as well as the knowledge base on the project from the analyst, starts designing prototypes of screens in Figma Design. In the process of designing prototypes, the designer makes sure that the application interface helps to achieve the user's goal.
Chances are, if the UX design has been done well, you won't even notice it. Looking at the interface, you will just intuitively understand where things are and what they do. You don't need to dig deeper to understand how the application works. Of course, there are a number of exceptions to this unspoken rule, such as naturally complex systems or control panels.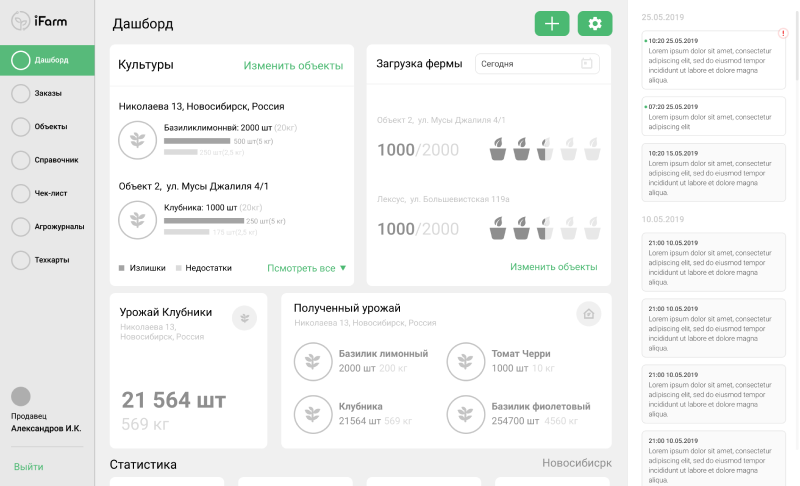 The example of a prototype for iFarm.
As a result of UX design, focusing on your goals and preferences, we will be able to make you a clickable prototype of your software product in Figma Design and a description of all screen prototypes. These two things will allow you to start developing a product that is user-friendly.
Now you know how we design interfaces at Azoft. Are you interested in walking this path with us? Tell us about your project idea and we will help you with all stages of software and application development, from preliminary analytics to support and further development.