EdTech Trends That Will Rule 2021

IT copywriter
Reading time:
5 Feb 2021
The need for online learning products continues to grow at an increasingly fast rate. Holoniq, an education analytics company, expects education technology spending to reach $404 billion by 2025.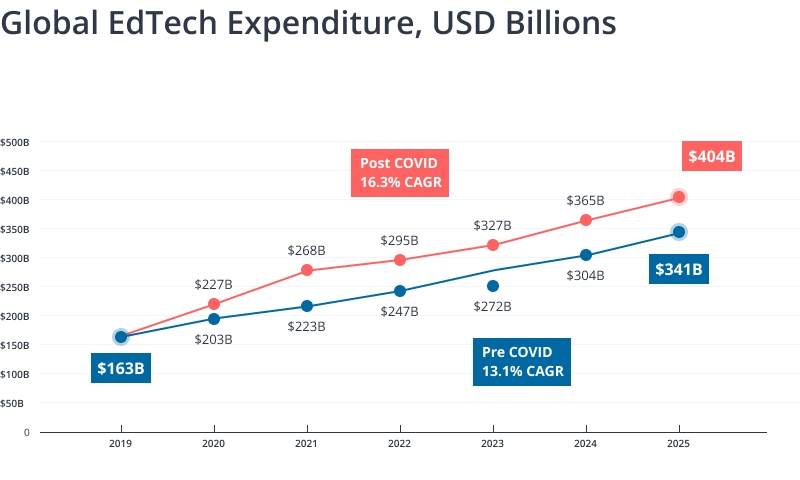 The pre-COVID cost growth rate was forecasted at 13.1%. In August 2020, Holoniq experts revised their forecast as the expected growth rate increased to 16.3%.
Investors are beginning to see the emerging technology prospects so they are investing in their development. In 2018, spending on AR/VR technologies was only $1.8 billion. It is expected to exceed $12 billion by 2025. Less growth is expected for AI: from $1 billion in 2018 to over $6 billion by 2025.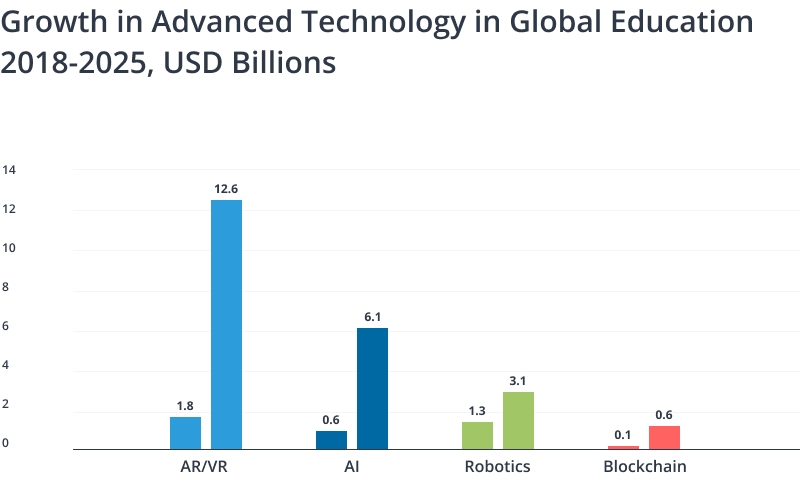 Augmented and virtual reality, as well as artificial intelligence, are key technologies that drive the development of Edtech.
EdTech venture capital companies around the world are actively tapping the market. The total amount of investments in EdTech in 2014 was less than $2 billion. In 2020, investments in the EdTech sector exceeded $16 billion.
Let's find out which EdTech trends will shape the field of education in 2021.
Distance learning
Schools, universities and private teachers are adjusting to new realities and need effective tools for online learning. Tools for conducting classes in real time, creating and posting pre-recorded lectures and completing assignments based on these lectures could all be very helpful. This need inspired our client from US to develop an online learning platform for a client from the US. We helped her build a web platform that allows teacher to enroll students, organize payments and conduct streams.

Another factor that affects the development of digital learning is the concept of "lifelong learning." Education is no longer limited to the schools and universities. People continue to learn through courses, books and videos throughout their lives. Online education platforms, which offer flexible and interactive learning formats for all tastes, are a good option for those who are eager to learn new skills.
Artificial Intelligence
Artificial intelligence is used to automatically evaluate work and provide feedback. It helps teachers spend less time on routine tasks and ensures that students receive instant feedback. AI-powered EdTech solutions are even capable of checking works related to creative fields. For example, we have developed EdTech tools for an online drawing school that automatically check drawings and correct standard errors.

Artificial intelligence also allows automatically analyzing data and providing insights. Educators use data to create personalized lesson plans, predict learning outcomes, and even help students find majors that match their interests and skills.
Personalization
This trend is closely related to the previous one. The idea is to focus on the needs of a particular student. Some students learn best through audition, while others may prefer to learn through visual materials. Some catch on fast, while others need more time to understand the topic. With the help of artificial intelligence, it is possible to develop individual training programs depending on the individual's goals, their current level of knowledge and their preferred training format.
Currently, Belgian schools use the British AI platform called Century Tech. It analyzes the interests of students, the level of their knowledge, including the gaps in their knowledge, and provides individual learning programs based on this data. 
Virtual and Augmented Reality
Immersive learning formats are becoming a global trend. Education is expected to become the fourth largest sector to invest in VR. Statista predicts that VR in education will become a $700 million industry by 2025.
Virtual and Augmented Reality technologies help grab students' attention and change their role from a passive observer to an active participant who can interact with the learning environment. This makes the learning process more fun and productive.
Technology is used to attract students' interest in various fields. Instead of reading about Rome, you can visit it. Google Expeditions is a smartphone app that enables such experiences. It's a library of VR excursions – from the Great Wall of China to Mars.
The EON-XR AVR app takes users to a virtual chemistry lab where they conduct experiments without needing to worry about the possibility of any consequences if mistakes are made. And medical students studying anatomy can better understand the structure of the body in 3D and the relationship of body systems using the 3D4Medical educational platform.
Blockchain
Blockchain is often associated with bitcoin, but this is just one of the applications of this technology. It is also used in EdTech.
The core feature of blockchain is decentralization, which allows for the distribution of data on academic performance. This makes it impossible to forge information. One interesting application of blockchain can be seen at MIT. At MIT, graduate diplomas are stored on a blockchain platform to avoid sending fake degrees to potential employers, which is unfortunately not uncommon.
Cloud data storage via blockchain also saves money for educational institutions and insures against the loss of information stored on hard drives.
The explosive growth of interest in educational technology is one of the positive consequences of the pandemic. Personalized immersive learning, artificial intelligence, automated schools, a digital curriculum, and improved privacy and data security are just the beginning of a technological revolution in education. There's more to come!
Do you want to create your own IT solution for education? We'd love to become your reliable technology partner and help turn your idea into reality! Leave a request to get a free consultation from our experts.