Outstaffing vs. Outsourcing: What are the Differences, Pros & Cons of Development Models

Head of Web Development Department
Reading time: 15 min
28 Sep 2021
Maintaining a business means constantly searching for talent and opportunities. While opportunities occur through effort and chance, talent seeking is a task one can manage. But, as everything comes with a price, hand-picked in-house talent may cost too much. This is where outsourcing, offshoring and outstaffing models come in handy.
Outstaffing and outsourcing have a lot in common: their goal is to offer affordable, yet outstanding talent for businesses. However, all three models have their own application field, strong sides and weak points.
In this article we'll define, compare and inspect pros and cons of outsourcing and outstaffing models.
Introduction to Outsourcing Market Statistics
Ever since the 80s, businesses have outsourced many tasks. Nowadays, the global outsourcing market has grown to $92.5 billion and continues to grow. IT services are one of the most popular to outsource, along with accounting and digital marketing.
More than a third of small businesses surveyed in Clutch's 2019 review outsource a business process and more than half have plans to outsource in the future.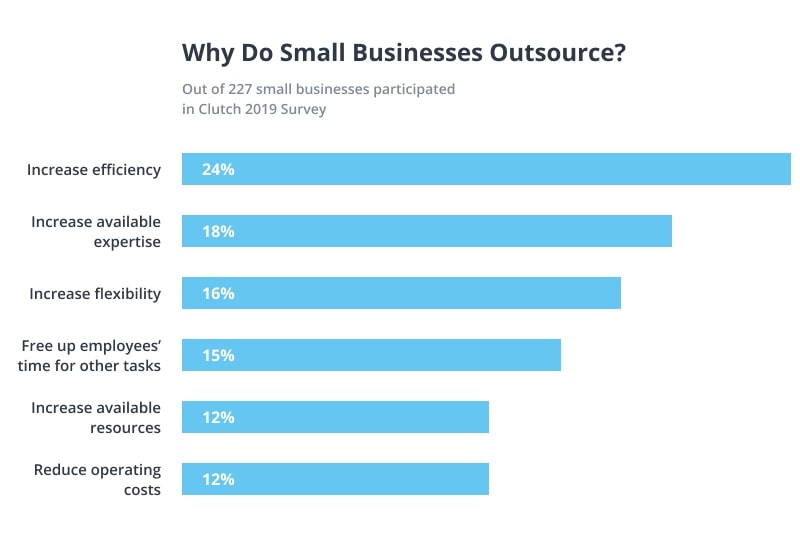 More than a third of small businesses surveyed in Clutch's 2019 review outsource a business process and more than half have plans to outsource in the future.
According to the 2020 Deloitte Global Outsourcing Survey, businesses choose to outsource to reduce costs. Clutch's report shows that businesses also outsource to increase efficiency (24%) or acquire expert assistance (18%). PWC claims that, on average, outsource payroll saves 18% more than in-house staffing.
The experience reported by Deloitte Survey respondents is mostly (78%) positive. Computer Economics claims that 65% of businesses outsourcing application service will continue to do so and plan on further increasing their involvement in outsourcing.
Outsourcing and outstaffing brings profit not only to business: these models create workplaces in developing countries (e.g. India, Ukraine, and Poland). A report by Smallbizgenius shows that, annually, around 300 000 jobs are outsourced by the US to these countries.
What is Outsourcing?
Imagine an online store. Business is going well, but with the increasing popularity of apps the owner wishes to extend store influence into mobile phones. This decision leads to two major challenges:
The

in-house developers

lack the expertise to build a mobile application;

The budget and time frames are limited, so there's no opportunity to hire an entire team of professionals in house.
The business owner chooses to contact a company that specializes in mobile app development. For a cost lower than the in-house team would cost, the contractor develops an application in a short time. As they deliver the product and the contract is complete, the service provider stops working with the business owner. This was an example of outsource.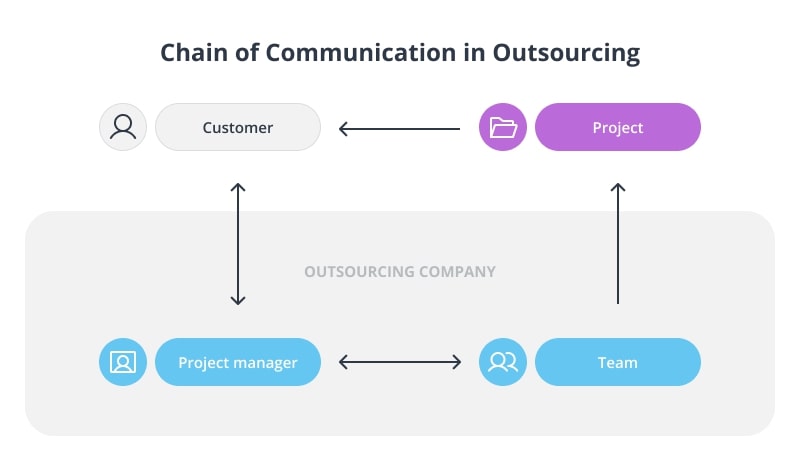 Outsourcing represents a model that's mostly project-based. This means that, by hiring an outsourcing team, you would hand over the project to a third party. The outsourced team would work on this project from start to finish. The service providing company offers more than just a workforce: contractors also take care of working places, equipment, training and expertise. Supervision, quality control and management are also the contracting company's responsibility.
The outsourcing company can keep distance, handling the project on their own and reporting progress to you throughout the development cycle. Or they can be a team player, interacting with your specialists along the way. One of the benefits of contracting an outsourcing company is a pool of talent they offer. As you're hiring a team, not just a single specialist, you have access to the experience and expertise of the company's professionals. This will allow you to seek one-time, expert opinions from the company without spending money and effort on finding advice elsewhere.
What is Outstaffing?
Let's imagine a company again. The business owner has a lot of ideas for apps and has an in-house team that's competent in mobile development. However, they currently need an additional Swift developer. The business owner has to solve the following problems:
They can't afford another in-house developer on payroll;

There are no developers with the required expertise in their location;

They're planning to use the additional force for a prolonged period of time;

The owner wants to closely control each step of the development.
To solve these problems, the business owner contacted a foreign software development company. The company provided a worker of their own and they've been working for the company ever since. This was an example of outstaffing.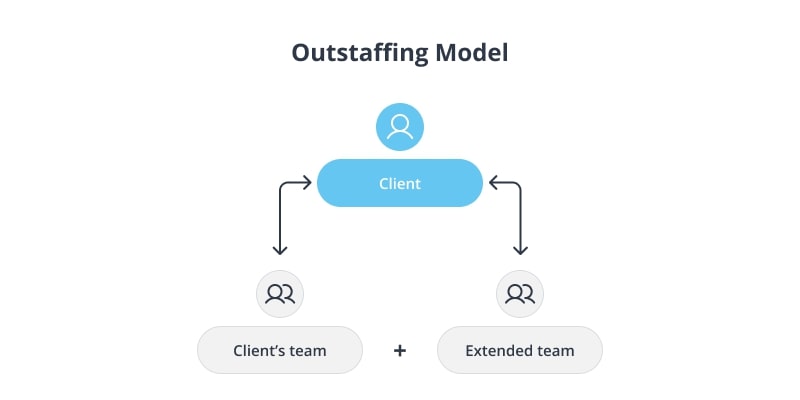 Outstaffing means expanding the company's own development team with the service provider's staff. Unlike the outsource team, you are hiring outstaffed employees. Remote employees sign a long-term contract, providing professional help in a certain field. The outstaffed team and in-house team work together on various business processes.
Take note that, much as with the outsource team, the workers you outstaff are officially employed by a third-party. The company providing the services pays for salaries, taxes, compensation, insurance, software licenses and equipment. As a client, you only pay for the working hours.
Remote recruiting (outstaffing) happens in three steps:
Hiring.

A business owner establishes the number of required employees and their fields of expertise. Then, they conduct technical interviews and communicate with the company. This stage results in an offer.

Onboarding.

At this stage, the business establishes communication channels. They also prepare the working environment and monitoring tools.

Work.

New employees work on assignments. Business owners monitor and track their progress.
Outstaffing provides businesses with an opportunity to look for fresh pools of talent located in other cities, countries and even continents. 
Outsourcing: Advantages & Disadvantages
Outsourcing helpscompanies that don't havemoney, time or reason to assemble their own in-house team of developers. Such services are good for both short-term or prolonged cooperation yielding a quality product. Let's examine the pros and cons of outsourcing closely.
Advantages of Outsourcing
Outsourcing helps companies that don't have money, time or a reason to assemble their own in-house team of developers. Such services can be good for both short-term and prolonged cooperation, yielding a quality product. Let's examine the pros and cons of outsourcing more closely.
Advantages of Outsourcing
Outsourcing has many advantages, the main ones being that the development team has high expertise, an extensive portfolio and years of experience. When handing off the project to the oursource team, you should expect quality work and impeccable timing. Let's discuss the advantages of outsourcing in detail: 
Toolkit included.

The contracting company has all the required tools, technologies and licenses to begin working on your project. You don't have to spend money on equipment, a workplace and software.

Talent variety.

The service provider has a diverse team of specialists. If the project requires additional expertise, the company will rapidly engage them in your project. You won't have to search for and hire additional experts.

Time saving.

Outsourcing saves time in two ways. First, you don't have to waste resources hand-picking a professional to work for you. The contractor handles the human resources for you. Second, by outsourcing business processes, you can focus on saving time to run your business with less distractions. The service provider works on the project, requiring minimal effort from your side.

Cut costs.

The outsourcing team costs less than an in-house team. 

Efficiency.

The production speed will increase with the help of competent workers. Outsourcing company developers are vetted professionals in their field. You don't have to train them beforehand – they will hop onto your project right away.

Flexibility.

You only pay for completed work, contracting a company when you need to handle a certain business process. When the project is done, you can dismiss the company until you need them again.
Disadvantages of Outsourcing
While outsourcing has great advantages, it's important to keep in mind the drawbacks of this model:
Lack of control.

The outsourcing team doesn't work for you, they work on your project. As a client, you won't be able to directly command the development team. You can still influence the process via the project manager.

Lack of concentration. Outsourcing service providers often work with multiple clients simultaneously. Your development team might be managing a bunch of different projects, which might lower efficiency and product quality.
Outstaffing: Advantages & Disadvantages
Outstaffing can be a great aid for a company that doesn't have enough resources to support in-house employees. Flexible and under your control, outstaffed workers will bring benefits to your company. But before scouting for outstaffing service providers, learn about this model's pros and cons.
Advantages of Outstaffing
When hiring from an outstaffing agency, you receive a specialist (or a team of specialists) that will be at your disposal. From the start of their employment on your project, they will work for you exclusively. Outstaffed developers are an asset to the existing team, expanding its expertise and possibilities.
Cheaper than outsourcing.

You're taking a huge part of the control into your hands, so the project manager costs are cut from the equation. You also don't have to pay taxes, insurance and create a workplace.

Full control.

The additional staff is at your disposal. They might be in a different place and from a different company, but they will work as your own employees. You will communicate with your auxiliary team directly, distributing tasks and managing them day-to-day.

Scalability.

You can manage the number of employees working on the project depending on the current task. Hire an expert for a short time and let them go when you don't need their services anymore.

Hire from everywhere.

You can outstaff workers from all corners of the world.
Disadvantages of Outstaffing
The outstaffing model has many benefits, but before you consider applying it to your business, study its flaws:
Poor communication.

Managing remote teams might be challenging, especially with timezones getting in the way. You will also have to plug the outstaffed team into your company's network, which might be an issue.

More managerial work.

While it's good to have full control over the workers, this power comes with responsibility. Embracing outstaffing also means you will be responsible for supervision over the speed, quality and implementation of completed work.

Information leaks.

Working with the remote team, you will have to trust them with your documentation, software and projects. Transferring documentation without caution might lead to leaks. Make sure to include required security measures when you hire an

outstaffing company.
Outsourcing & Outstaffing Development Models Comparison
While outsourcing and outstaffing have a lot in common, these models are very different. The confusion arises from the fact that both models offer a workforce for your business. The major difference is that the outsourcing team is more independent while the outstaffing team depends on your management skills.
Outsourcing and outstaffing are also often confused with offshoring. Offshoring is a model that involves transferring a part of business to a foreign country. The offshoring model involves hiring a permanent, remote team in a different country. The difference between offshoring, outsourcing and outstaffing is that the offshored team is officially employed by you.
It's important to distinguish between outsourcing and outstaffing – you don't want to hire an entire team where you can hire a single specialist or vice versa. To help you understand the differences between the two models, we've prepared a comparison table.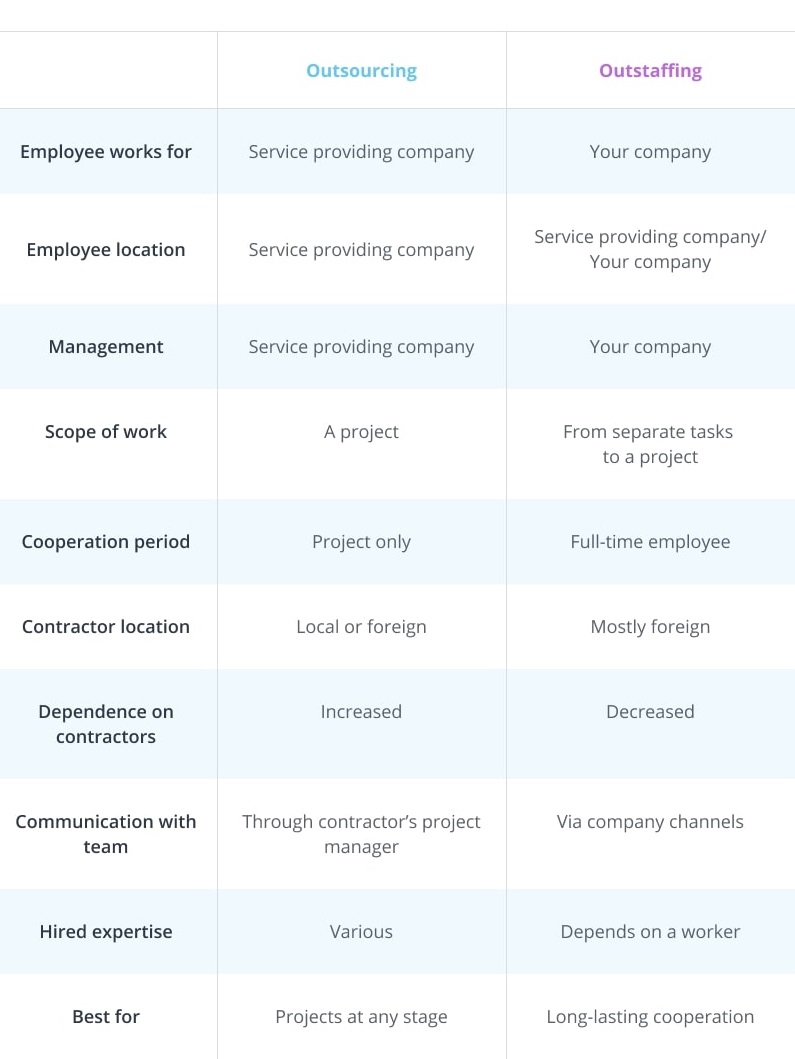 Outsourcing vs Outstaffing: What to Choose?
Both outsourcing and outstaffing models have their own benefits and applications, but what do they have in common? They will both bring profit to your business. Outsourcing will provide you with profitable projects. Outstaffing will add to your team's skills and competences. But when it comes to choosing between the two, think of your company's needs. Below is a brief summary to help you figure out when you should use each model:
When should you outsource?
IT outsourcing is best for projects and a full development cycle. You should consider outsourcing when you wish to:
complete a project that requires human and software resources;

delegate project management to another person;

receive a ready-to-go product;

take care of tedious but important element of a big project;

have a team working on a project for a limited time;

hire a team of various experts for a short time;
When to Outstaff?
IT outstaffing is a viable solution if you want to expand your team with new employees. Consider outstaffing when you:
need more employees, but you don't want to hire them in-house;

already have a tech-savvy team, but lack certain experts;

need an expert for a long period of time;

want to have full control over employees, including transparent reports and full-time management;

want to cut costs by taking extra managerial work.
Azoft Outsourcing Services
Now that you're equipped with knowledge of outsourcing and outstaffing models, you're ready to choose one that suits your business goals. Remember the differences between the models, as well as their benefits and drawbacks. Clearly define your goals to pick the right model for your company.
The Azoft team has 19 years of outsourcing experience and 800+ completed projects. We provide consulting and full-cycle development services in web, mobile and MVP. If you're considering outsourcing, contact us at info@azoft.com and we will gladly help you.