Why and How to Use Subscriptions to Monetize a Freemium Mobile App

IT copywriter
Reading time:
22 Nov 2017
6 out of 10 mobile app publishers prefer ads over other models of mobile monetization. This definitely makes sense as mobile ads enable owners of free and freemium apps to make money fast. But no matter how personalized and subtle the ads are (chances are they're not), people hate them.
This blog post is about using subscription as a mobile monetization model and why it is a go-to for every freemium mobile app owner out there.
Why use subscription instead of ads to monetize a freemium mobile app
#1. To reap the benefits from new app revenue sharing models by Apple and Google
In 2016 both the Google Play and App Store changed the revenue split from 70/30 to 85/15 after the first year of subscription. This change favored subscription services more heavily than one-time or in-app purchases. By doing this Apple and Google are encouraging app publishers to maintain long-term relationships with their paid subscribers.
#2. To increase average revenue per user
Average revenue per user (ARPU) is a mobile marketing metric we use to measure how successful the application is or how well it's doing after an update. To calculate ARPU divide total revenue from subscriptions by the total number of subscribers.
According to VisionMobile statistics, subscriptions as a freemium mobile app monetization strategy is more efficient in the long run than paid downloads and in-app purchases.
#3. To boost life-time value
A life-time value (LTV) shows the net profit attributed to the entire future relationship with a customer or a user. Simply put, an LTV is calculated by dividing the subscription cost by the churn rate.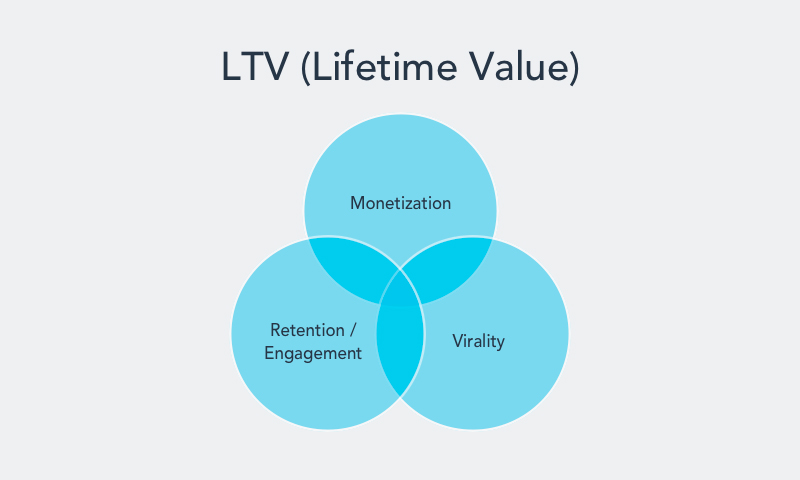 When a user buys a paid subscription, they undertake a kind of commitment to accept and evaluate your content. Your job here is to meet the expectations of mobile app users and make their experience as appealing as possible. When done right, this app monetization model brings higher retention and LTV than IAP and paid downloads.
A paid subscription is a perfect fit for mobile apps that provide content or services and can boast high user engagement.
#4. To engage more users
That being said, a subscription means commitment to using a mobile application. Paid subscribers want to make sure the app is worth its price and provides real value.
Get into the habit of announcing new features, bug fixes and overall improvements on a regular basis. Educate users to make the most from your app.
Personalization is a must. Dig deep into user data to learn what your audience is really up to. Give them exactly what they are looking for. Communicate the way users prefer. Leverage push notifications, emails or in-app messaging.
#5. To simply try another mobile app monetization strategy
In 2016 Apple welcomed App Store publishers to try out a subscription monetization model. This means apps of all categories can now offer their users to become subscribers.
For mobile games, IAP still remains a natural-born and most profitable model. However, things may change after the MMORPG expansion to mobile platforms.
Statistically, only 5% of users make in-app purchases and there is no reason solid enough to make the rest 95% pay. This makes relying solely on IAP to monetize a freemium mobile app a bit narrow-minded. Instead, try to combine different mobile app monetization strategies (e.g. subscription + IAP) to target all users who have the potential to pay.
OK, how exactly do I monetize a freemium mobile app using subscription?
#1. Use free trial + onboarding
If you want users to pay for a subscription, the best practice possible will always be to let them "try before they buy". This is why you need a trial period — to make users weigh the pros and cons of using your app. Trials are usually limited to 30 days, 30 requests, 10 queries a day or whatever is relevant. But it all depends on the product you have.
The thing is that users don't always understand in what way your app is better than others. Use onboarding to show them. Introduce your app using tips and in-app education. But strike a balance. Being too generous during the trial period will make your subscribers unwilling to pay. On the other hand, a trial that is too limited will not be appealing enough to convert free subscribers into paid ones.
This is what a trial in the Netflix mobile app looks like. With all the amazing content available you'd barely resist buying a paid subscription.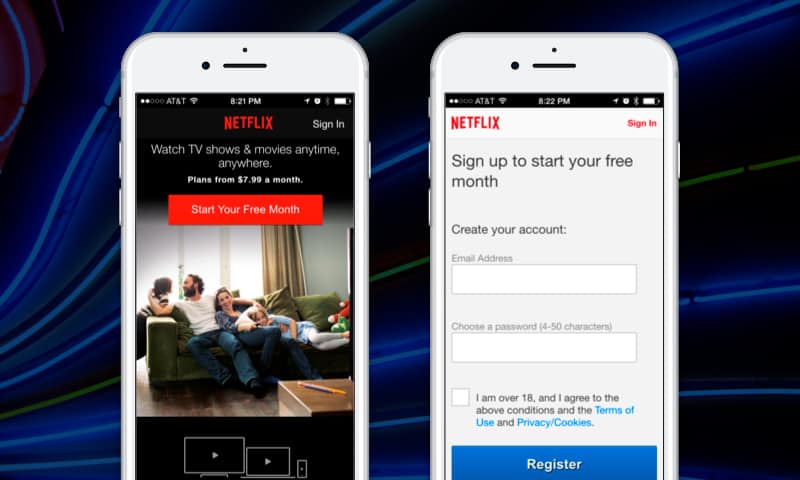 #2. Offer discounts
Discounts for long-term subscriptions make them more appealing and work much better than any commercial ever could.
Imagine your app subscription costs $50 a month. Offer 10% off every month for those who pay yearly to encourage users to upgrade. State clearly how much money they save if they buy this or that subscription plan.
Try to minimize churn. If a subscriber wants to leave after a free trial, offer them an extended trial so they can possibly change their mind. It's better to earn 5-10-50% less than earn nothing.
#3. Offer a subscription to unlock new features and content
The main idea about this approach is that your app should provide value in the long run. This works best for educational apps, dating apps and content-oriented apps like newspapers. They all provide free subscribers with limited access to their functionality. It can be 5 tasks per day, 10 articles, 15 likes, or whatsoever.
The other way to leverage limited subscriptions is to sell plans or packages. It will work if your features can be easily segmented and divided into different levels. The most obvious example is a cloud storage packages of 10, 50 and 100 gigabytes.
The Down Dog app enables you to practice yoga anywhere, at your own pace, with or without music. You can practice for free or buy an annual subscription to select playlists, sequences and muscle boosts.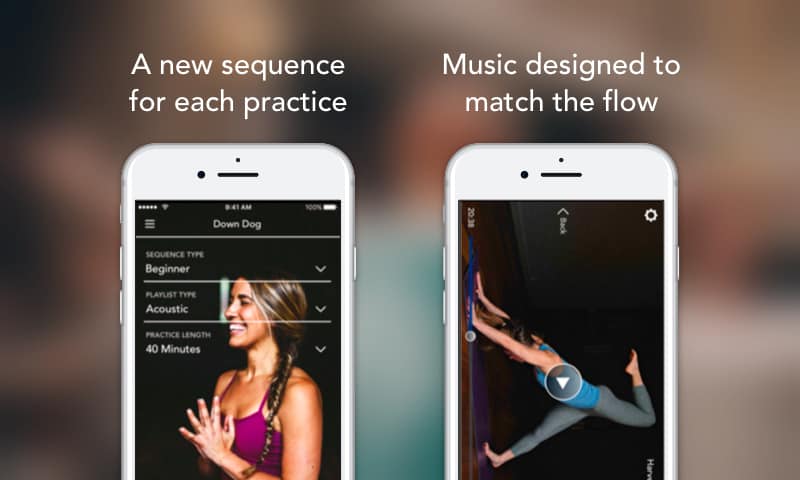 #4. Try multiple subscription durations
You can increase an LTV by switching the subscription from 1 month to 1 year or more. When a user leaves after a month, you are not only losing money, but also the possibility to market to them in the long run. Think of it this way. Every time somebody buys an annual subscription you are at the start of 365-day race to constantly improve their UX and establish a relationship that will last for years.
All in all, discounts help to sell extended subscriptions. Just keep one fact in mind. You already have users among your paid subscribers who would have paid without any discounts. Make calculations to predict revenue with and without discounts.
#5. Try ad-free subscription
You can try this one to monetize a freemium mobile app even if you are already using ads. By combining mobile advertising with an ad-free subscription you can maximize revenue. Please just don't be too pushy displaying ads everywhere to force users to upgrade.
This approach works best for content applications with huge audiences and long session lengths. For example, news apps and video-streaming platforms.
YouTube Red is an example of this, but with the ability to save videos to a hard drive and no ads. The subscription cost is $9.99 for everyone except Apple users. iPhone and iPad lovers are so creditworthy they need to pay $12.99 a month. After it launched in 2015, the service now has about 2 million paid subscribers and 1.5 million free ones.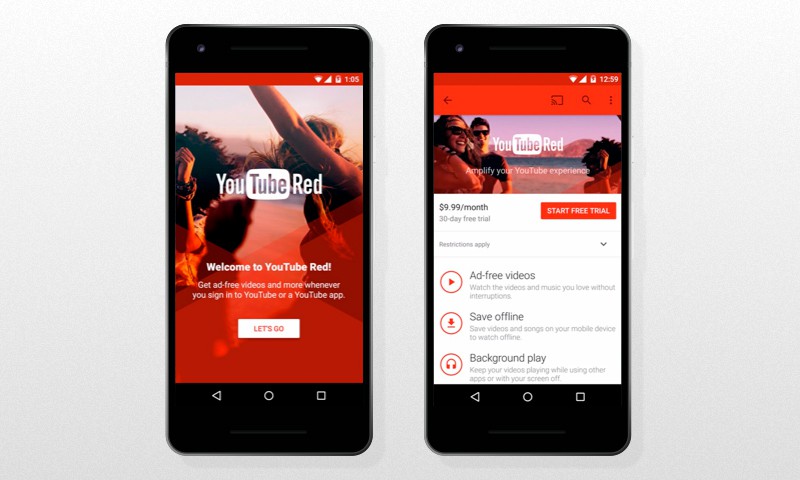 Making a decision
Consider all the pros and cons before using a subscription to monetize a freemium mobile app. You may find out that this model will not work for your app.
Pros
This monetization model can fit different app types
Enables app publishers to build a huge user base fast and use a free trial to pre-sell and then upsell.
When done right, a free trial accompanied with onboarding is a powerful tool to engage and convert loyal users to paying subscribers.
Cons
A too limited trial will result in higher churn rates
If you offer too much during a trial period, you'd face problems making people pay after it ends.
Treat free subscribers as though they will finally pay. Otherwise, they will not for sure.