CMS for Business: Develop from Scratch or Use a Ready-Made Platform?

IT copywriter
Reading time:
17 Apr 2014
A stylish, compelling website is no doubt a must-have marketing tool for almost any business whether, for example, a brick-and-mortar retailer, luxury auto rental chain, an online vendor — or anything in between. Recently we wrote about the importance of making your site responsive — as in fantastic-looking in any browser whether desktop or mobile based — and today we explore a little bit into the land of the "CMS for business needs".
Most popular content management systems
Put simply, a CMS (Content Management System) is template-based design tool that allows site content — text and media — to be more easily managed. The diagram below shows the market share of the most popular CMS systems, based on the percentages of websites using them:
Which CMS is right for your business?
The number of open-source CMS solutions are definitely not lacking nowadays, but we often find that our clients are confused between whether to use something free and open source, pay for a more managed CMS — or create a new system altogether tailored to their specific needs.
While each case is unique — and certainly a CMS that works perfectly for a large insurance company would be overkill for a small biz — there are several general observations we have drawn from our experience that will benefit marketing execs and decision makers when in the foundational planning stages of content management.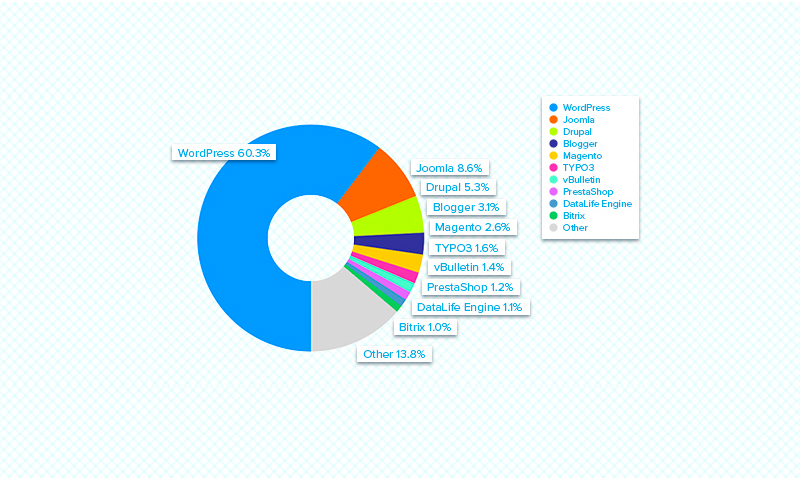 Price
Open-source projects are generally assumed to cost less and be completed faster because both the system and plug-ins (modules) are free and ready to implement. However, this is not necessarily the case whatsoever: everything depends on the goals set.
Even if certain CMSs do have a large solid community of creative volunteers or a team of dedicated developers that have written and continue to write useful plug-ins and themes capable of transforming a site into practically anything, sometimes it's more cost-effective to develop a custom CMS. This is usually a case for projects with such specific requirements that searching for the right set of plug-ins would take too much time — and most likely, in order to satisfy the unique requirements, further customization of the open-source modules would be necessary anyhow!
Flexibility
In regards to open-source CMSs, if one has an active and diverse community, there will be thousands of add-on modules and themes, more than enough to implement the most stylish of promotional sites. In addition, companies that offer open-source development are actively participating in CMS development, so they know the systems inside and out (which is rarely the case with paid CMS solutions).
However, if a project's specifications require features for which it  would be difficult to find a ready-made plug-in or module, implementing it in a custom-designed CMS may be easier and less expensive than sourcing it from a paid CMS. It may also be less expensive and time-consuming than trying to modify a somewhat similar-functioning open-source CMS system to meet the exact needs of the client.
Security
Having many people familiar with the system code is the essence of open source. However, it also creates a higher risk of hacking. Be ready to budget extra time for work required to prevent against third-party malicious attacks when you choose to use an open source system. The complexity level varies — as does the cost — based on many factors such as how many people require access to sensitive site areas like the admin panel. On the contrary, when creating a custom-coded CMS, developers don't need to spend much time on securing code.
Freedom
Whatever the reasons, sometimes you have to switch development companies. It happens. And there is a common belief that an open source CMS offers more freedom of movement from one company to another, and that running a custom CMS results in a long-term commitment to a specific agent. Again, this may not always be the case: an existing site with code written by another developer may be quite a challenge for a new team, whether or not the CMS is written poorly.
The right choice
As you can see from the points above, the time and cost-efficiency of a project are not mainly determined by the CMS but by the requirements of the particular project. The best option from our point of view is to discuss a site's future functionality needs as a team and decide if you are prepared to handle the time commitment of ongoing maintenance — or if it's better to outsource the task.