App Monetization Tips: Make Money with Mobile Development

IT copywriter
Reading time:
20 Apr 2017
Business has recently started to mobilize — more and more companies understand that a mobile app becomes a convenient tool for increasing customer loyalty and brand awareness. But that's not all: a mobile app can bring in real revenue. The most important point is to choose a mobile app monetization strategy. Then you should decide how to implement the monetization strategy and include it in UX before app release.
#1. In-App Advertising
Free mobile apps rapidly grow in audience. App owners collect and analyze user data and give the statistics to potential advertisers for targeted advertising within the app. Facebook and Shazam successfully use this scheme.
Pluses
users prefer to use the app for free
loyalty keeps growing if ads are relevant
Minuses
there is always a chance that some of the users delete your app because of ads
#2. Freemium app
A so called freemium app includes a set of free features and some additional options are available for money. For instance, Chefkoch Academy app is an iOS app for the popular German cooking portal, so that its customers learn how to cook different dishes via video courses and professional lectures. A basic course is available for free but to see other videos users have to pay.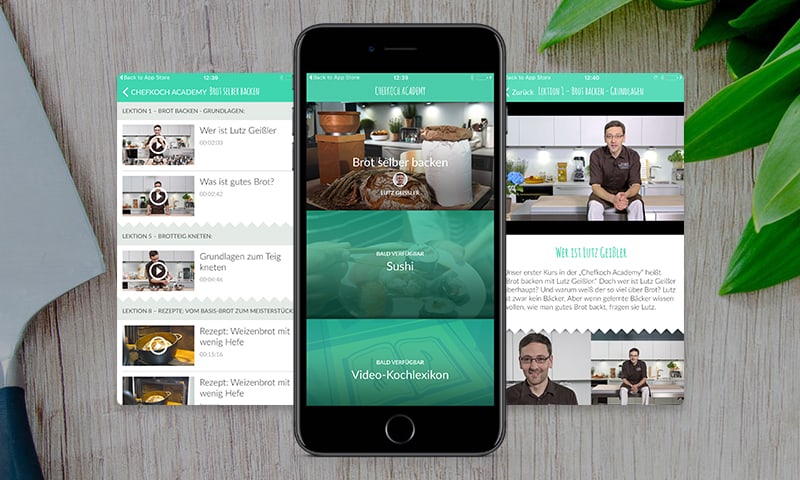 Pluses
Freemium is a flexible approach that can be applied in a majority of apps
users can try a free app version and if they like it — you can easily convince them to upgrade to the premium version
Minuses
you need to balance the basic options in the app: if the functionality is too narrow, you will lose users, if too wide — they won't buy anything
#3. Premium app
A premium app is the most obvious app monetization strategy. But how do you make users buy an app? For instance, you can announce killer features of the app which are irresistible.
Dark Sky is an illustrative example of a premium app. As developers say, the app provides users with super precise — to a minute — forecasts about snowing or raining as well as daily and weekly weather forecast based on the user's geolocation.
Pluses
usually a premium app doesn't have ads
users will continue to use the app as they paid for it
Minuses
it's quite difficult to compete with free apps — you need money for promotion
#4. In-app purchases
This way of app monetization implies payable features within the app: real or virtual.
It's implemented in most dating apps such as Free for Lunch. You can buy an extended subscription which guarantees VIP-status, specials, presents for friends and opportunity to turn off the ads.
Pluses
this app monetization strategy is the best solution for eCommerce or mCommerce
Minuses
in several countries app owners have to specify data about the purchases made within the game — it's necessary for the protection of users rights
#5. Sponsorship
The point of sponsorship is that an advertiser rewards users for some of the in-app actions and the app owner gets a percentage of the reward. Example: the mobile app RunKeeper motivates users to make some number of steps or to go some distance by a bicycle.
Pluses
sponsorship is suitable for a vast number of apps
after getting a reward users feel higher loyalty for the app/brand
Minuses
this method needs to be tested — results in different apps can differ significantly
Today users feel comfortable in a complicated app system, and purchases within the app don't seem strange. This is the reason for developing a mobile app with monetization options. Given that you can combine monetization strategies for a specific business.