Making an App Like Uber: Key Tech Solutions to Learn

IT copywriter
Reading time:
28 Sep 2017
In 2017 customers are more likely to use a food delivery application to order pizza rather than going to a supermarket. Uber has spoiled users and made them lazy, but it also authorized app publishers all over the world to make money from that kind of user behavior. Branded like uber apps are widely used now to serve the needs of the on-demand economy. Adopt this popular business model today and reap the benefits.
Money comes first
On-demand services gained popularity in 2009, and have been thriving ever since. Today local on-demand services reached 5.1% penetration of the addressable market in the U.S. By the way, eCommerce reached only 8.5% of the U.S. retail market share in the last 20 years. In 2016 Americans spent $60 billion in the on-demand market.
What's the secret of Uber-like apps?
It's all about human nature. The on-demand economy fosters our consumption behavior and makes our lives easier, more convenient, and joyful. Being a crucial part of the ecosystem, uber-like mobile apps allow us to fulfill daily needs without leaving the couch.
Choosing the right segment for making an app like Uber:
On-demand services can be divided into 3 popular categories. Make sure you've chosen the right niche, where you have a competitive advantage and your target audience is able to pay.
Food and drinks delivery
Pizza is the queen of food delivery and doesn't want to surrender, but it has promising successors out there. Since the healthy lifestyle is booming, people tend to order more and more healthy food for delivery. The key to success in the food delivery business is to identify a need and create a product that supplies it.
Look at these apps, they are doing the positioning right and provide outstanding customer service.
Drizly is a booze-on-demand app. Whether you need a bottle of beer to drink with pizza or 10 boxes of Jagermeister, this liquor delivery service can provide you with everything you can imagine. They even offer alcohol sets for you to enjoy.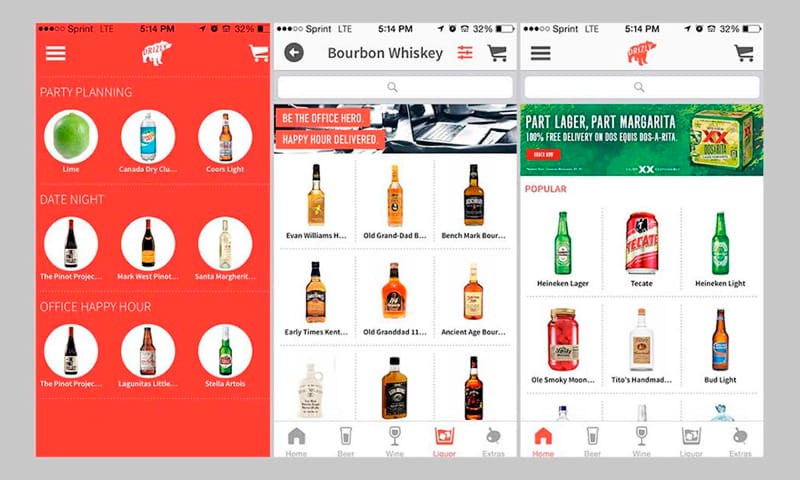 Postmates are food delivery trailblazers. The target audience is millennials and everything is designed so that the user experience fits their needs. By 2017 the company raised $280 million in the capital and partnered with more than 7000 vendors worldwide.
Takeaway
Make sure your on-demand app solves the existing customer's pain point. Like delivering vegetarian sweets 24/7/365 to roadless areas using drones.
Transportation
Thank you, UBER. We are now able to order a cab in a matter of minutes using a taxi app. Being stuck in endless traffic jams while driving your own car is costly enough to take a bus. But sometimes public transport is unbearable. There is no surprise here that uber-like taxi apps are booming. It's been 8 years since UBER came up, and now you'd barely be surprised to see somebody ordering a taxi via a mobile application. In 2017 users enjoy private shipping, take private jets and avoid traffic jams by ordering helicopters via mobile apps.
Remember, a competitive on-demand application has a well-calculated UX. In other words, people appreciate convenience, simplicity and cherish their time. A positive user experience attracts new clients and makes the existing ones loyal. UBER is not the cheapest taxi app, yet it is the most popular. Clients love the short wait times and intuitive UI. Below you can find two UBER adaptions that boast exceptional user experience.
Blade helps you order a helicopter in a heartbeat. Seems like traffic won't bother rich people anymore.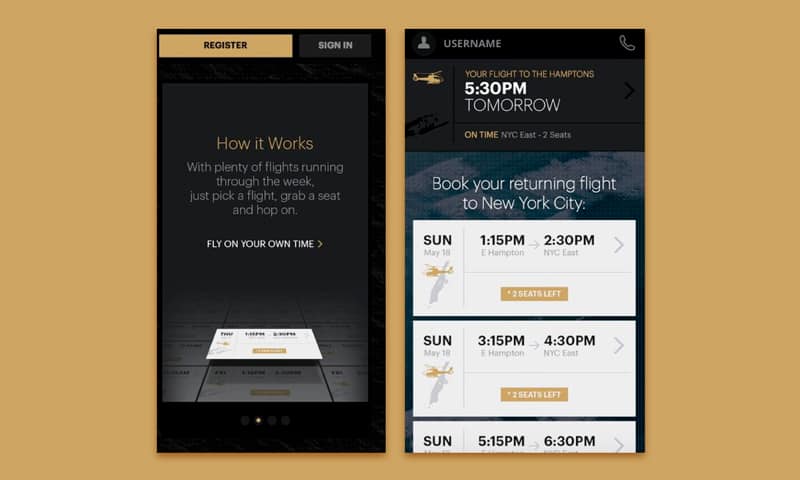 Get My Boat offers to rent more than 75000 boats in 171 countries. Actually, it's more like Airbnb than Uber. Owners lease their property, be it a canoe or a gorgeous yacht.
Takeaway
Make consumers solve their pain points in your app with ease. Follow Apple's and Google's material design guidelines for designing better user interfaces and providing stellar UX.
Outsourcing
A boundless category, where your imagination and common sense are the only boundaries. There is literally a demand for everything. Above all, people are willing to pay for home service delivery, medical and recreational services, fitness, leisure, and other everyday tasks. What people love most in these services is that they are happy to outsource our daily routine, which is barely ever fun. The ability to have a good time without leaving home is also highly appreciated.
That's why consumers are happy to pay for laundry, ironing, cooking, cleaning, and other manual work. You be the judge, isn't it great to have somebody offering dog walking, dog sitting, or dog boarding for busy dog-lovers? By the way, there is a special tinder for dogs and their owners.
Have you ever dreamt about having a professional massage at home? Dreams come true with Soothe.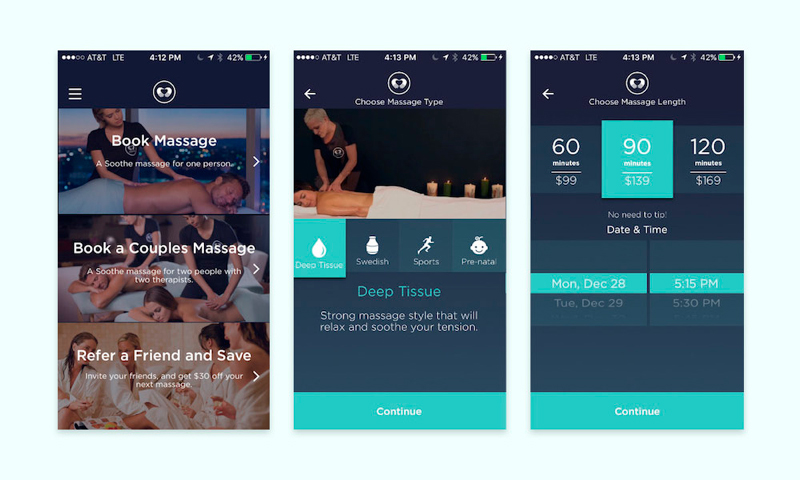 Do you want to shoot from a bird's eye view or have your parcel delivered fast? There is no need to buy your own drone. Go for offers drone leasing. Not feeling well, but have no time to visit a doctor? Ask qualified therapists to come to your place via Heal. Did you witness the crime? Don't worry, there is a special Uber for you to call the police. You'd probably want to work out with a personal coach but have no time to visit a fitness center? Use the Vint app to find a coach nearby and train in your yard.
Takeaway
As you can see, there are uber-like apps literally for everything nowadays. Create a product that is somehow different from competitors. Look at the guys from Pooper. They found out how to keep the city clean, help dog owners and let everybody earn some money at once.
Summing Up
The modern consumer is mobile, hypercritical, and always running out of time. The on-demand economy encourages buyers to be impatient and picky, while a mobile app lets us get everything without leaving home. In 2016 67% of U.S. citizens bought goods and services through on-demand applications.
On-demand services are a modern and useful way for brands to finish digital transformation and tap into new markets. A branded uber-like app will broaden your reach and let you speak with your customers in their language.