Web Technologies in Retail: Opportunities in the Online Retail Marketplace

IT copywriter
Reading time:
8 May 2016
Choosing the right technologies to improve customer experience and simplify the buying process can alone determine the success or failure of a business. Web commerce technologies perfectly and substantially complement offline "brick-and-mortar" retail sales: a website is open 24/7, it reaches customers worldwide, and it delivers customer service efficiently — which are a few of the more commonly known benefits. Yet, there are still many more advantages that web technologies in retail can offer to your businesses. Let's take a look…
Engaging mobile users
Traditional websites were designed to scale to the desktop; however recent options to access the web on a multitude of devices has created demand for responsive websites that automatically adjust to the size and resolution of the viewer's screen — whether on a desktop or laptop computer, smartphone, "phablet", tablet… watch… eyewear… or whatever's next!
When visiting a responsive site, customers view all content on the screen with no adjustments or scrolling necessary. From their inception, such sites are developed specifically to automatically resize and reorganize page content in a way that's easy to view. For example, certain elements like sidebars or pictures can be repositioned or hidden to achieve an optimal page viewing experience.
With an online retail booming and more and more people using smartphones and tablets for web surfing, delivering your content using a responsive website gives you a significant competitive advantage. Lightweight, agile and device-friendly sites are much more adept at converting mobile shoppers into loyal customers. If a site isn't mobile-responsive and renders horribly — with graphic elements haphazardly scattered across the user's screen from failure to automatically resize to its dimensions — it is definitely losing a lot of visitors, and money, as a result.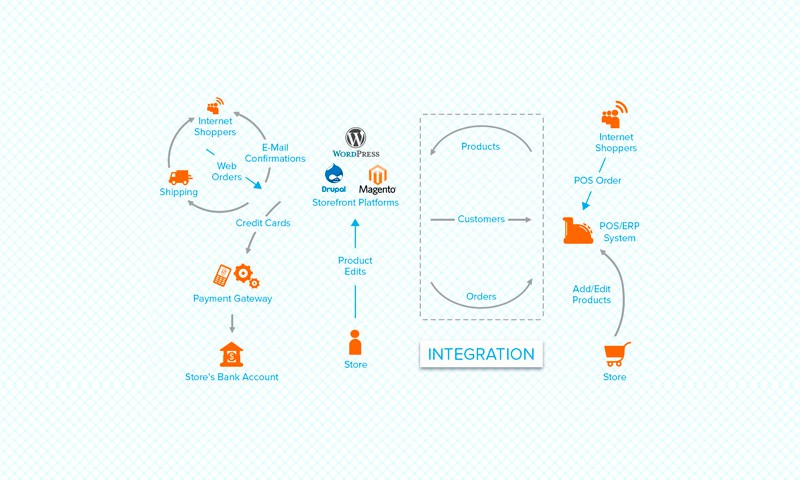 Web store integration with POS / ERP
For the most part, all inventory, pricing, and sales information are processed by POS (Point of Sale) or ERP (Enterprise Resource Planning) software. Web technologies allow for integration of this information into an online store, automating inventory and pricing updates and providing an overall view of a customer's online and offline purchasing history.
By integrating an online store with ERP or POS, business owners improve efficiency and save time when the website and ERP / POS work together as a unified whole:
Web store product catalog is updated automatically using data from POS / ERP system.
Completed online order and customer information are immediately sent to POS / ERP system providing a complete view of customers' online and in-store purchase history.
Up-to-date pricing and inventory information with no staff intervention required.
If products are sold via online marketplaces such as Amazon, all necessary inventory information, including UPC codes from POS / ERP are delivered automatically.
Complete control provided over how customers view products online. Description and prices of items in an online store can be edited and may look completely different from how product information has been entered into the POS / ERP system.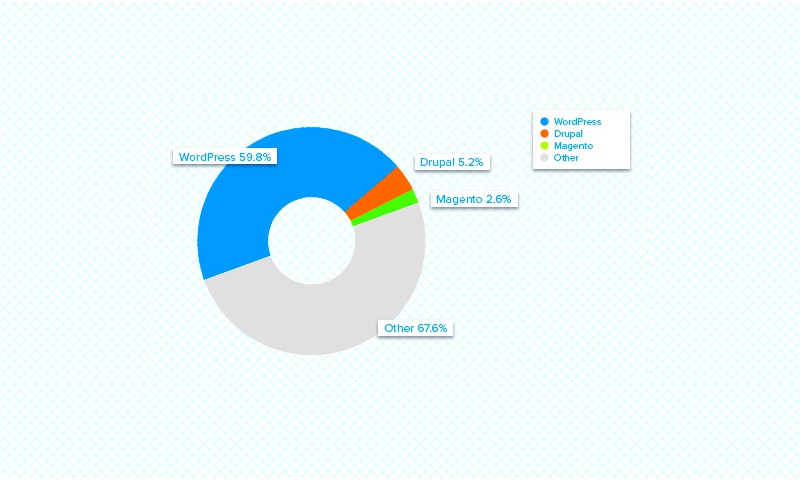 How to begin?
Tailoring your brand for the web can be challenging, but content management systems (CMS) make it much easier. While there are many options available, each with its own strengths and weaknesses, we'll cover three major players: WordPress, Drupal & Magento.
WordPress — Originally created for blogging, with over 28,000 plugins and widgets this platform is infinitely expandable, and such plugins as WooCommerce and eShop turns it into a powerful e-commerce tool, allowing to utilize sales data and generate sales reports. Moreover, WordPress comes with a large number of open source themes that can be easily customized and integrated into your eCommerce site.
Magento — Being a highly robust and complex platform, Magento is ideal for pro-level eCommerce business owners. It offers any tool required for running complex systems and creating a high-quality user experience. Magneto also provides quality sales reports that can be integrated into other systems, and it easily handles discounting and vouchers. Plus, it's highly customizable and each user can optimize Magento to suit his or her individual needs.
Note: Magento can be slow when running on smaller servers and, being quite complex and rather powerful, might be overkill for a small-scale business.
Drupal 

— Noted for its abundance of modules written to address user needs, Drupal didn't neglect online business owners when it put together several solutions: Ubercart, eCommerce, and Drupal Commerce. As a CMS, Drupal offers a great deal of flexibility in content marketing, while integrating any of the solutions mentioned above renders a powerful package: a CMS and e-commerce system that functions together as a whole.