Top 5 Branded Apps and Their Secrets

IT copywriter
Reading time:
31 Mar 2017
Branded mobile apps are still popular, but studies suggest that business owners' interest in developing branded mobile apps is gradually declining. Forrester mobile marketing report claims that the average UK and US smartphone user has 24 apps on his/her mobile device, but spends 80% of the time using only 5. The most popular apps are messengers, social media, and gaming. As for branded apps, 90% of them are downloaded less than 10 000 times. Considering these statistics, it's understandable why many businesses these days are skeptical about developing new branded apps.
Develop special features that drive engagement & serve users in their mobile moments of need.
So, does this mean that developing a branded app is a waste of time and money? Not necessarily. In fact, branded apps still have a lot of potentials. The key is to understand the real needs of the user. Thomas Husson, a Forrester analyst, says, "Forget about systematically introducing a new app for every new product or main promotional campaign you launch." Instead, he recommends developing special features that drive consumers' engagement and serve users in their "mobile moments of need".
We found 5 inspiring examples of blockbuster branded apps that put this idea into action. Take a look at how these apps deliver exciting customer experience and translate brand values into the mobile world language.
Starbucks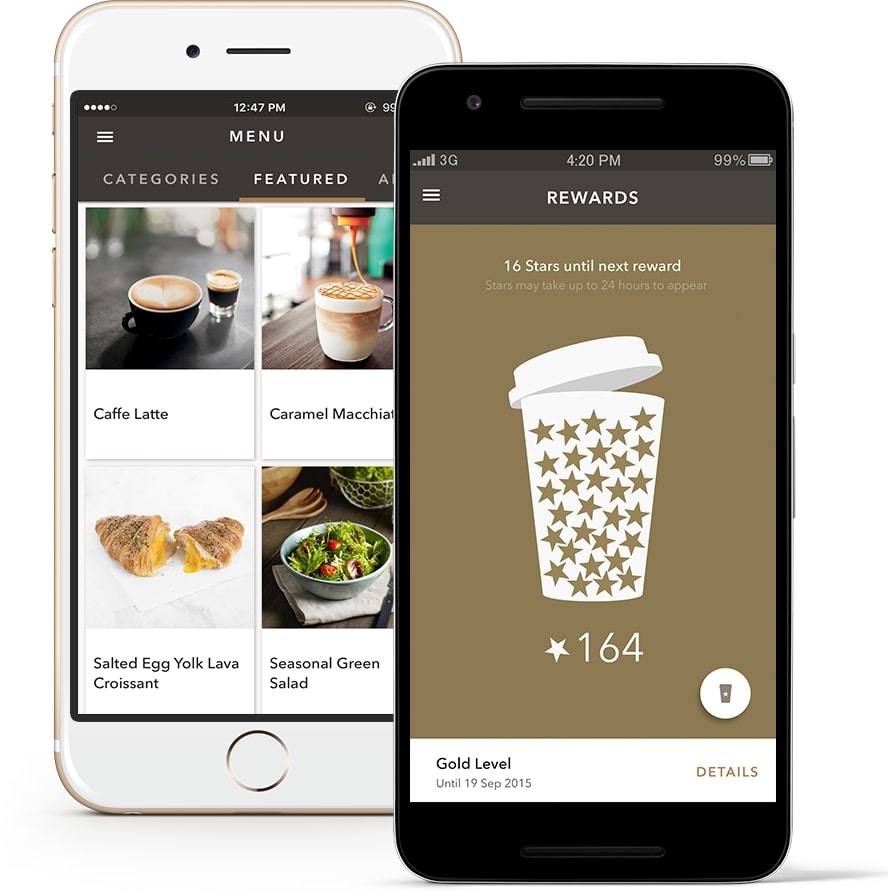 Starbucks app has become a real blockbuster: more than 12 million US and Canada users have downloaded it. This app is a must-have for all Starbucks fans. It lets users locate the nearest Starbucks cafes, pay for drinks, send gift cards, collect and spend bonuses, reload Starbucks card and even tip the barista.
Super handy payment option is a key feature for the app: customers use their smartphones to pay for Starbucks orders about 7 million times per week — nearly 16% of total transactions. That's how the Starbucks app has become the customer's perfect companion and makes buying drinks at Starbucks faster and easier. In 2015, Starbucks is planning to release a new feature: the pre-order option. The opportunity to order drinks or food in advance is already available in South Korea and promises to make Starbucks app even more popular.
Coca-Cola
Coca-Cola Freestyle is an advanced example of long-term engagement and thought-out location marketing. The app helps consumers find and use the unique soda machines, that are available in the USA, the UK, Canada, and Japan. Coca-Cola company has introduced Freestyle soda machines in 2009. The app was released in 2011. It supports the machine's special functions: allows to make favorite drinks list, create and share new cocktails. Freestyle app shows the nearest soda machines and notifies of special offers available in the location. The app also offers QR code scanning, games, challenges, and rewards.
Coca-Cola Freestyle app idea is simple: investigate and experiment with new taste and then find a machine to try it for real. Freestyle proves that a good app is likely a simple one. Clear message and intuitive user interface make it work. The main customer value is the information on 100+ drink flavors and masterfully provoked real world consumer-brand interaction via geolocation.
A good app is likely a simple one. Clear message and intuitive user interface make it work.
Nike
The main feature of this super popular branded Nike app is tracking running statistics. More than 30 million users have chosen Nike+ to control their run anywhere: on treadmills, roads, or trails. Nike+ tracks your pace, time, and distance via GPS. In addition, the app includes social media integration: runners can post their routes and share progress on social media as well as on Nike+Challenge, which is an easy way to set a distance and invite friends for competition.
A social element may be the key to success for branded apps. Of course, branded apps cannot compete with messengers or specialized social media platforms, but they can create a positive environment for sharing and discussing brand-related topics. Be interested in whatever your consumers are passionate about and you will find the right way to engage them. One more thing that makes Nike+ such a successful project: it has been turned into the multipurpose digital sports platform. Nike+ is integrated with gadgets: Nike+ FuelBand and Nike+ SportWatch. At the same time, Nike+ Fuel Lab allows developing an ecosystem for athletes using Nike's partners' solutions.
A social element may be the key to success for branded apps.
The North Face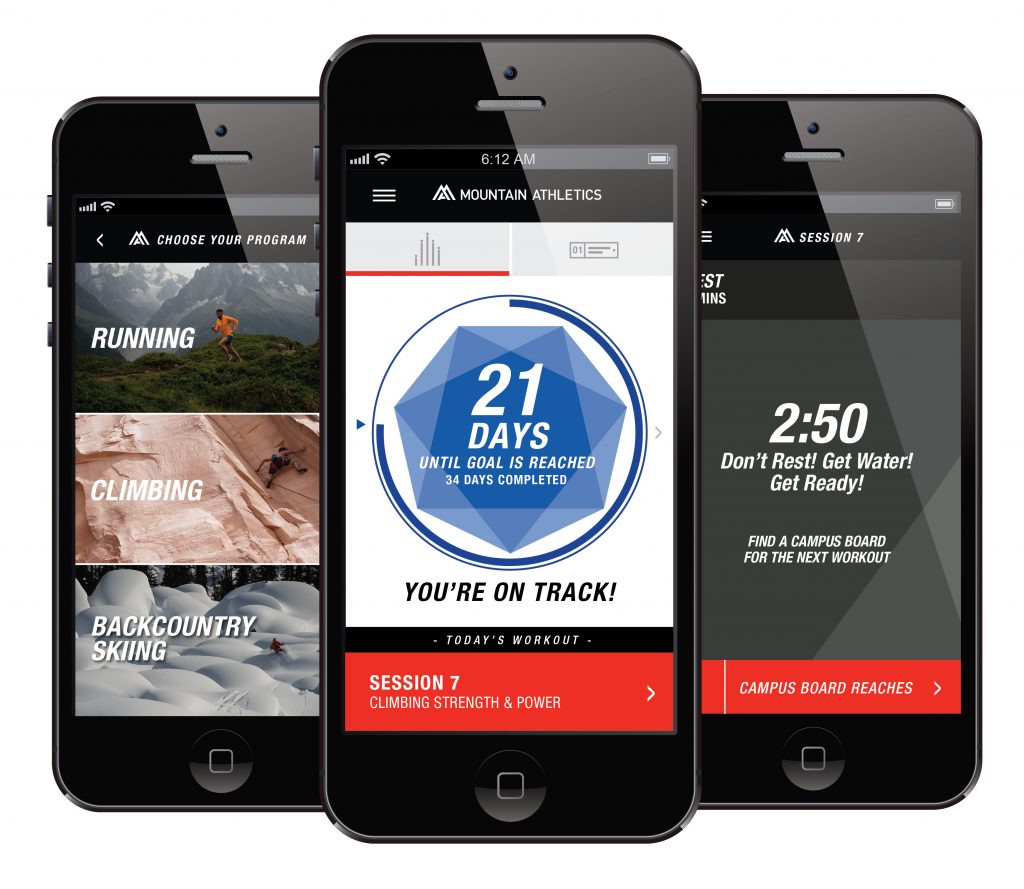 The North Face is a world-famous sportswear brand. Its Trailhead app goes further than Nike+ and offers users a way to discover adventure opportunities. Outdoor enthusiasts can choose from over 300,000 options: bike routes, trails, and hikes. Once the route has been chosen, the app allows tracking your pace using an interactive GPS map. Users can share their progress on Twitter and Facebook, view speed, elevation and distance information. The app also has a North Face store locator and the news on North Face special activities and events.
This application is much like Nike+, but we've included it in our list because there's one significant detail. It's not just an activity tracker with communication and contest options. It has unique content, which allows users to create their own adventures and get new impressions. The emotional engagement creates a close bond between a brand and a customer.
Walmart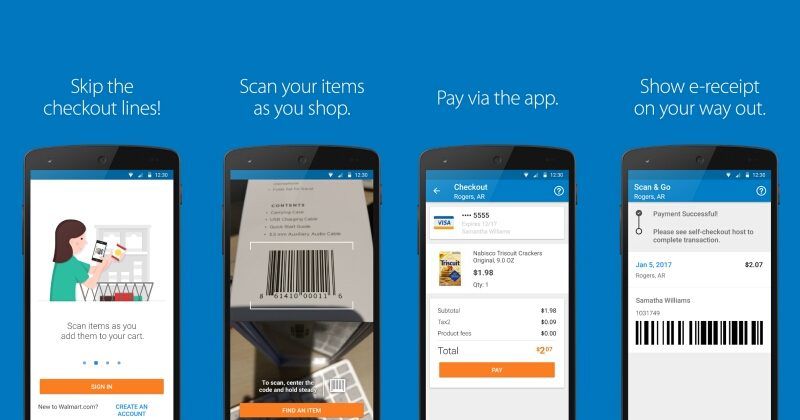 Award-winning Walmart special app helps users save their time and money. It allows to create shopping lists based on Walmart assortment and control the total purchase amount. At Walmart stores, this application can be used for navigation and price recognition via built-in scanner. It also shows the information on current sales and promo campaigns.
In 2014, a new feature was rolled out that significantly increased the app's popularity and made it the most downloaded product in the AppStore's Lifestyle category. The feature, called Savings Catcher, helps shoppers find the best price for items they need. Thanks to this app, customer loyalty increased: app users spend 40-70 % more time at the store compared to average customers and visit Walmart at least twice a month. The app perfectly translates the company's message: save money, live better.
Focus on how exactly you can make the interaction more effective via mobile.
Geolocation, social media integration, activity tracking, contests, creative opportunities, and special offers are popular tools which make mobile apps work. However, the most important aspect of mobile marketing is knowing your audience. The apps we portrayed here use different approaches to engage the consumer, but as we can see, they are all based on thorough research of the target audience.
Before you develop a branded app, make sure you understand what your customers like, what's their daily routine, when and where they contact your brand, what problems they solve and what needs they fulfill with your product. Focus on how exactly you can make the interaction more effective via mobile.
Answering these questions will help you come up with a unique idea for a truly valuable app for your customer base. This is essential not only for monetization but also for a positive brand image and emotional consumer-brand connection. The only thing left is to choose a professional development team qualified to make your branded dream-app a working solution.