Offshoring vs Outsourcing: What to Choose

Head of Web Development Department
Reading time: 10 min
20 Sep 2021
In software development, talent is the most valued asset. However, good talent is worth a good fortune and sometimes it's unprofitable to keep a lot of talent on a payroll in-house. This doesn't mean you should settle for less than the best quality – just that you can find the best talent for lesser cost by outstaffing, offshoring and outsourcing models to your business.
In this article, we're going to take a closer look at offshoring and outsourcing services, discussing the advantages and disadvantages of both models.
Outsourcing and offshoring: market review
Outsourcing and offshoring markets have been expanding since the 80s. Nowadays, the global outsource market amounts to $92.5 billion and is expected to grow even more. IT services are one of the most outsourced, along with accounting and digital marketing.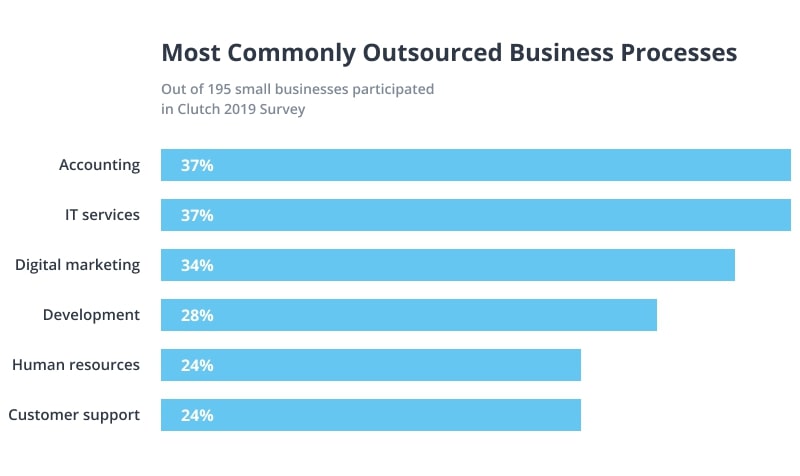 Outsourcing is a global trend. Clutch's 2019 outsource overview shows that more than a third of surveyed small businesses outsource a business process and more than half of them have plans to be involved in outsourcing. 
Reaching for a distant talent isn't only beneficial to business: outsourcing and offshoring create a lot of workplaces across developing countries like India, Ukraine and Poland. Smallbizgenius claims that around 300 000 jobs are outsourced by the US to these countries annually.
But why do businesses choose to outsource? According to the 2020 Deloitte Global Outsourcing Survey, the primary reason to outsource is to reduce costs. Small businesses surveyed by Clutch also report outsourcing to increase efficiency (24%) or request expert assistance (18%). Besides, 78% of Deloitte's respondents note a positive experience from outsourcing.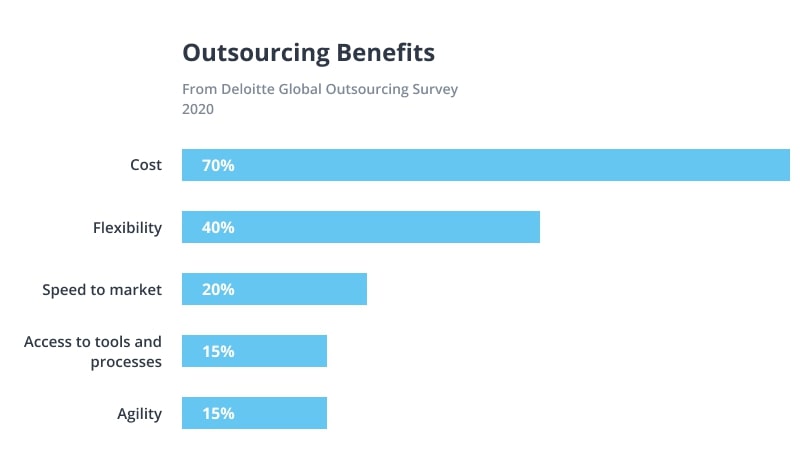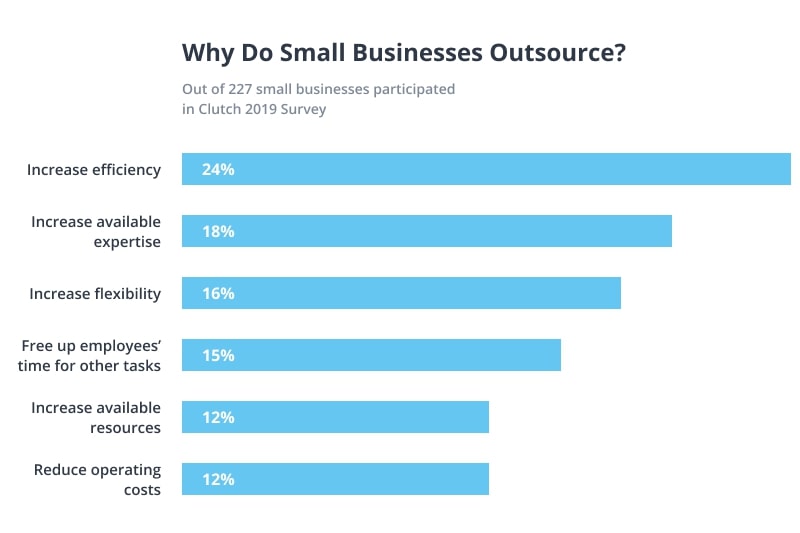 Differences Between Outsourcing and Offshoring
Offshoring and outsourcing are easily mistaken for one another, mostly because these models tend to heavily overlap. Nevertheless, despite the similarities – both involve handing over business processes to other people – outsourcing and offshoring are two distinct models. Let's discuss them both in detail.
What is an Outsourcing Model?
Let's define outsource. The term was born from the phrase "outside resourcing." Outsourcing describes an act of hiring a third-party company to complete certain activities for the business, i.e. develop an app, implement functionality, design an interface, or any other service you may require.
The defining elements of the outsourcing model are:
Delegating a project, product or a

business process

to a company-provider;

After the contract period ends, the company either keeps supporting the product or stops working with a business until its next contract;

The contracting company selects a team from their own human resources department;

Includes domestic and foreign contracting.
What task is reasonable to outsource? In 2019, one of the respondents to Clutch' review provided a set of criteria for the outsource task:
Easy to explain to contract team;

An important, but tedious element of a greater project;

Requires expertise;

Doesn't take advantage of contractors.
What is an Offshoring Model?
The term "offshoring" means shifting the location of internal business activity to a location abroad. Offshoring includes hiring a new team for the company in a foreign country. 
What can you get done offshore? Businesses tend to offshore non-core company activities such as:
Customer support;

Software development;

SEO;

Data entry;

Virtual assistance;

Data research.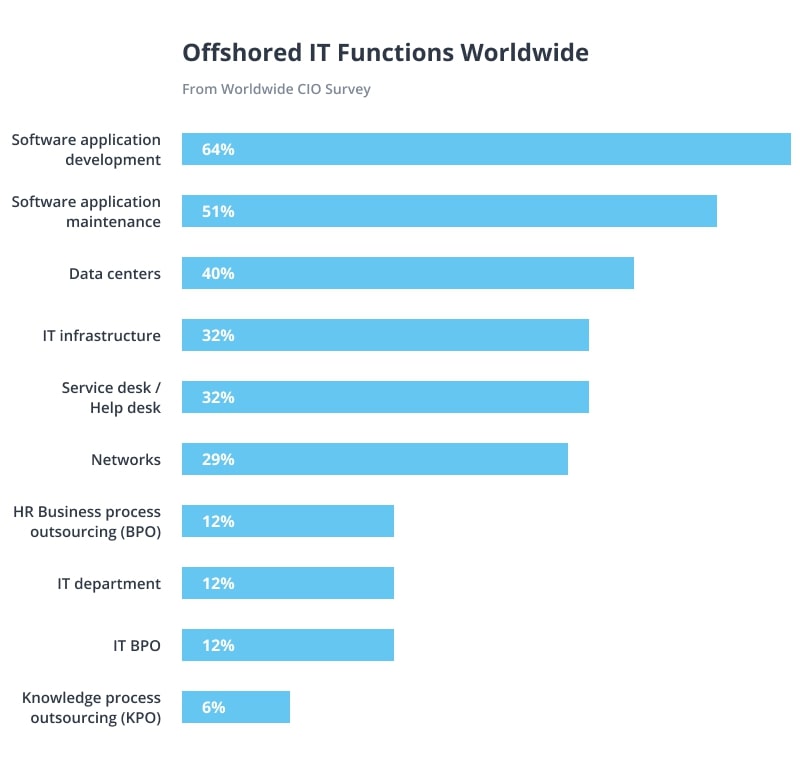 The key elements of offshoring are:
Delegating a non-core activity/business process to a foreign location;

A team is permanently hired for a company;

Members are selected from a large pool of foreign talent;

Includes nearshoring (setting a team up in a nearby country) and offshoring (setting a team up in a distant place).
As you can see, the main difference between outsourcing and offshoring is that you don't employ the outsourcing team to your company, you're renting their skill and experience for a certain period of time. On the contrary, the offshore team is employed and here to stay.
Advantages and Disadvantages of Outsourcing
Before you consider contracting, check the pros and cons of outsourcing.
Advantages
One of the main benefits of the outsourcing model is its specialization. Service providers are experts in a field with years of experience and portfolios of successfully completed contracts. Other advantages of outsourcing are: 
Flexibility.

You decide when, for how long and on what terms you're outsourcing, paying for the actual completed work.

Cutting costs.

In-house developers

cause additional expenses:

hiring developers

, setting up a workspace, getting equipment. Outsourcing provides quality services minus additional spending.

Access to tools.

Service providers already have all required tools, technologies and licenses for the software they will use in your project. 

Increased efficiency.

You don't need to train the outsource service provider to do their job. The production speed increases,

saving time

which you can spend on refining the product or service.

More time for your own business.

While an outsourcing company takes care of projects you lack expertise in, you can focus on your core competence.
Disadvantages
Outsourcing has a lot of major advantages, but there are some cons to keep track of:
Lack of control.

To the service provider, you're a customer. This means you have less control over their work than if they were in-house teammates.

Lack of focus.

Another problem with the outsource service providers is that you're not their only client. Developers might lose focus when handling a bunch of different projects, which results in a lower quality product.

Communication issues.

Establishing contact with an unfamiliar

developer team

may be challenging.
Advantages and Disadvantages of Offshoring
The offshoring model can bring great profit to your business. If you're thinking of offshoring, take a look at its benefits and drawbacks first.
Advantages
The most important advantage of the offshoring model is that you have full control over your new team. A team may be across the sea, but it's still a team that you're in charge of. But this is only one of the offshoring benefits:
Globalization.

Offshore teams help businesses reach a global presence. International appearance boosts competitiveness and economic growth.

Tax removal.

In different countries, there are different tax policies. Offshoring to certain countries may relieve certain businesses from domestic taxes.

Talent seeking.

By setting a remote team in a different country, you gain access to a fresh pool of talented employees. Foreign specialists can provide skills unavailable in your country. 

Cost advantages.

Offshore services,

especially in software development

, cost less.
Disadvantages
While offshoring has some great benefits, keep in mind its risks:
Distance.

Managing a team set in a different time zone might be challenging.
Communication difficulties.

An offshore team might speak a different language. You may have to search for developers with a good knowledge of your language, but that will cut the amount of specialists to choose from. If you choose to enlist developers who speak a different language though, you will have to translate and localize all the documentation, instructions and work notes. 

Tougher quality control.

With a plant set in a distant land, it may become hard to check the quality of a product in real time. 
Outsourcing vs Offshoring: What to Choose?
Both outsourcing and offshoring have great advantages and drawbacks to keep in mind. How do you choose between two models?
When should you outsource?
Outsourcing is best when project-based, regardless of whether the project is big or small. Consider outsourcing when:
You want to delegate a project at any stage to a team of specialists;

You don't mind letting go of the controls and entrusting managerial work to the contractor's project manager;

You expect to receive a complete product;

You need a team of various experts for a finite time.
When should you use the offshoring model?
It's better to offshore when you want to:
Delegate non-core business activities to a hand-picked team overseas;

Have full control over communication and quality;

Expand your business to another country;

Seek talent overseas.
To conclude this article and help you decide which model suits you best, we have prepared this offshore vs. outsource spreadsheet: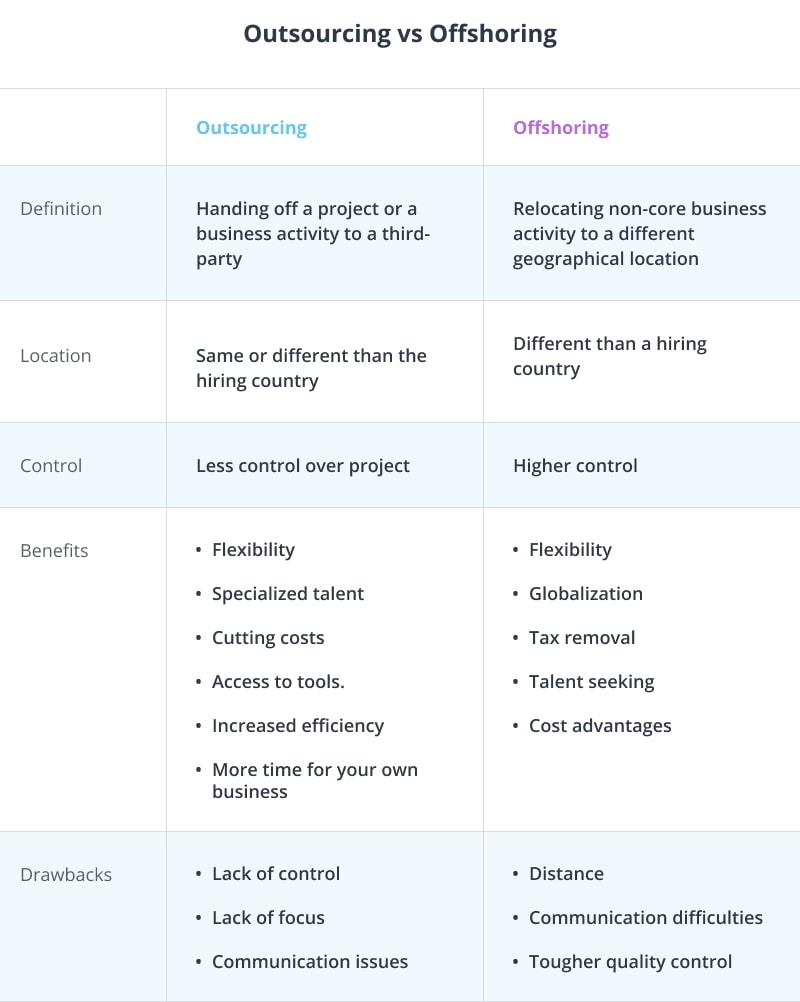 If none of the models look appealing to you at the moment, you might consider outstaffing. If you need help choosing the right model for you, contact us at info@azoft.com and we will gladly help.