7 Outstanding Practices for Mobile Mobile Website Design

IT copywriter
Reading time:
11 Aug 2017
According to Google, mobile devices generate about half of all Internet traffic, and this figure continues to grow. What does this mean for those doing business or promoting their company online? The answer is simple: having a mobile-optimized website is becoming an absolute must have. There are 3 mobile website design best practices for you to be mobile-friendly and keep your mobile prospects engaged:
A responsive website uses the same code for both mobile and desktop versions. It has a single URL, the same HTML code, but different CSS-code, depending on the device used.
Development and maintenance of a responsive website are relatively simple and inexpensive. But this solution has its drawbacks, such as long loading time on mobile devices because of the image weight. Also, it is sometimes impossible to adopt a mobile version for certain tasks.
The server provides a different CSS and HTML code on the same URL. The system determines which code should be displayed depending on the user's agent that sends a request for the page.
Search engines like a single URL and you can display different content for mobile and desktop versions. This solution is suitable for complex sites, but its development and support will require significant resources.
Designed especially for viewing on a mobile device, this site is displayed on a separate URL. It is easier to develop a separate m-version of your site since it contains just the right mobile content and downloads it quickly. However, text duplication may cause some problems with the ranking in search engines because of a different URL.
General tips to keep in mind concerning the design of a mobile website.
You can choose whichever option suits your project best, depending on available resources and the objectives at hand. However, in all three cases, there are general tips to keep in mind concerning the design of your mobile website. It's the design that provides comfortable user interaction with the system, attracts or repels your clients.
Now, we're not talking about some abstract or subjective beauty here. The design works by its own rules and directly affects the visitor's attention and behavior. A mobile format has its own specifics. Below, we summarized our team's experience with creating and maintaining mobile sites and came up with 7 tips to help you create an effective solution and avoid common errors.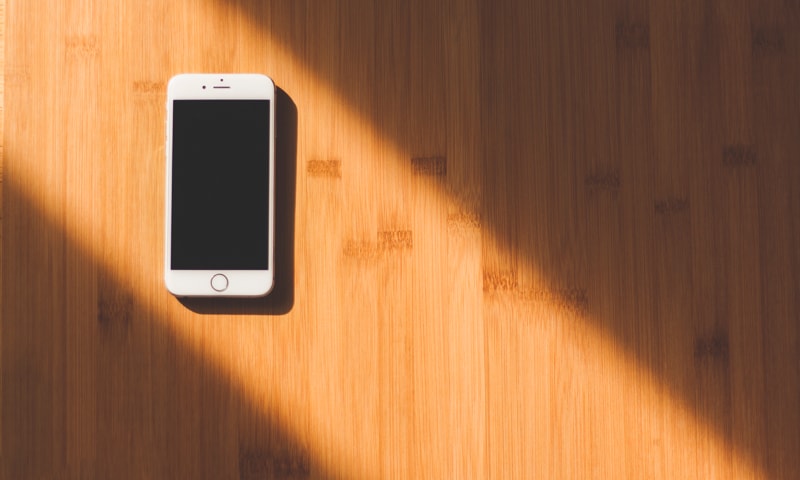 1. In Mobile Website Design, Screen Size Matters
The main feature of mobile devices is their small size. Although this may sound too obvious, you must remember this. Mobile services and editors, such as Wix, allow you to see how the site will look on screens of different sizes. Don't be lazy to check it every time you introduce changes and make sure the design does not turn into chaos.
Also, when you optimize your site for mobile devices, it's better to specify image size in percentage (relative), not in pixels (absolute). This way, you will not run the risk of breaking the design and will be sure that images won't take the whole area of the small screen.
2. Available Information
Remember that a mobile site is created for those who use the Internet in the most uncomfortable conditions: in public transport, on the way to work, while shopping, etc. Make viewing the information as simple as possible: use large text, legible fonts, use pictures instead of text when possible, create a convenient navigation menu, and add buttons for quick communication.
Don't make the visitors hunt for relevant information on the small screen: the address, opening hours, contacts, etc. should be easily accessible.
3. Minimalism Is Your New Style
We know what your mobile users don't like: scrolling. When it comes to scrolling on a small screen, one awkward movement can make it easy to miss something important, so try to minimize that.
Remove all not-so-necessary information from the mobile version, such as bulky blocks of text about your company's history and any uninformative pictures. If you want to display bulk material correctly, it is better to break it down into blocks and move it to a separate page.
4. Be Touchscreen Friendly
Another important difference between desktop and mobile versions is the way the user interacts with the page. Almost all smartphones and tablets have touch screens, so the mobile site should be easily controlled by gestures.
Mobile users move from section to section by tapping buttons, so make them big and visible. Also, take advantage of pull-down menus: study device manufacturer guidelines where you can find information about the recommended touch area size, and become touchscreen friendly.
5. Link to Desktop Version
Most users come to your site to get the information they need as quickly as possible. However, do not ignore the needs of those who have more time and want to learn more about your company, products, or services.
Do not create 404 pages for the mobile site only. Redirect your users to the equivalent pages of the desktop version, if you have them. And do not forget to give a link to the main site in contacts or product pages for more information.
6. Use Additional Options
It all depends on your business needs: social networking buttons, QR-code instead of standard coupons, or embedded applications — all of these things may be useful. Think about why your users visit your site in the first place (ordering services, purchasing stuff, checking the events calendar, etc.), then scale these options and implement them to the mobile version.
In case you need more complex and specific features for the mobile segment (such as games, delivery tracking, personal data management, etc.), consider developing a separate mobile app, which we'll describe in detail in our forthcoming materials.
7. Place Call to Action Right
If your ultimate goal is to sell something and you want to add a call to action to your site, think about the best way to place it on the pages for various mobile gadgets. It should be clearly visible, so the typical location at the bottom right that is good for the desktop may fail for mobile. Try to place such buttons in the upper left part.
However, do not be too intrusive with a call to action. Get rid of the pop-ups, unnecessary assistants, and overly insistent download invitations — they look even more annoying in mobile.
Of course, these are only a few of the many possible techniques for improving the efficiency of your mobile website. In future posts, we will discuss in detail the problem of optimizing sites for mobile viewing in accordance with the new Google requirements, as well as other important issues. Although, you will get a working solution if your site meets the minimum requirements of good mobile website design. There is always a potential for further development, so run the website, study your visitor's activity, find points on which mobile users are lost and improve!