How to Outsource Mobile App Development: Best Practices in 2021

Head of Web Development Department
Reading time: 10 minutes
1 Oct 2021
Let's say you decided to develop a mobile app for your business. One way to do this task is to turn to a professional outsourcing team. What are the pros and cons of outsourcing versus in-house development? When should you choose to outsource development? How can you find a reliable partner? We'll answer these questions in this article.
In-house vs. outsourcing: pros and cons
In-house development refers to creating software within your company. This process involves hiring full-time developers with fixed wages and other employment benefits. In-house software development also requires creating an office or infrastructure with all the necessary hardware and software.
Outsourcing is the delegation of software development tasks to a company or individual specialists with the relevant experience and necessary skills. In this case, the hired software development team will work remotely. When outsourcing, you can hire a team on an hourly basis, with a fixed salary, or as per project requirements. In the picture below, you can see the main differences between the two options.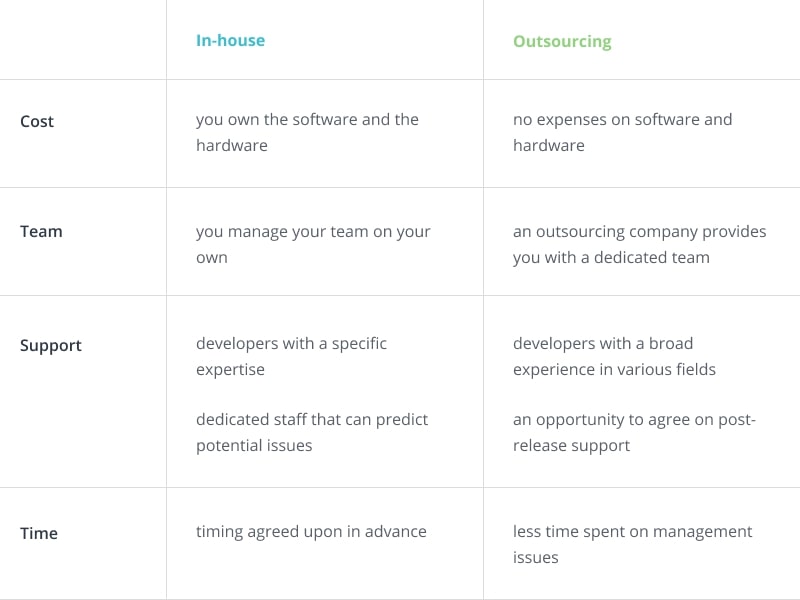 Let's consider the pros and cons of each option in more detail.
In-house development: advantages & disadvantages
Advantages:
Full control over the project.

You are in control of all processes. You see daily progress, know what your employees are working on, and respond quickly to any obstacles that occur.

Faster reaction to tasks, especially small and urgent ones

. Of course, you need to spend a lot of time building a team, but after that, you can immediately start working on new projects. Access to talented specialists within a company can be a good competitive advantage.

Deep understanding of the specifics of the business

. The internal team works with the project at all stages, so it's more involved and familiar with the specifics of the business. Conversely, an outsourcing team needs some time to discover and understand the details of the project.

The skills of specialists fit your needs.

If you need some special talent, you can develop your employees the way you need. As a result, you'll get satisfied employees who grow professionally and develop into the specialists you need in your team at the same time.

Clear communication.

An in-house development team is more likely to have a similar cultural and social background, which simplifies communication.
Disadvantages:
The high cost of building an app.

Hiring an app developer with specific competencies is a difficult and expensive task. If there's an insufficient workload for a specialist, the company has to pay for the downtime anyway.

Employee leaving.

The staff turnover rate can be high. IT talent is in high demand, and it will be difficult for you to hold onto all the members of your perfect team. You may end up having to offer your developer better perks, resulting in higher salaries. Otherwise, you will lose talented professionals. Layoffs of key people can undermine the established development process. It would also take time to find a replacement.

You're responsible for improving the skills of the team.

The IT industry is undergoing constant change with the emergence of new technologies, tools, and languages. You need to make sure your team keeps up with the changes, especially if they affect the growth of your products. Training courses and tools require extra expenses, which is one of the biggest risks of in-house development.

Long organization of the work process "from scratch."

Internal team building and onboarding can't be done overnight. According to Glassdoor, companies spend about 30 days to find the right candidate, and building a full-fledged team takes even longer. Moreover, team members need some time to adapt.
Outsourcing development: advantages & disadvantages
Advantages:
Cost efficiency.

Unlike your own team,

outsourced developers

can save you money and time. You don't have to do a lot of interviews, pay huge salaries to top in-house specialists, and set up workplaces. You just pay the agreed upon amount per hour or for the entire project.

Quick start of the project

. You get a complete team, and the members probably already know how to work with each other thanks to past projects. Thus, the communication within a team is smooth and effective, so you don't have to spend time on recruiting and onboarding.

Access to a team of highly qualified specialists.

Many great IT professionals work for

software development outsourcing

companies because they provide the opportunity to work on a variety of projects, which helps ensure professional growth.

Flexibility

. It's easier to scale your freelance team up and down based on your needs. The vendor will take care of adding the right people to the team as the project grows and requires more hands on deck.

Ability to focus on core business functions

. You can delegate some of your work and focus more on important business needs such as resource allocation and any of the other intricacies of your business.
Disadvantages:
A reliable partner can be difficult to find.

When looking for a

software development outsourcing

company, you must ensure that it will be a reliable partner. This affects the success of an outsourcing project, timing, and budget.

Management issues

. You can participate in the project, but you can't control everything. In fact, with a reliable development company, you won't need to control everything. However, there are still many business owners who don't like to delegate important management tasks. In this case, you can hire a dedicated team and involve your in-house project manager in the project.

Communication issues

. This is not a big problem in the 21st century, but you still need to pay attention to time zones and choose convenient methods of communication.

Risks of confidential information leakage

. Choosing a certified and reliable

mobile development outsourcing

company prevents information security threats, especially if your project materials contain confidential data. Take a look at the case studies of the potential outsourced team and find out if they've worked with confidential information before. Check out their security measures and learn how they've addressed data protection issues in the past.
When and how to outsource app development

Sometimes it makes no sense to hire an app designer, tester, or programmer in-house since this is a one-time project. That's why this task is often transferred to an IT outsourcing company. Companies, even in one commercial area, have many peculiarities and nuances, including fierce competition, so mobile apps are developed individually, without using standard templates. You need to outsource mobile app development in the following cases:
when you don't have enough funds to maintain in-house programmers;

when product launch terms are tight and you have no experience in software development;

when your company doesn't specialize in development, but you need a software product.
Choosing between in-house development and outsourced development is not an easy task. However, you can combine the benefits of both approaches by trying one of the following hybrid strategies:
Develop an MVP with an outsourced team, and then gradually grow an in-house team for further development and maintenance;

If you already have a development team or an IT department, you can perform key tasks within the company and outsource routine or highly specialized tasks.
How to choose a company to outsource development
If you've decided that outsourcing has more pros than cons and you'd rather go in that direction, here are a few things to consider when choosing an application development outsourcing contractor.

Geography
An important factor is the time zone difference: you're likely to struggle when working with a company located on the other side of the world. Consider how important geography is to you and think about potential communication methods to use: Skype, Zoom, Microsoft Teams, Cisco Webex, Slack, Hipchat, and more.
Reviews
One of the most trusted sources is Clutch.co, an international ranking platform of developer companies. Clutch experts contact customers directly, solicit feedback, and post it to the company's profile. Keep in mind that, as the company's position in the top grows, so does the cost of building apps. Don't look for a contractor only on the top lines. Review the ratings carefully, read case studies and reviews, and produce a shortlist of 10 developers you'd like to work with.
Portfolio
It's great if the developer has expertise in the product you want. This means that they understand the specifics of the project, the timing, and the budget. Assess skills in the portfolio on the company's website, as well as work with sites or apps that your potential contractors have created. This will help you understand how the creator approaches app development and give you an idea of how close the final product will be to what you had in mind.
Experience in your niche
Knowledge of technology doesn't guarantee high quality, because developers can't be specialists in all business sectors. Choose a company that has experience in your specific field.
Technology stack
Ask mobile development agencies what stack they use: experienced companies are monitoring new technologies and constantly gaining new skills. It's good if the developer explains in detail why it's worthwhile to use specific languages ​​and frameworks.
Prices
Don't make a decision based on the project price alone: ​​you want a quality product, not a cheap one. It's also worth learning more about the project pricing model. The most popular options in outsource product creation are Time & Material (used for non-standard and complex software) and Fixed Price (suitable for standard projects with clear and detailed requirements written in the technical specification).
Project evaluation in man-hours
The project evaluation will show how much time it will take a developer to complete each task to create modules and app components. Show the technical task to the outsourced developers and be ready to answer clarifying questions. The result will be the task clarification with the participation of a business analyst.
Support
Find out more about post-release support. Its parameters are fixed in the SLA (Service Legal Agreement). Be sure to find out what warranty terms the contractor gives. This will ensure that you don't have to independently solve problems that may arise after releasing the product.
Choose an outsourcing developer carefully and study all the details before concluding a contract and getting started. As a mobile app development outsourcing company, we hope that our article will help you avoid mistakes and find the most reliable contractor. We're ready to become your partner! Email us at info@azoft.com, and we'll provide you with a free project estimate. We look forward to collaborating with you.