Choosing Between Custom Mobile Solutions and Ready-Made Apps

IT copywriter
Reading time:
23 Oct 2014
One of the reasons the BYOD (Bring Your Own Device) trend has become so popular among businesses is that it boosts employees' personal productivity. Having your company's business apps always at hand on phones and tablets allows workers to stay connected to all the key data, contacts and tools when outside the office. Yet, if left uncontrolled, BYOD can be counterproductive and exposes organizations to risks in terms of security and access to confidential data.
What keeps CIOs from taking tighter control over their employees' use of apps by re-engineering critical enterprise software as mobile apps for iOS and Android? According to a survey of 300 CIOs carried out by the research firm VansonBourne, 65 percent of CIOs say that the biggest barrier is cost. Trying to stay within budget, companies encourage workers to use ready-made and less expensive apps for their company's needs, rather than order custom mobile solutions, which are not always as cost-efficient in the long-term run as them might initially seem.
Here we review both approaches – ready-made and custom-made apps — through the prism of app functions in order to help IT decision-makers find the right solution for their specific needs.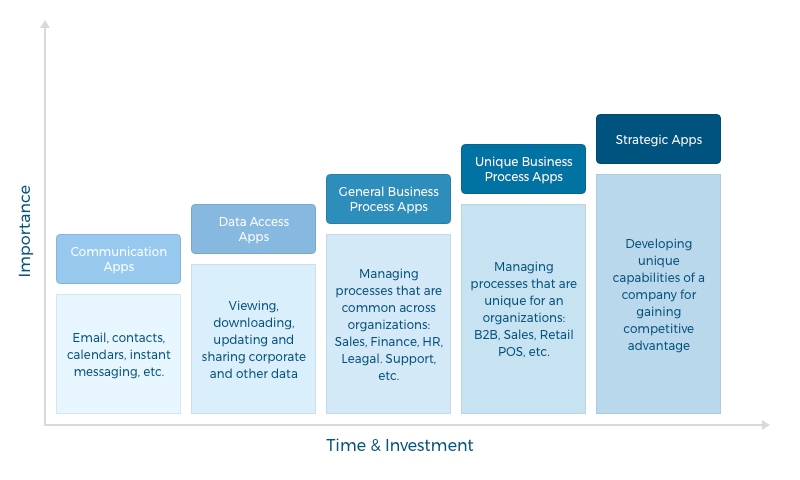 Types of Enterprise Apps
Depending on their purpose and the type of data processed, enterprise apps can be divided into five broad categories
Communications Apps handle all internal and external employees' connections and scheduling. Typically, they deal with emails, contacts, schedules, instant messaging, etc.
Data Access Apps enable viewing, downloading, updating, and sharing corporate and external data
Common Business Process Apps manage processes that are common across organizations, covering general functions, such as sales, finance, HR, legal, support, etc.
Unique Business Process Apps manage the processes that are unique to an organization: B2B sales, retail POS, etc.
Strategic Apps offer companies unique capabilities to gain competitive advantage

Ready-Made Apps: Pros and Cons
In addition to the cost-efficiency mentioned above — which is possible due to a large base of users, ready-made apps offer the following advantages
Employees can begin to use them immediately after purchase;
Regular updates from the vendor, which allow keeping up with cutting-edge trends and technologies in the industry without any effort from employees;
Access to a user community.
Among the disadvantages are little or no customization and hidden costs. While the exact cost of purchase or subscription is known from the start, additional features that might not be required at the beginning can become critical in the course of use and might be rather costly.
Custom-Tailored Apps: Pros and Cons
Scalability, flexibility and the highest degree of customization are the major advantages because
The apps are developed specifically for business processes of a specific organization
UI, features, and functionality are designed in accordance with the users' needs and business goals
The apps will be fully compatible with existing enterprise systems
The availability of required functions and improvements does not depend on a vendor's updates
Consideration is made for the recent situation for the industry and other factors that are important for business
There is an appropriate level of security
Dedicated technical support is available
The apps feature unique functions not available in ready-made apps, which is a strong competitive advantage

Which choice is best?
Taking into consideration the pros and cons mentioned above, the general recommendation is to use solutions that are available on the market for communications, data access, and common business processes, but to order custom software for unique business processes and strategic apps because demanding requirements for specific functions and levels of security cannot be easily met by an app produced for a broad audience. When evaluating a specific project, you might find the following criteria useful.
Weighing the advantages and disadvantages of each approach with due regard to the specifics of each type of app will reveal which solution — custom or ready-made — will prove most advantageous.