Azoft Named a Top Java Development Company by Clutch

IT copywriter
Reading time:
17 Jun 2019
Azoft is excited to announce that we have been named one of the top Java development companies in the world by Clutch!
"Thank you Clutch for the honor selecting Azoft as the leading company in Java Development." Said Ivan Ozhiganov, the CEO of Azoft. "It could never have happened without our clients and partners who trusted us all those complicated and challenging projects. Thank you! And of course, it's all made by people behind Azoft — leaders, developers, and everyone sharing their love to what we all do together as The Team."
We are a company devoted to creating custom software products to help brands reach a wider audience and earn more. We build business automation software, mobile & web apps, and migrate data for Finance, Insurance, Transportation, Logistics, Retail, and Entertainment companies worldwide. In the last 16 years, we have developed 800+ custom software solutions for international clients and partners in the USA, Canada, Western Europe, Australia.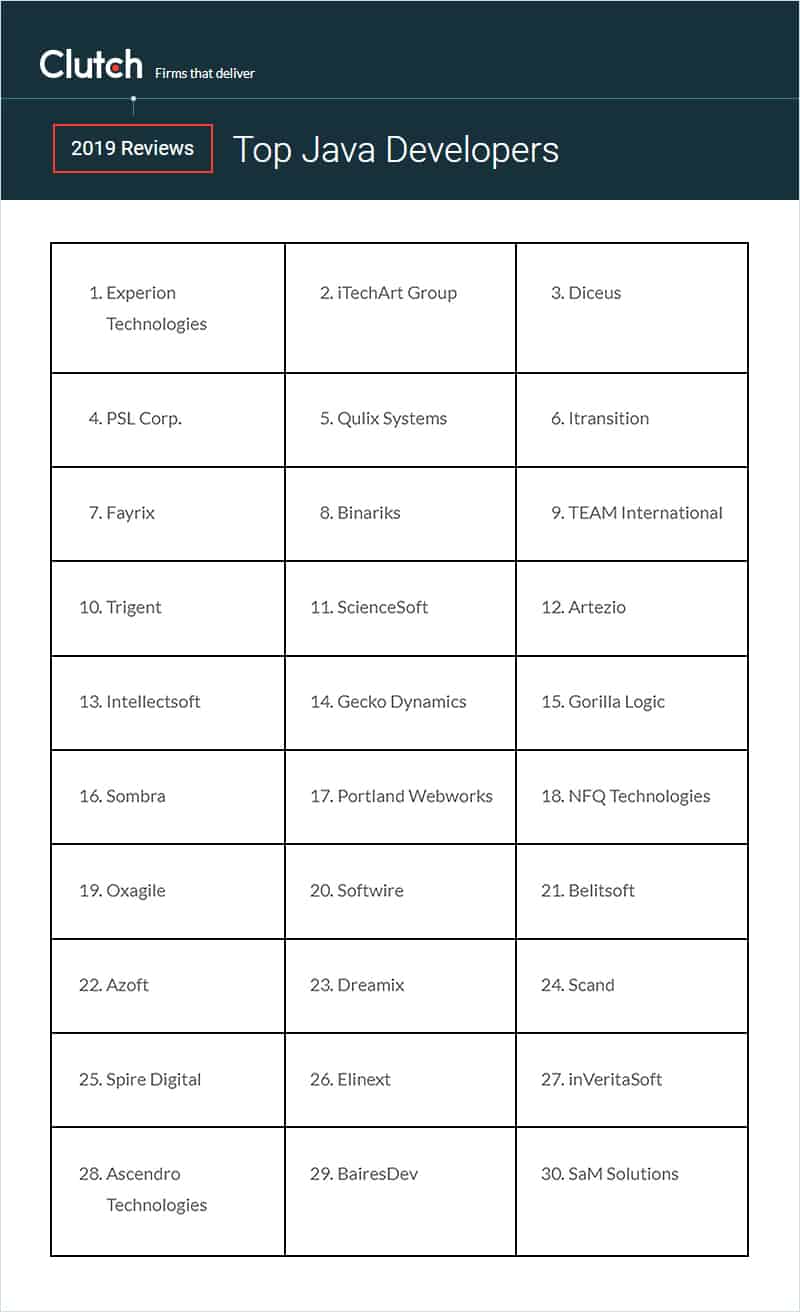 Clutch is a B2B ratings and reviews site based in Washington DC. They provide industry insights and research to help customers choose the business that will best suit their needs. They rank businesses in a number of different service categories and locations. They interview real clients, gather data, and analyze competitors to ease a business partner choice for your next big project. Check us out on their list of the best Java development companies.

Clutch also has two sister sites, The Manifest and Visual Objects. Visual Objects is designed to showcase the work of creative and design firms, with easy to view and assess profiles of a company's work. The Manifest is designed to give potential customers the ability to easily browse and compare the qualifications of different businesses in the same category. We are also featured on The Manifest one of the top Java developers.
As a company that is dedicated to serving our clients, we are honored to receive this recognition. We can't wait to keep growing with Clutch and to continue providing exemplary development services.