Business Tidbits from WWDC 2017
15 Jun 2017
The Apple Worldwide Developers Conference is an annual summit held by Apple to showcase their new products and technologies. WWDC 2017 has just ended meaning it's high time to recap.
In this article we list the top 4 updates for app publishers and business owners. We've looked at it through the lens of what will benefit businesses to decide what's good and what's not.
Disclaimer: This article is written for business owners, advertisers and app publishers. Apple product users may not agree with the points made.
The Goodies
Game-changing App Store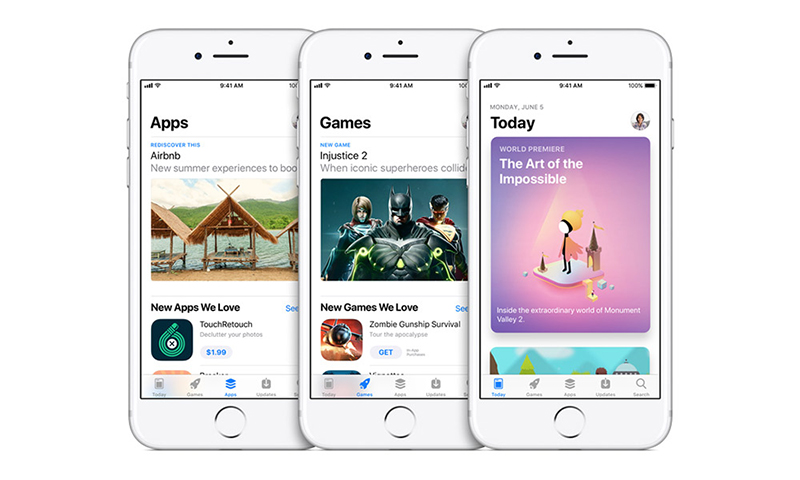 Image Source: Apple
In short: You can now keep app reviews when updating your app on the App store. Apple also lets developers respond immediately to users' reviews and leave comments.
The App Store in iOS 11 looks great, and pretty similar to Apple Music. Apps, Games and Today tabs have been added. Apps lucky enough to get into being Featured will be boosted by new promotional content like how-tos, guides and interviews with developers and influencers. There will be much more video content on the forefront. Apple is well-known for holding UX dear and the new App Store proves this is still the case.
Scores and reviews
Good news for app publishers! iOS 11 allows you to keep user scores and reviews when you update an app. Until now, every update eliminated all feedback from users. All the positive reviews which are so hard to earn, could be spoiled if a minor bugfix went live. It's all gone. Now you can choose whether to keep or discard app scores and reviews.
Back in the day when an app review took up to 7 days, it was reasonable enough to reset ratings. Apps mainly experienced huge updates. Now, apps need a couple of hours to apply changes, and developers need reasons to release changes as soon as possible. In this case, the new features are a good motivation. Got a hotfix? Release it immediately and improve your product! That's the idea Apple is actively sharing with the community.
Since iOS 10.3 and Mac OS Sierra 10.12.4 developers can respond to users' comments and leave their own. That significantly simplifies user communications. Scores and Reviews are now a powerful promotional tool that can turbocharge your app and reflect the app quality.
Helpful Business Chat
In short: Business Chat is a new tool for brands to communicate with customers, schedule appointments, showcase goods and promote branded apps.
At the beginning of WWDC 2017, Apple rattled the community with peer-to-peer transactions in iMessage. Business Chat, announced on June, 9 was the cherry on top. At first glance, the new tool competes with Facebook and Microsoft providing a client service via chat. But Apple insists on chatting with humans, not bots. However, we'll probably see a bot for Business Chat in the future, designed by enthusiasts.
The messages framework helps businesses create branded apps and integrate them with iMessage. A custom app powered by Apple Pay can be really beneficial in terms of customer loyalty and brand identity.
Business Chat, as well as iMessage, will be available on iPhones, iPads and Apple Watches. To enable it, users will have to tap the brand's icon in Siri, Safari, Spotlight, or Maps.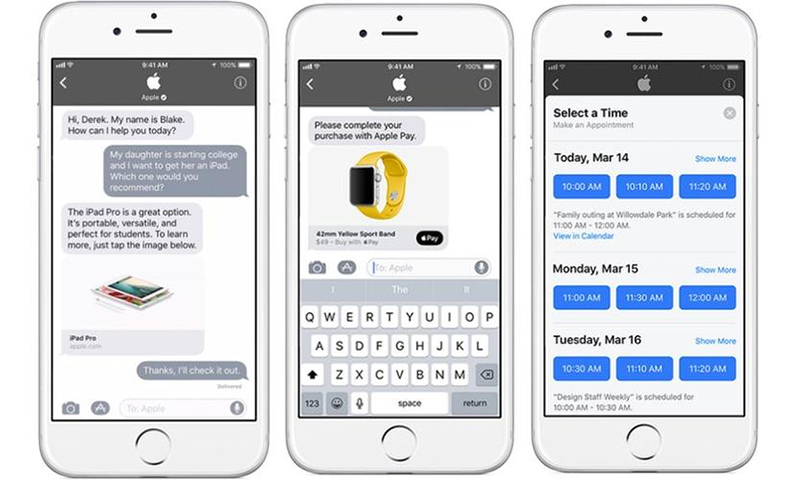 Business Chat comes integrated with 3 services. Apple Pay to process payments, Timepicker paired with a calendar to schedule appointments and Listpicker to showcase goods or menu items. The new chat was announced as a client support tool, however the advantages for sales and marketing are clearly visible.
During the last day of the summit, Apple showcased how chat can promote branded apps. Another user case was even more compelling: A QR code scanned by iPhone launches Business Chat on the device. That means brands can put codes on websites or packages to initiate client communication.
This makes Business Chat helpful both for business and customers. Using a retail chain as an example, Apple indicated the possibility to set up a separate chat for every location. Technically, Business Chat offers more advantages than its competitors. It allows you to track the context and where the chat was initiated. So brands can predict a customers attitude and be proactive.
The Bad
Suppressing Safari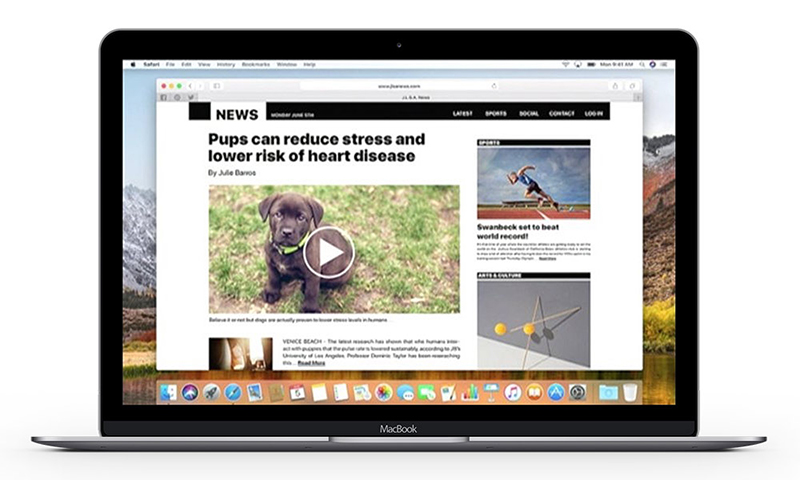 In Short: Safari is against advertisers. Auto-play video blocked, users' search history is now only their own thanks to intelligent tracking prevention.
Apple senior vice president Craig Federighi announced two new features Safari users will see in Mac OS High Sierra this fall. First and foremost, the new Safari will block auto-playing videos. Users can start jubilating while advertisers, well, suffer. About 75% of a $70 billion digital ads market is shared between Google and Facebook. There is almost no room for small businesses and now there will be even less. The struggle is real so advertisers try hard to make users watch their video ads. No matter how distracting and annoying they are. In turn, users are tired of being sold to and wish video ads had never been invented. According to Business Insider, AdBlock and similar apps are getting more popular every year.
The second announcement from WWDC 2017 is all about user privacy. Federighi said the new Safari will feature an "intelligent tracking prevention" system powered by machine learning. This tool will keep websites from tracking your data. It seems cross-site cookies will be blocked selectively, meaning your search queries won't follow you around the web for days. This definitely means hard times for digital advertisers.
Why on earth is Apple so hostile to advertisers?
Because ads drive people nuts. Poor ads harass both UX and Apple's reputation.
Apple, with its 5% of a browser market share, decided to increase customer loyalty by creating a top-class user experience. They don't bother to think about media, advertisers and all those who will suffer from ad blocking. Some experts predict a huge drop in views after the Mac OS High Sierra official release.
The Ugly
Killjoy App Store
In Short: New In-App ratings API and limited app review prompts.
Yes, the App Store is our pound-for-pound champion.
Apple has changed its review policy. According to the new rules, custom review prompts are banned. Prior to the latest iOS versions, you could prompt users to review an app as many times as you want. Now it's just three times per year and only via an API provided by Apple.
The new user interface includes a traditional 5-star system in a pop-up menu and allows users to leave feedback without quitting an app and visiting the App Store to submit a review. That simplifies things a lot. No more complicated review submission that requires an Apple ID password and drags on the UX a lot.
Now the worst WWDC 2017 news. Once a user submits an in-app review, there is no way for you to call a pop-up review for this particular user again. Moreover, users can block review pop-ups in the Settings so you can never ask them to leave feedback.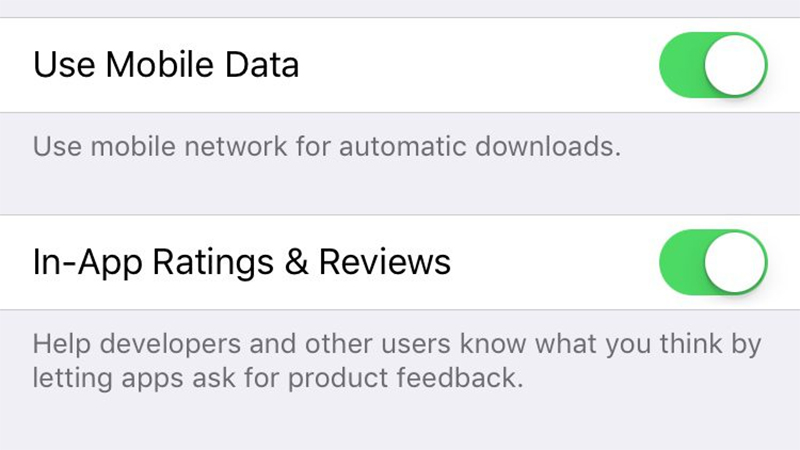 These updates are more than just controversial, and not just bad for business. On the one side, these new restrictions thwart publishers attempts to engage the audience and beg for reviews. On the other side, the brand new App Store is getting more pleasant and convenient for end users. That's probably a big leap forward in terms of UX. What's also crucial is that reviews are now more transparent and represent the quality of the app better.
Guardians of UX
Apple is used to setting trends and seeing people follow. But they lost control a few years ago. When talking about AI, IoT and self-driving cars, Apple is not the sharpest knife in the drawer anymore. Even China, a country everyone tends to underestimate, was the first to add peer-to-peer transactions to a messenger.
Nevertheless, Apple doesn't seem to be concerned. They are not going to chase new technologies and prefer to use their superpower - design and UX. Since users are sick and tired of ads, omnipresent notifications and stuff like that, Apple is already there, providing a clean, enjoyable and unintrusive user experience.
What to do next
Reconsider the quality of your app content. The moment your get into Featuring — you get rich. Especially on iOS 11. Pay special attention to design and UX. If you need advice, we are always happy to help.
Take a closer look at iMessage and Business Chat. Take advantage of the developer beta to try them out. Make sure you are not missing an opportunity to benefit from a branded app with Apple Pay integration.
Advertisers, stay sharp. Giants have to trade your convenience for users' loyalty to stay afloat. Maybe it's time to move forward? The mobile market is huge and still growing. We are here to help you turn brilliant ideas into stellar apps.