7 Things Brands Will Love About iOS 11 and 1 They Won't
21 Sep 2017
Earlier this year Apple announced a bunch of products and features including a turbocharged iMac, a MacBook, a MacBook Pro, and, a smart and wireless Siri-speaker called HomePod. All these WWDC releases were long-awaited, but there was a paramount one — iOS 11. On September, 19 Apple officially rolled out their new OS.
What's in it for businesses? How can it be used for the good of your brand and your app? Let's find out.
1. Opening of iPhone's NFC chip in iOS 11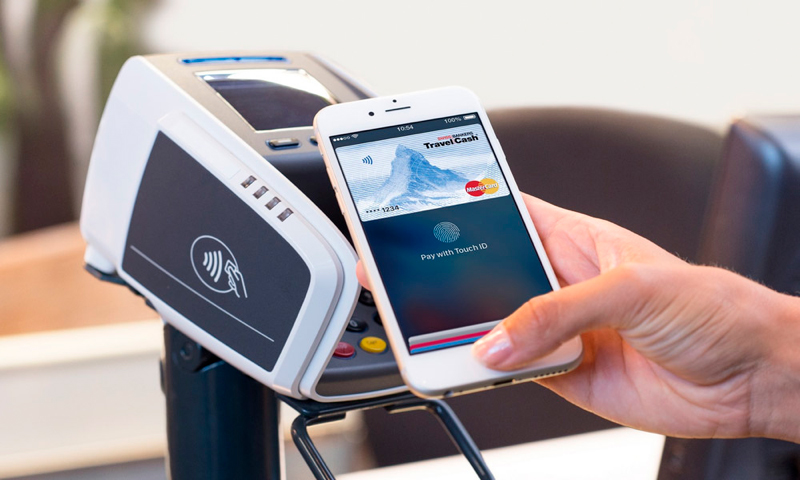 On November, 2016 the three biggest banks of Australia requested access to iPhone's NFC chip so they can build their own payment apps for iOS. It meant competition to Apple Pay and also a possible security breach in the closed Apple ecosystem. In their response, Apple made it clear they will never ever endanger user data by giving 3rd party apps access to their NFC chip.
However, things have changed. iOS 11 includes a Core NFC framework that makes it possible for 3rd party app developers to access some features of the NFC chip. Moreover, iOS 11 extended the functions of the NFC module, now not limited to payments with Apple Pay. For example, the interaction between Apple Watch and the NFC chip allows manufacturers to send personalized information to customers that stand close to particular goods.
Taking advantage
In case you only have an Android NFC application, it's time to consider an iOS one as well. The iOS development process is faster so you can enter the online payments market quicker and benefit from new exclusive features.
2. Business Chat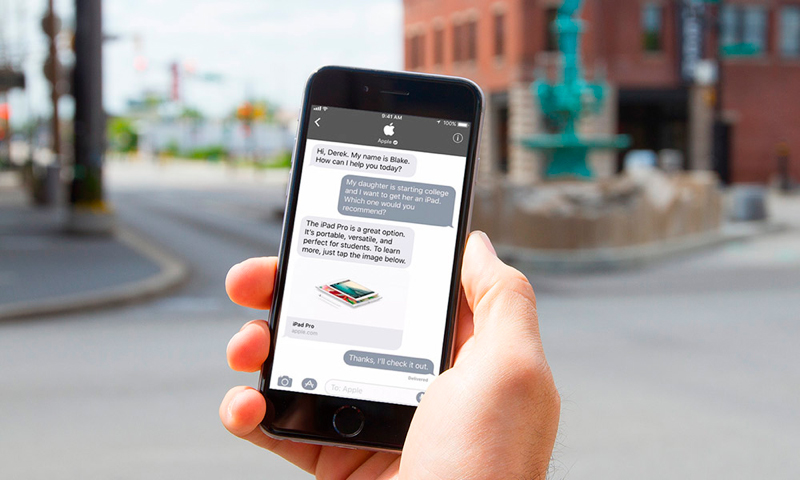 Brands use Business Chat for direct communications with customers. Twitter and Facebook messengers require authorization, Business Chat doesn't. You only need to click a chat button next to a brand's icon in Safari, Siri, Spotlight, or Apple Maps. So easy it makes sense, doesn't it?
Business Chat is connected with Apple Pay, iMessage, and Calendar. Apple's ecosystem is well-known for its interconnectivity, and the new release only confirms this. It lets your users pay for goods, set meetings, and get reference data in one place.
Taking advantage
According to Business Intelligence experts, more than 50% of users are more likely to buy from brands that leverage messenger apps. Follow this trend to engage your audience effectively and improve user experience.
3. ARKit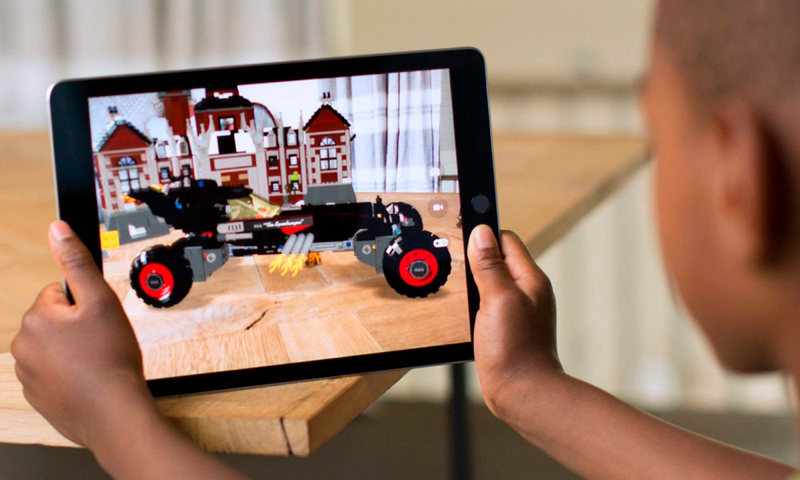 We can't say that Apple are trailblazers in augmented reality, but they do seem to be ahead of the AR competition. How? They've just rattled the AR development world with their ARKit. So what is ARKit, and how is it better than its competitors?
ARKit is a framework that allows developers to build augmented reality apps for the iPhone and iPad. Powered by the Unreal Engine, ARKit taps into an iPhone's camera for real-world position tracking. App builders can gather and process data from the camera, accelerometer, and other sensors. The framework has all the necessary tools for developers to measure the distance between objects and track their location, define the lighting level and much more. Moreover, developers can now add virtual objects to surroundings, just like Pokemon Go lets you see pokemon.
Taking advantage
Thanks to ARKit, AR apps can offer a next-gen user experience. Users are now able to apply a virtual ruler to real-world objects, try 3D painting, mobile games with a participation aspect, and explore breakthrough data visualization tools. Mobile customers will also learn what AR-powered shopping really is. Imagine that you don't need a dressing room to try clothes on. Also, a smartphone will be enough to see how good or bad your dining room goes with a new couch. In GPS and reference apps you will see a projection of yourself in an emulated 3D reality. Does the phrase "a complete lack of sense of direction" ring a bell? If yes, you will definitely appreciate this feature. And your customers will as well.
Use the ARKit to build business-oriented mobile applications. There is no need to re-invent anything, the framework includes all necessary tools for building AR apps.
4. Password Autofill API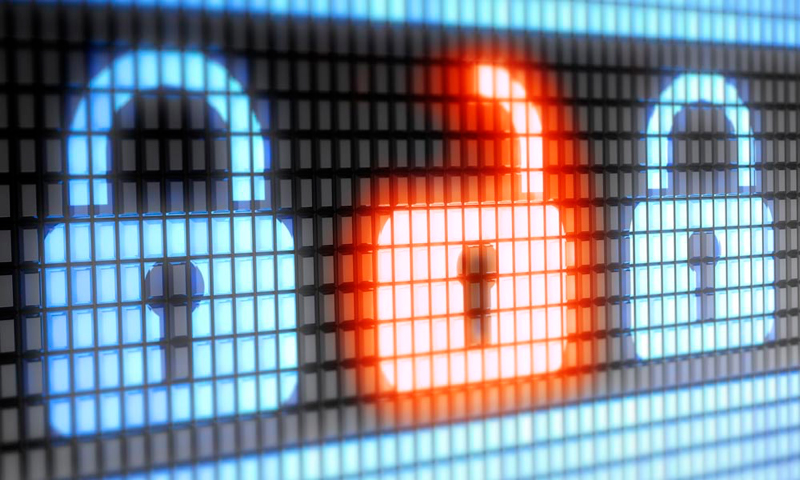 iOS 11 brings faster logins with a new password autofill for apps. Prior to iOS 11 we can take advantage of password autofill only in Safari, now it comes to mobile devices. Apple introduced a Password Autofill API for developers to manage login parameters. The moment a user saves their password in Safari, it's simultaneously saved in the app login.
Taking advantage
The password autofill API brings a better UX to the users of your app, and lets you start interacting with them faster. App users will not have to remember their passwords anymore, which makes it easier to launch an app and get engagement.
5. App Store redesign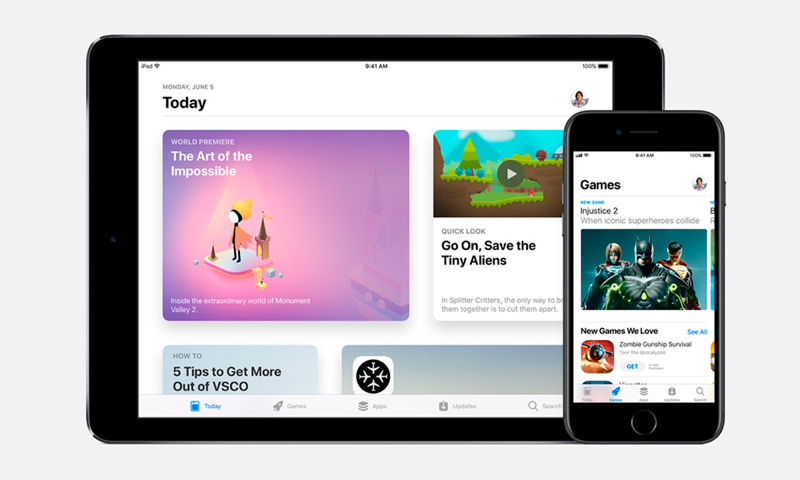 The App Store has reached a whole new level. The Features tab is now called Today and contains featured apps, new releases and promotional content from publishers. Games are now separated from apps: every category now has its own charts. Furthermore, apps now look different. App icons are bigger, so there are fewer apps displayed on a single screen.
iOS 11 lets you keep user scores and reviews after an app updates. Prior to this one, every update eliminated all feedback from users. Positive reviews could be spoiled when a minor bugfix went live. Now you can choose whether to keep or refresh app scores and reviews.
Taking advantage
The App Store is now more friendly to small players. With a stellar application you will no longer need a huge budget to advertise. You can get into featuring and see your product turbocharged. Chances are, it's easier now to get your app featured with apps and games now divided.
6. Core ML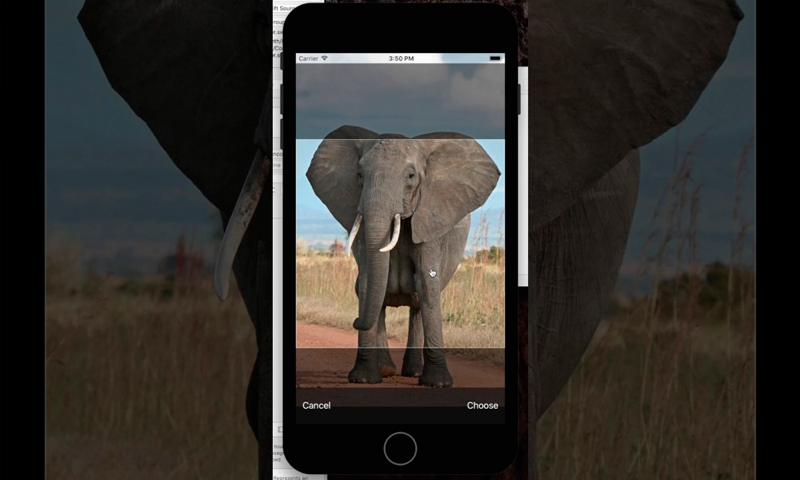 iOS 11 provides new ways of implementing machine learning algorithms. According to Apple statements, the brand new Core ML detects and recognizes human faces 6 times faster than its competitors from Samsung and Google.
Taking advantage
Leverage Core ML to add personal product recommendations to your ecommerce or retail application. Personalization is a must nowadays, since app users are flooded with information noise. Use a data-driven approach to stay relevant and give your customers what they really want.
7. Pumped up SiriKit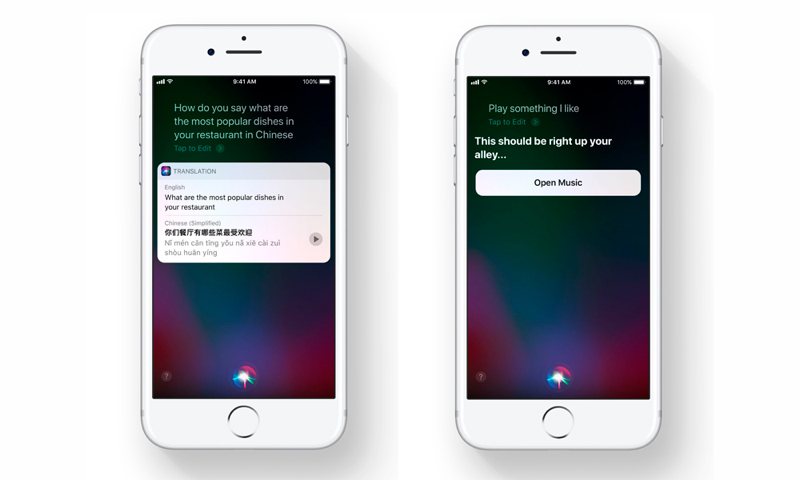 First announced in iOS 10, SiriKit allowed developers to use Siri in apps for 6 purposes:
Voice calls
Messages
Buying and payments
Workouts
Photos
Ride booking
In iOS 11 Siri gets smarter. Now it can create todo lists, make notes, set up reminders, scan QR codes, and even make bank transfers.
Taking advantage
Leverage SiriKit to add some unique features into your mobile application. Voice control can significantly increase UX and make people love your app.
8. The Killjoy: Unused Apps Offloading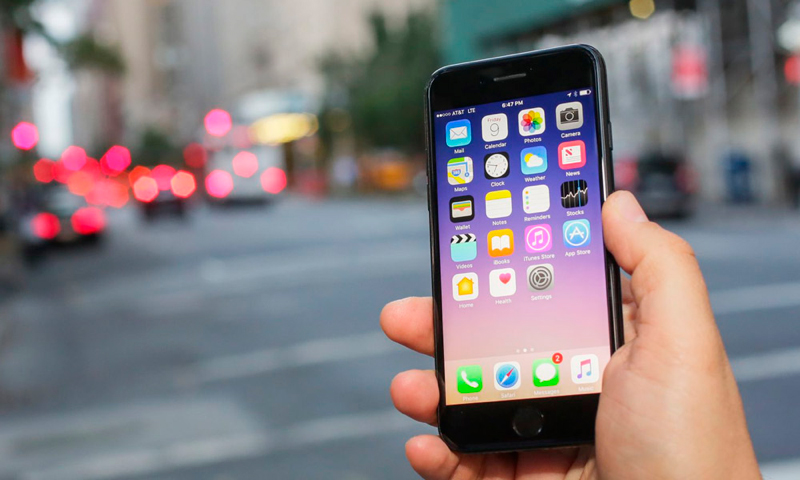 Apple provides users with a new way to free some space when a storage is running low. iOS 11 has a feature called "Offload Unused Apps". If toggled on, it automatically removes infrequently used apps, when storage is low. It looks like a blowout feature for 16GB iPhone users and a headache for App owners, doesn't it? Anyway, Apple has been cherishing UX for years and would barely stop doing so. The only thing left is to adapt and find new ways of engaging your customers.
Remember, the offloaded app can be re-installed only if it's still available in the App Store. So make sure your application is up-to-date and don't forget to release updates from time to time.
I have a branded app, what should I do now?
First, relax. Even If your app gets offloaded, its documents and data remain on the user's device. You will only get your app's icon grayed up. That's how Apple flags unused apps. The good news is that users can easily restore your application back to it's normal state just by a single gentle tap on the icon.
Second, get ready for changes. Analyze users' behaviour and define what can be done to keep your audience loyal. Then use push notifications, in-app messages or other engagement tools to increase the amount of time users spend on your app. All in all, a better user experience for Apple users leads to a better customer experience for your mobile audience. Respect your customers and make your app a lovely place to stay, whatever it takes.