Google IO 17: What's New for Business
24 May 2017
Google IO 17 has brought us a lot of user-centric updates that all Android lovers have been waiting for so long. We've finally gotten a Android O official release, Google Assistent on steroids and VPS as a GPS for shopping. Now, when things have calmed down, it's high time to look closer at what the summit brought to business. Let's take it one by one, starting from the most important.
TPU 2.0, or AI for everyone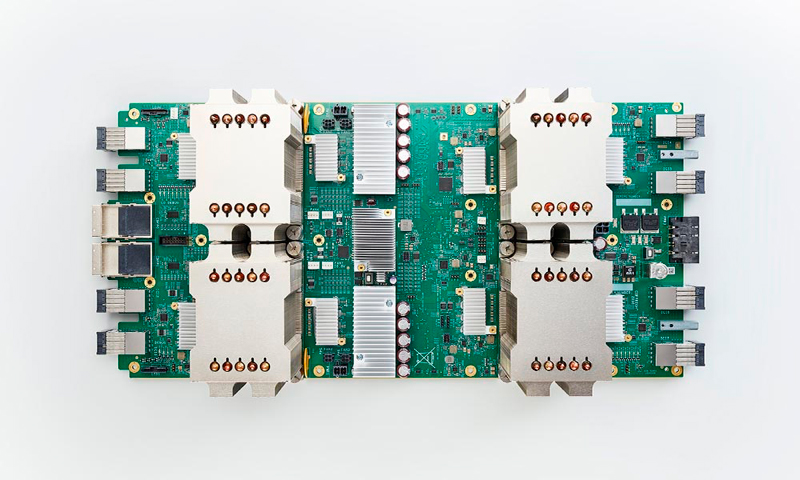 Image Source: Google Blog
Tensor Processing Unit is a chip designed by Google to deal with AI and neural networks. The first model helped Google develop their own AI services, but was incapable of training networks. The TPU 2.0 which was showcased at Google IO 17 goes much further by letting you both train and operate neural networks with impressive speed. 64 boards of 180 teraflops each was combined into a TPU pod. Every pod provides about 11,500 teraflops of computing power. Through the new cloud service business can build and operate software via internet, backed by thousands of TPU's.
Why use
Businesses normally use CPUs to train their neural networks. With the release of TPU 2.0 Google can easily shift the market, which has been dominated by nVidia for several years. The thing is that neural networks require a lot of computing power to be trained. Traditional CPU processors, even hundreds of them, is not the best way to manage network training as they require too much time and electrical power. According to Jeff Dean, Head of Google Brain, a task that takes about 1 day if using CPUs can be handled within 6 hours via a single TPU pod. Such an impressive speed advantage can bring a lot of AI enthusiasts to the market.
Any drawbacks?
To benefit from TPU 2.0 businesses will have to adopt a brand new way of learning and executing neural networks. It's not solely about a new chip, it's also about TensorFlow — a special Google network designed to work with neural networks and machine learning. Despite the fact it's an open source library, many AI researchers are using other software for network training. We at Azoft prefer Caffe framework. Moving to another library would be time-consuming and will result in enormous optimization efforts.
Android O with its fluid experience
The new Android release brings a lot to the UX, vitals improvement and, finally, our wish for a smart text selection has come true. It's really encouraging to see that AI is completely capable of copy-paste tasks!
But first and foremost, we need to know if there is something new for business, right? That's why it will be best to look at user engagement and retention tools. Traditionally, notifications are in charge of these metrics.
Notification channels
Notification channels seem to be another way to protect users from annoying and impersonal messaging. From now on, if you want to target Android O devices during a notification campaign, you will need to implement at least one notification channel. You can create separate channels for every notification type you address users with. You can also create additional channels to let users choose what type of notifications they would like to receive. For example, in a news app you can separate all notifications into 3 groups: breaking news, geolocation news and all news. So users can decide in what cases they want to be informed and notified.
Your audience, in turn, can modify notifications behaviour via the system UI and even block channels. All notifications sent to a particular notification channel behave the same. By changing one of the following characteristics users will change the entire channel:
Importance
Sound
Lights
Vibration
Show on lockscreen
Override do not disturb
Why use?
Think notifications are pretty much nerfed now and there is no more point in using them for marketing purposes? Not at all! As we mentioned previously, users are annoyed by irrelevant notifications. That's why Google added another layer of protection. You can easily bypass it by sending valuable, timely and relevant messages. Channels will help you to segment an audience and see what content work best in terms of open rate and conversion.
Notification Dots
Notification dots are small badges displayed on app icons. Badges show if there is unread notifications associated with a notification channel or an app. Users can turn these dots off in Settings. A long press on an app icon with a dot calls up a notification menu. It can be used to dismiss or act on notifications displayed there. Just like the notification drawer, but more, well, fluid.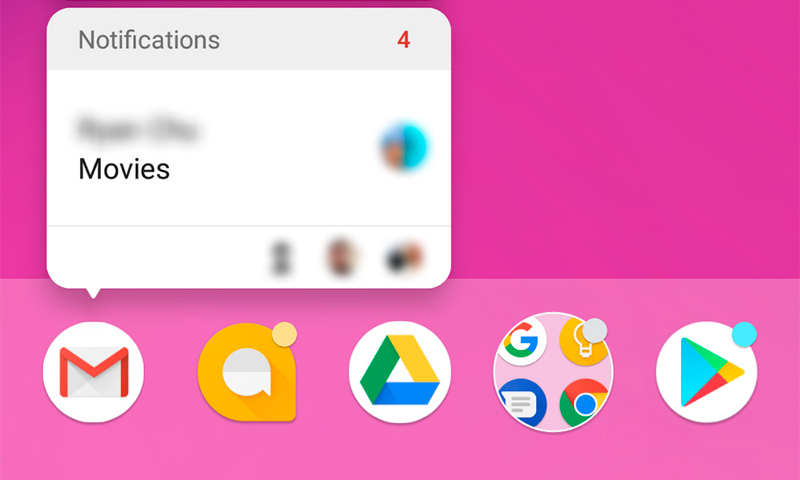 Image source: Google developer blog
Why use?
Notification dots reshape the way users interact with notifications. A new menu lets you browse notifications in a more convenient and user-friendly way than ever before. Moreover, the chances for your notification to get lost in the traditional drawer are much smaller now.
Any drawbacks?
Aimed at protecting users by their new developer policy, Google is banning all apps that download binaries and other executable files from the internet. Google Play users can take advantage of this babysitting as the store will be safer now. But it's more like a disaster both for the business and developers, who used the loophole with executables to avoid licence restrictions.
Brand New Android Pay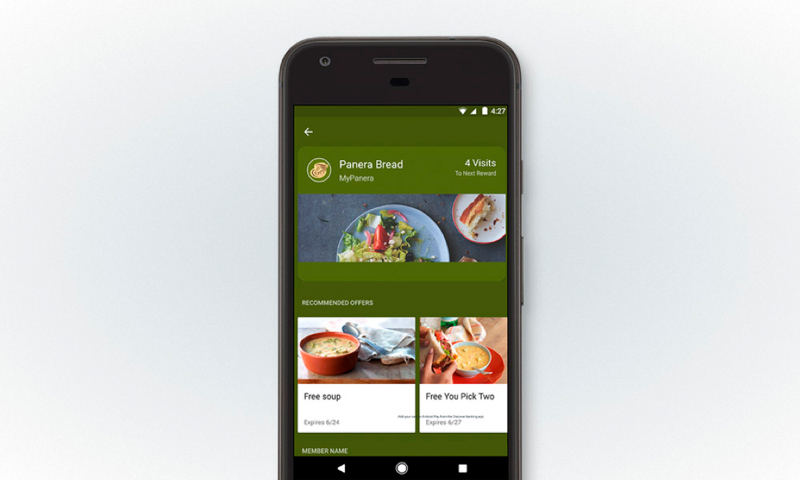 You can now easily engage and reward customers before they enter the store and right after they leave. The Card Linked Offers API provides businesses with an additional channel to deliver personal offers. Those customers who save their loyalty cards to Android Pay will discover bonuses, special gifts and new menu items.
Smart Tap was designed to help users redeem their special offers and bonuses at the point of sale. The technology will help your customers make use of gifts and special offers by tapping their phones to special terminals.
Why use?
New Android Pay features ramp up customer engagement by providing your clients with an enhanced shopping experience. What also important is that Google is aimed at driving customer loyalty. Not only its own but also yours. "At the centre of it all is loyalty. Loyalty is a connection between you, the merchant, and your customers, the user", , said Varouj Chitilian, Google director of engineering payment products at Google IO 17.
Any drawbacks?
Since all Google services are proprietary, there is no chance you can use the technology to build your own products without supervision from the IT giant. Google products are outstanding, but there is no wonder that businesses are looking for a custom software solution.
Google IO 17 Takeaways
Year by year we witness technological advancements like AI, neural networks, machine learning and whatnot. However it's not a breakthrough, as we've just moved a bit further from using AI algorithms for Instagram face filters.
Today every business needs a technology to stand out, win customers back and provide a better service. New Google products are impressive but they are still far from out-of-the box solutions for business. Entrepreneurs will have to wait for something more than a smart assistant to get their businesses digitally transformed.