Android Oreo: 6 New Features Business Must Know When Creating Apps
24 Aug 2017
Google officially announced Android Oreo — the new version of its mobile operating system on Monday while the solar eclipse was in full swing in the US. As Google's latest blog says, the latest release of Android platform is "smarter, faster and more powerful than ever".
Check out the best new features in Android 8.0 and learn how they can help you create better business apps.
#1. Limited processing for apps opened in the background
It began with Android 7.0. Nougat, and Android Oreo continues to improve the user's battery life and the device's interactive performance. Now there are further limitations for opened apps including broadcasting in the background, services, and location updates. All these measures help to improve how long a smartphone stays alive.
What it brings to business
When your app doesn't drain the phone's battery life and use up internet traffic, users will notice and be more loyal. So entrepreneurs should analyze which app features influence battery life and improve them so the app has minimal impact on a user's device and battery.
#2. Notification controls
Thanks to the notification channels available in Android Oreo, apps can separate their notification for different channels. This feature lets phone users manage the notifications they see: allow those they're interested in through and block the others without overloading the status bar. For example, a news app creates 4 channels: politics, economy, culture, and sports. If a user follows football matches, they can choose the sport channel for the news app.
What it brings to business
Remember: users want to get content that is targeted at their interests. For entrepreneurs, it will be possible to set notification channels and segment the target audience. This helps to increase user engagement and conversion rate for the notifications.
#3. Autofill API
The autofill feature has been around in Chrome for a long time: if a user fills out the form data once, the next time the data appears in the fields automatically. The same functionality is now available in Android Oreo. For example, if Chrome has your Facebook or Pinterest login credentials saved, the app will autofill them and log you in on your Android phone. Google promises that personal data will be secure at the operating system level.
What it brings to business
Users don't like to type in registration data — it takes a long time, seems boring, and often leads to mistakes. Therefore, they tend to stop using an app with a long authentication process. The autofill API makes it easier, allowing app developers define which fields can be filled with data entered once: an account name, email, or a credit card number.
#4. Notification badges on app icons
Finally Android Oreo is bringing support of indicators for app icons on the home screen. The small notification dots are a quick way to see pending notifications not in the notification bar but on the screen. In addition users can see more detailed information by long-pressing the notification badge they choose.
What it brings to business
Notification badges are another cool way that Android Oreo helps business apps find new ways for interacting with their target audience.
#5. Vibrant colors
Android Oreo supports full color management for applications. So apps get access to richer visual content and more vibrant colors. This mode is similar to HDR but it has wider color palette.
What it brings to business
This mode allows applications to render images in the format and quality that they were intended. App designers will appreciate the wide choice of colors. Thanks to DCI-P3, AdobeRGB, and Pro Photo RGB, shades of each color will look the same on a smartphone as on other digital devices.
#6. Modular base Project Treble
As it is widely known, Google Pixel devices and Nexus smartphones get the Android Oreo update automatically. Non-Google Android phones like those from Samsung or LG receive Android updates several months after the new OS is rolled out.
Google engineers are going to speed up the update process for third-party phones using the modular base Project Treble. Treble will make a difference by re-architecting Android to make it easier, faster and less costly for manufacturers to update devices to a new version of Android.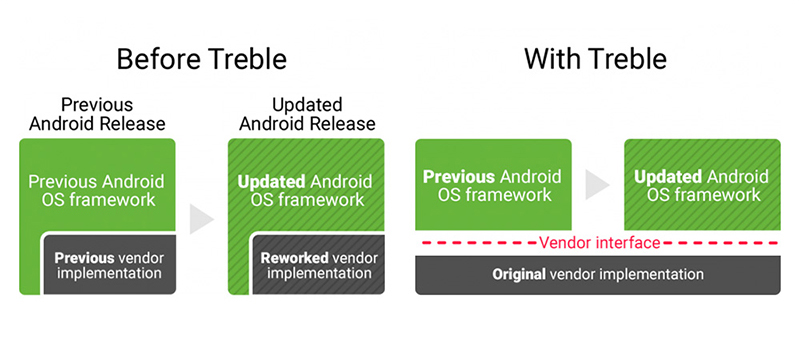 What it brings to business
It allows you to capture more of your target audience! Imagine that you have an awesome business app with a variety of features such as notification channels, vibrant colours, autofill mode, and others. But these advantages only become available for phone users with Android Oreo. Faster updates means more users get a better experience faster.
Treble helps to update an Android system up to version 8.0. So you can design your app thinking that it will get all the pluses of Android Oreo.
Android Oreo took only the best from Android Nougat and opened new opportunities including notification control, adaptive icons, autofill API, picture-in-picture mode, etc. All these features look quite impressive and convenient. Have you tried Android Oreo in practice? If not, then you definitely should.